This post may contain affiliate links. Read my disclosure policy here.
Thank you to everyone who joined this important discussion about tweens and over-the-counter medication (OTC drugs).
Please find out more information to help you talk to your kids about over the counter medicine here.
Join this Twitter Party brought to you by the OTC Literacy Program from Scholastic. If you're a parent of tweens or teens, or you know someone who is, please join this critical discussion to learn more about protecting young people from Over-the-Counter Medications. The Twitter Party is at 8 pm Eastern, Wednesday, November 13th, 2013 with HashTag #OTCed.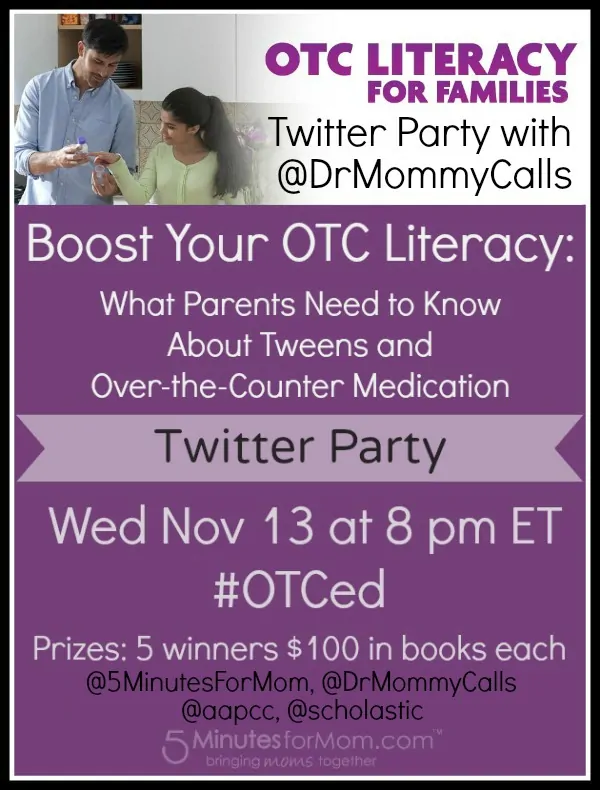 Did you know research shows that tweens begin to self-administer medicines around 11 years old, or 5th to 6th grade?
With approximately 10,000 adolescents seen in emergency departments every year due to medication errors from self-medicating with over-the-counter medicines, it's more important than ever for parents and guardians to discuss OTC medicine safe-use with their kids.
The OTC Literacy program is an educational program from Scholastic developed in partnership with the American Association of Poison Control Centers (AAPCC) to raise awareness about OTC medicine safety amongst parents, guardians and educators.
In November, the OTC Literacy program is focused on connecting with parents, who play a critical role in helping their tweens learn how to responsibly take OTC medicines.
Join us for the OTC Literacy Twitter Party
We're honored to be co-hosting along with nationally recognized pediatrician and author, Dr. Tanya Altmann, Scholastic and the American Association of Poison Control Centers (AAPCC) a live Twitter Party to share with parents the importance of over-the-counter (OTC) medicine safety and education for their children, as well as great tips and resources to boost their OTC Literacy.
The OTC Literacy program is especially important for tweens around 11 years old, or 5th grade, as research shows that is the most common age for kids to begin to self-administer medicines.
Twitter Party
If you have a tween, or know someone who has a tween, make sure that they are aware of this twitter party.
During the #OTCed Twitter Party, some of the important issues we'll discuss are:
How tweens should only use OTC medicines with permission and supervision from their parent or guardian.
Reading and following the Drug Facts label, and never take more than what's directed on the label.
Know what is in your medicine and never use more than one medicine with the same active ingredient.
Always use the dosing device that comes with medicine.  Never use household measurement tools like teaspoons, tablespoons or kitchen spoons.
And more…
Party Details
Date: Wednesday, November 13th, 2013
Time: 8 pm Eastern / 7 pm Central / 5 pm Pacific
Hashtag: #OTCed
Party hosts to follow:
We're updating this post to share with you a new risk for our kids…
A New Danger – Teen Vaping
Teen vaping is a new threat to our kids health. Find out how to talk to your kids about vaping here…