This post may contain affiliate links. Read my disclosure policy here.
Lisa, The Domestic Life Stylist, shares her tips on how to keep make-up organized.
Sometimes a girl just wants to get "dolled up".  It doesn't matter if its a holiday, birthday or any day really. No permission needed. I just put on a fancy dress, do something exciting with my hair and put on some "glam" makeup. Wait… where is that make-up?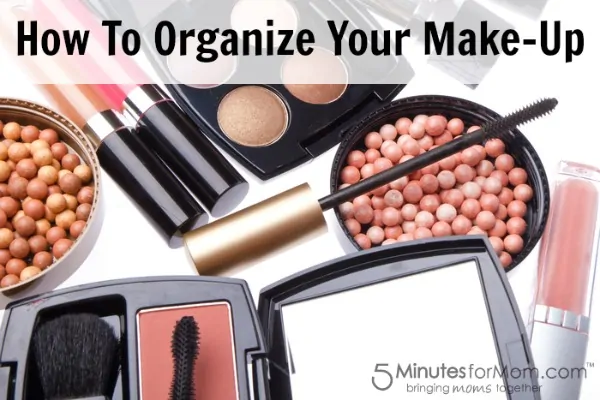 Ladies all over the globe have the same problem. First we want to find the eye shadow that will make our eyes "dance",  the lipstick that will give our lips that special "pop" and the concealer that will hide tons of sleepless nights in one easy swoop. But, once we find it, poof, pow, bam…it's gone. We can't find it. If only there was an easier way to organize make up. Well, there is. Use these simply ways to organize your make-up and have your "glam" at your fingertips whenever you need it.
Cups/Glasses
Use cups to keep make-up brushes clean and organized. Simply place brushes in a cup or glass with bristles facing upward.  Add charm and interest by placing colorful acrylic beads to the glass. As an extra bonus, the beads will prevent the beads from moving around and keep them in place.
Craft or Tool Box
If you have a craft and tool box readily available, then you've got yourself a make-up organizer. Use the varying size dividers to separate make-up and keep things easy to find.
Hanging Jewelry Organizer
Most of us have a hanging shoe or jewelry organizer in our home. Have your organizer do "double duty" by using one side for jewelry and the other side for makeup. The small see through compartments are great for keeping make-up visable and within reach.
Kitchen Drawer Organizer/Divider
Most people already have a drawer organizer in their kitchen that is used to organize kitchen utensils. Place one in the bathroom drawer  to organize eye/lip liners, eye shadows and lipsticks.
Vases
Use old flower vases to keep nail color at your fingertips. In addition, clear vases paired with brightly colored polishes will also add visual appeal and interest to your décor.
Use these tips and the next time you want to get "dolled up", all of your favorite make-up will be easy to find and within reach.
Lisa is a pharmacist turned lifestyle blogger & founder of The Domestic Life Stylist, following her passion for all things food, family and travel. Join the conversation on Twitter and Facebook. Join the party on Pinterest.