This post may contain affiliate links. Read my disclosure policy here.
Have you talked to your kids about the dangers of over the counter medicine? Many parents don't even think to talk to their kids about cough syrup and other over the counter medicine that may seem relatively harmless. But the reality is OTC drugs can be a huge threat for kids of all ages.
Scholastic has compensated us for our time preparing this post.
Sometimes parents overestimate or trust their kids a little too much… We want to assume and believe our kids will always make responsible decisions and we may take for granted the logic and common sense we have as experienced adults.
But kids of all ages — especially tweens — need guidance and education in all aspects of life, including one big area that you may have given little attention… taking over the counter medicine, commonly known as OTC drugs.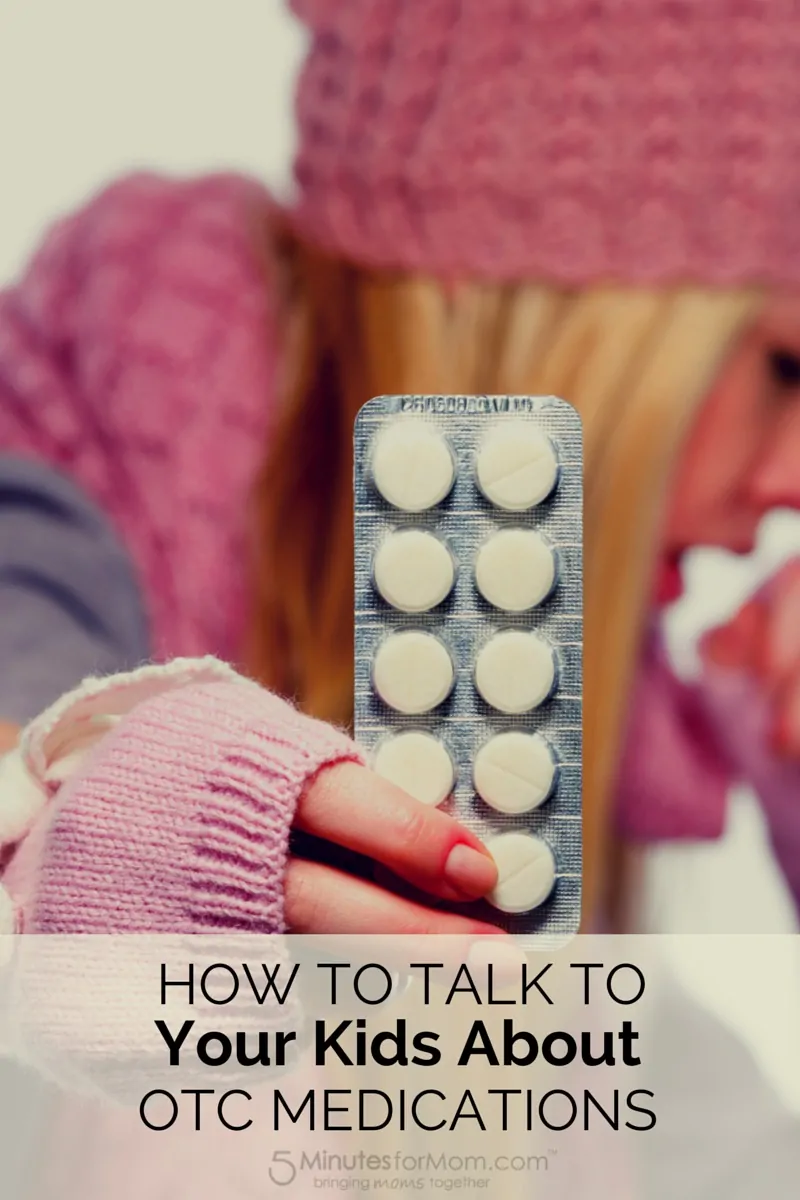 As parents, we need to talk to our kids when they reach grades 5 and 6 about
how to safely take OTC medications as well as other issues like teen vaping that they are likely to face in middle school and high school.
"In 2012, America's poison centers managed more than 296,000 exposure cases involving children ages six to 19 and over half of these cases involved medication errors and misuse."*
As kids approach and enter their tween years, around grades 5 and 6, they are getting more independent but they are not yet at an age where they should be taking OTC medications themselves without permission and supervision.
Your tween needs to know he or she must ask before taking any OTC medication.
As you talk with your children, use role-playing to illustrate and guide them through various scenarios so they know how to respond in different situations.
3 Key Lessons To Share With Your Tween
Teach your child how to read the drug label and talk about accidental overdoses.

Explain what active ingredients are and why you shouldn't mix medications.

Model responsible behaviour by always using a proper dosing device when giving your kids medication.
Complicated Active Ingredients
It can be hard for any layperson to understand the various active ingredients in OTC medications. Every brand has different mixes of active ingredients and most of us rarely understand what each ingredient is for and what the side effects may be.
It is dangerous to take multiple medications at the same time without the approval of a physician.
You should always talk to your physician about possible medication interactions especially if your child is already on prescription medication for issues such as ADHD or depression.
As we start cold and flu season, it's a good idea to find out ahead of time, what OTC medications each member of your family can take. For example, if one or more of your children need to avoid cold medication with a certain ingredient because it may interact with a prescription he or she takes regularly.
The OTC Literacy Program
The OTC Literacy program includes resources and educational activities for parents and teachers of tweens to increase knowledge of OTC safety and responsible use.
"Scholastic is pleased to be partnering with AAPCC on this important program," shares Ann Amstutz Hayes, senior vice president, Scholastic National Partnerships. "Together we are supporting educators, school health professionals and families with interactive multimedia tools and resources that have been proven to help teachers and their students. OTC Literacy is specifically tailored to meet the needs of these teachers and students to increase knowledge on the important topic of OTC medicine safety and to drive positive behavior change."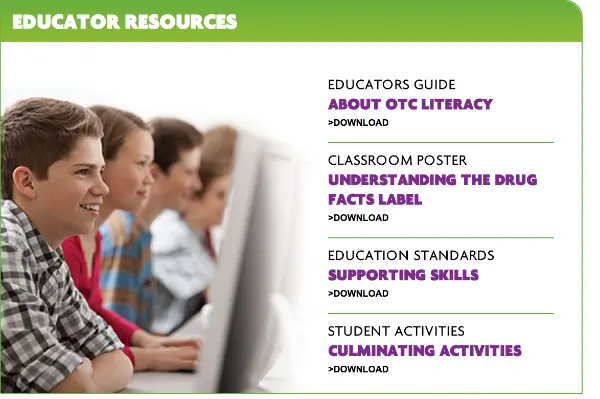 Educators and parents can download all of the materials online at www.scholastic.com/OTCliteracy/parents.
Over The Counter Medicine Literacy Survey
National OTC Literacy 2014 Survey results reveal that only about half of tweens believe over-the-counter medicines can be dangerous when misused.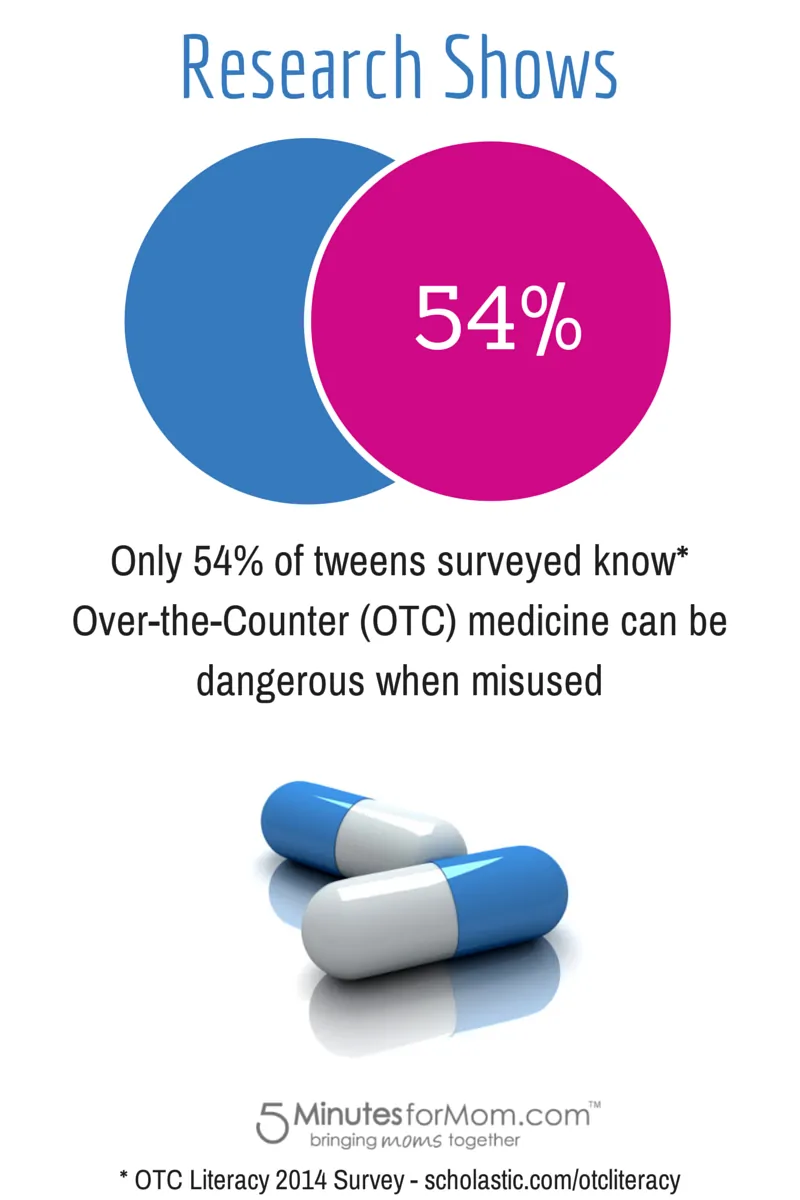 As part of the OTC Literacy program, two recent national surveys — one with 1,100 tweens and the other with 600 parents — measured and compared the level of OTC medicine safety awareness among American tweens and their parents. Results revealed parents often overestimate their tween's knowledge about OTC responsible use, such as the risks associated with not taking OTC medicine as directed.
Here are more of the survey results about tween OTC drugs knowledge…
When testing tweens' knowledge about the safe use of OTC medicines, they got a failing grade:

Tweens answered just 37 percent of questions correctly when asked how to use OTC medicines responsibly.

Only about half, or 54 percent, of tweens surveyed know OTC medicine can be dangerous when misused.
On the flip side, parents tend to overestimate their tweens knowledge, believing their tweens know who to ask if they have a question about medicine (75 percent), whether or not it's OK to share OTC medicine with friends (73 percent) and the risks of not using OTC medicines as directed (68 percent).


When asked about the differences between prescription and OTC medicines, tweens answered just 56 percent of questions correctly.

67 percent of tweens surveyed incorrectly believe they can use someone else's prescription medicines if he or she has the same symptoms.
Parent assumptions of tween knowledge was similar to tween test results, with 58 percent believing their tween would understand the difference between prescription and OTC medicines.


When tested on how to read a Drug Facts label correctly, tweens only answered 53 percent of the questions correct.

Just 31 percent of tweens surveyed know it is not safe to take more medicine than what is directed on the label.
50 percent of parents admit they don't believe their tween knows how to read a Drug Facts label on an over the counter medicine.


Tweens correctly answered only 49 percent of questions relating to safe storage of medicines.

52 percent of parents surveyed admit they don't believe their tween knows how to safely store OTC medicine.


The vast majority of parents surveyed are not sure whether OTC drugs related issues are taught in their tweens' school.

National Health Education Standards, which include OTC literacy lessons, are not required to be taught in US schools.

On average, parents start having OTC drugs related conversations by the time their children are eight years old, but do not feel it's suitable for children to self-medicate until they are nearly twice that age.
Statistics based on one national survey issued to 600 parents aged 24-45+ of sixth graders in public school and one national survey issued to 1,100 sixth graders.
Find more information at www.scholastic.com/otcliteracy/.
Disclosure: We were compensated for our time preparing this post.
Written by Susan Carraretto, co-founder of 5 Minutes for Mom
Talk with me: @5minutesformom and Facebook.com/5minutesformom
Pin with me at pinterest.com/5minutesformom

*Mowry JB, Spyker DA, Cantilena LR Jr, Bailey JE, Ford M. 2012 Annual Report of the American Association of Poison Control Centers' National Poison Data System (NPDS): 30th Annual Report. Clin Toxicol (Phila). 2013 Dec;51(10):949-1229