This post may contain affiliate links. Read my disclosure policy here.
If you are planning a big move, we want to help alleviate at least some of the stress with our free printables — downloadable moving tips and checklists with timelines that will help keep your move under control.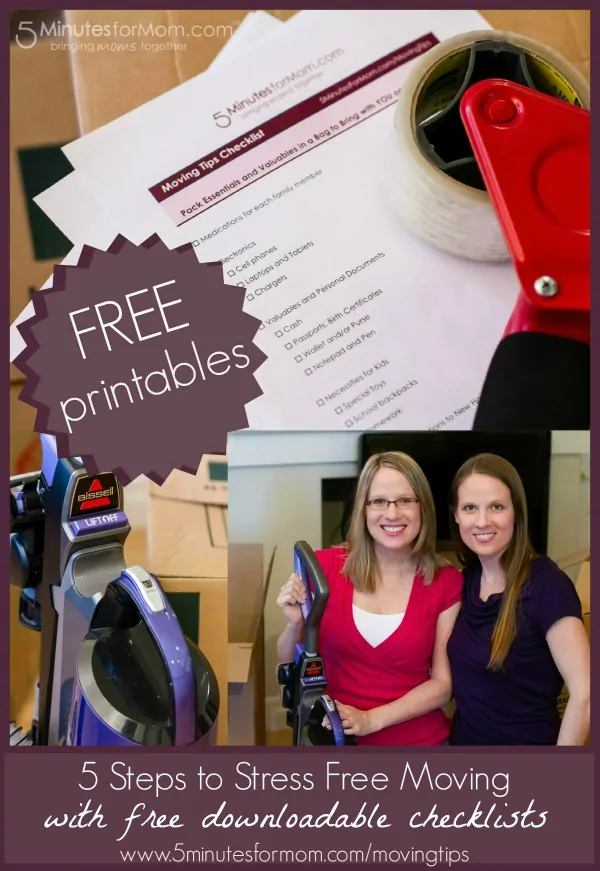 As part of our campaign to Celebrate Everyday Messes with Bissell, today we are sharing tips and free printables for stress-free moving.
[Tweet "Grab this free set of 5 moving tips #checklists for the next time you move. "]
In this video, Susan and I share 5 steps to help you with your move, as well as some of our favorite packing tips.
5 Steps to Stress Free Moving with Free Printables
1. Make a Moving Plan
Plan out all of your tasks in a detailed timeline. You may want to start seven to eight weeks from move day and have biweekly or weekly increments until you reach the day before and the day of the move.
2. Build your Moving Team
Well ahead of move day, you will want to assemble your team, whether or not that includes hiring movers or recruiting family and friend volunteers. Don't forget baby sitters for little ones. Having help with young children will eliminate a ton of stress on moving day.

3. Pack an "Open Me First Box"
Remember to take all your important documents, valuables, medications and special items for your kids with you on moving day. As well, pack "open first" boxes with important items you will need as soon as you arrive.
Don't forget things like bedding and pillows, food and dishes for your pet, and coffee for the morning! You will also want to keep your vacuum accessible. One of the last things you will probably do before you leave your old house is vacuum, and one of the first things you will want to do in your new home is vacuum, so keep it handy.

4. Pack Wisely
Included in our downloadables is an "Order to Pack" checklist and a "Packing Tips" checklist.
The order you pack your house can definitely simplify the packing process.
And we have tons of packing tips that will speed up your packing too, such as leaving clothes on hangers and placing paper plates between china plates. Simply download our printables and get checking things off your list.

5. When You Arrive, Vacuum First and Make Beds
Once you arrive in your new home, you will want to get rid of any lingering dirt from the previous owners. Take advantage of the open floors to vacuum before you unpack all of your boxes.
A quick vacuum will make your new home feel clean and fresh for you. Then set up and make your beds. You will need, and you deserve, a good night sleep.

Download each of our 5 Free Moving Tips checklists to your computer, so you can print and get packing.
Set of 5 Moving Tips Checklists: "Moving Plan Timeline", "What to Carry with YOU", "Open First Boxes", "Order to Pack" and "Packing Tips".
Written by Janice of 5 Minutes for Mom
Join me at: @5minutesformom and Facebook.com/5minutesformom
Pin with me at http://pinterest.com/5minutesformom/

Disclaimer: This post was originally published as part of a sponsored campaign with Bissell, but our opinions are always our own.