This post may contain affiliate links. Read my disclosure policy here.
This is a sponsored post and giveaway, but as always, our writer's opinions are her own.
When my first child was born, over 15 years ago, I frequently referred to this big encyclopedic book about children's stages and development. I didn't really look at all that, but I was constantly looking at the pictures of the rashes and reading about the symptoms. When exactly does an illness warrant a medical visit and when is it okay to treat at home or wait it out?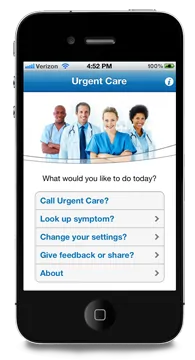 I know no one uses books anymore. Now we have Dr. Internet to totally freak us out with pictures and worst-case scenarios. We can check out a wiki or even find a message board where people can give advice. But anyone can post online. People who are on the chat board might not have your exact symptoms. It can be more dangerous than helpful (besides — it makes all of us hypochondriacs!).
Greatcall has a free Urgent Care App that is available for apple or android. It was easy to download and is easy to use. Some of the features include:
Have one-touch access to a live nurse for advice 24/7, who can escalate the call to a board-certified physician if needed
Get health-related assessments, general health information, diagnosis or even a prescription
Have access to an easy-to-understand medical dictionary
Research your symptoms with the medical symptom checker tool.
As women, I know we discuss a lot of things with each other, but sometimes there are things that worry us that we don't discuss. Sometimes we are even embarrassed to talk to our doctors about them. The symptom checker, or even a call to a nurse, could help you know if you need to seek further treatment, or if you can stop worrying.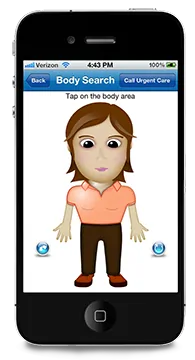 It's sad, but in addition to time, sometimes we delay a visit to the doctor because of cost. The Urgent Care app is also cost-effective. The app itself is free, giving you access to search your symptoms, and each call to a nurse is only $3.99. Even if you have good insurance, your office visit co-pay is going to be at least 3 or 4 times that amount.
You might use this tool when you don't have time to go to the doctor. There's nothing like changing your schedule to get to the doctor's office and finding that there's nothing the doctor can do. There are also times when you have other kids at home or asleep, and getting to an urgent care facility isn't convenient. Of course, you'll go if you need to, but if someone can help you over the phone, isn't that more convenient?
You can download the app for both Iphone and Androids.
Enter to win
In order to encourage you to give the Greatcall Urgent Care app a try, they are giving away a $25 itunes gift card.
To enter, simply fill out the giveaway tools form below.