This post may contain affiliate links. Read my disclosure policy here.
Written by 5 Minutes for Mom contributor Michelle of Honest & Truly! who received this book for review. She was also compensated for writing this post. All opinions remain our own.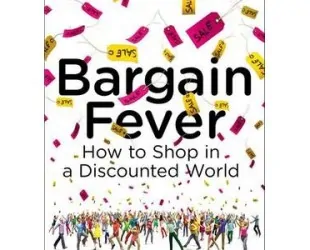 I'm a bargain shopper, though, I don't do a great job with coupons themselves. I'd rather find other ways to save money. There's a whole different set of ensuring that you never pay full price, and Mark Ellwood explores many of these in his new book Bargain Fever: How to Shop in a Discounted World. The title implies that it will be a how-to manual for savings, filled with tips and tricks on how to save.
It isn't. Instead, this book is a trip through what Ellwood terms Shopping 3.0, a new paradigm shift in the States and many other developed nations.  We've moved from a time before the industrial Revolution – before the price tag was even invented – when haggling was expected through the days when customers paid what stores charged with little control to today where we have an excess supply of pretty much everything from hotel rooms to Prada shoes to milk, and discounting is required to move this inventory.
Ellwood explains the lure of the bargain and its chemical origin in the brain. The unexpected delight of finding a bargain or an "it" item provide a shot of dopamine that is as potent as cocaine and is just as addictive. Now we expect these discounts for every product and for every reason, transforming our shopping behavior yet again.
Some of the bigger phenomena are explored from extreme couponing with stories and details of how some entrepreneurs have made this a full-time lucrative business. Ellwood also explores how coupons were first invented by Coca-Cola to induce customers to try the beverage.  He also walks through the strategies that hotels and airlines use, to very different levels of success, to discount their fares and ensure minimal inventory. It's a fascinating view into the world of pricing and power, some of which I've never glimpsed, such as the sample sales in New York, while others I've lived and shopped repeatedly, such as Gilt Groupe or outlet malls.
Seeing the differences amongst various countries is impressive. As Ellwood points out, the Turkish bazaars are now most frequently trafficked by tourists rather than the locals who shop at more traditional stores and are proud to pay full price. Paying full price is a mark of confidence and status, something that was true in the States and elsewhere until recently. Only now that our economic status is less secure and coupons can be seen as a badge of pride and intelligence have we changed our tune.
As interesting as this book was – I'd personally love to take a university level class on the topic from Ellwood – I found the title of the book disingenuous, as there were few "how to" pieces in the book at all. He mentions a few resources from being a home manager in real estate to synching your AmEx to your Twitter account for special discounts, but they are mentioned almost in passing and with no details of how to go about accessing these savings.
Enter to Win
Want to learn more about the bargain culture? We have a copy for one of you (U.S. only). Start off by entering your name and email in the widget below, then follow the instructions to earn one — or multiple — entries.