This post may contain affiliate links. Read my disclosure policy here.
Looking for some creative ways to celebrate Halloween with your young child? Look no further! Here are several spooky crafts and other activities that are sure to be a hit!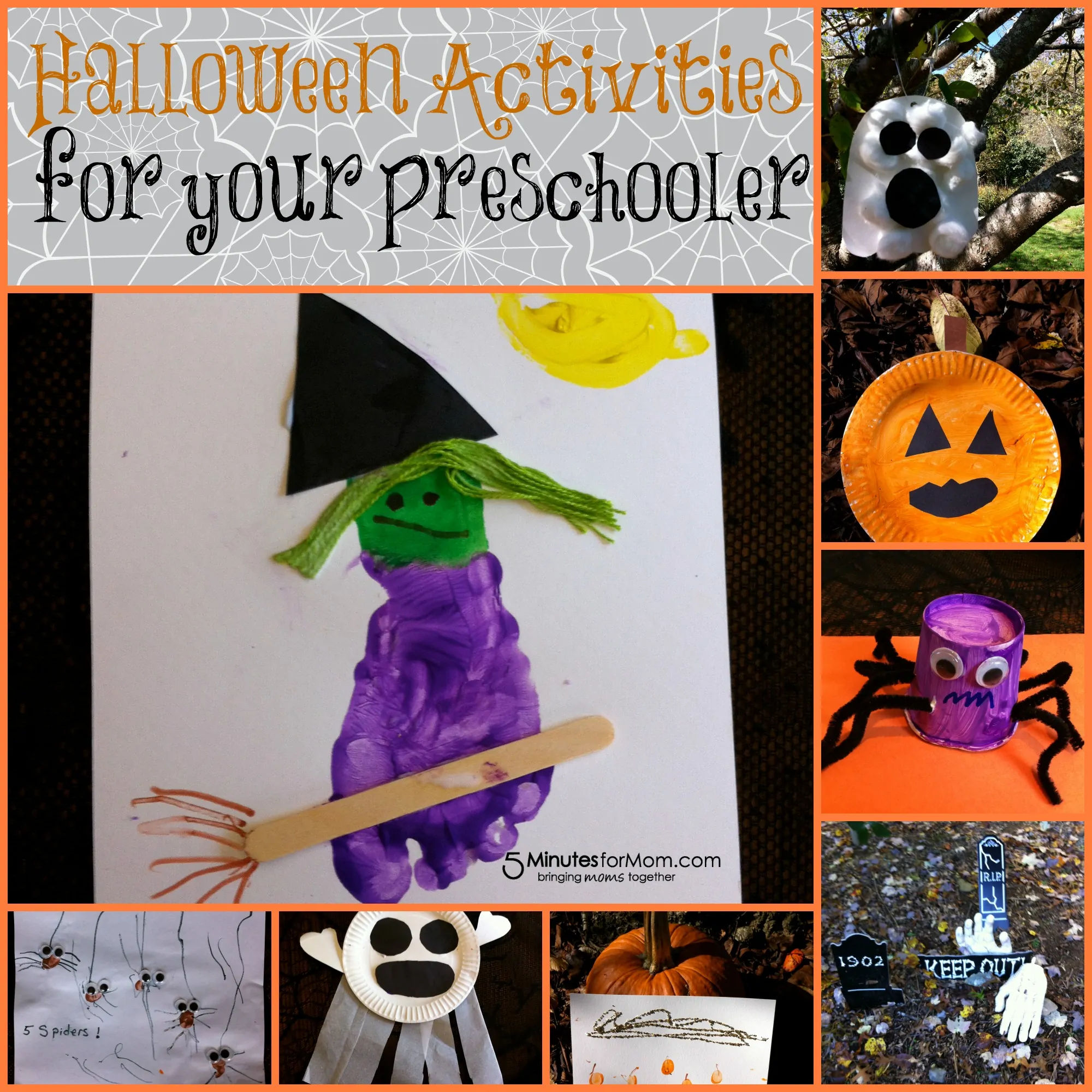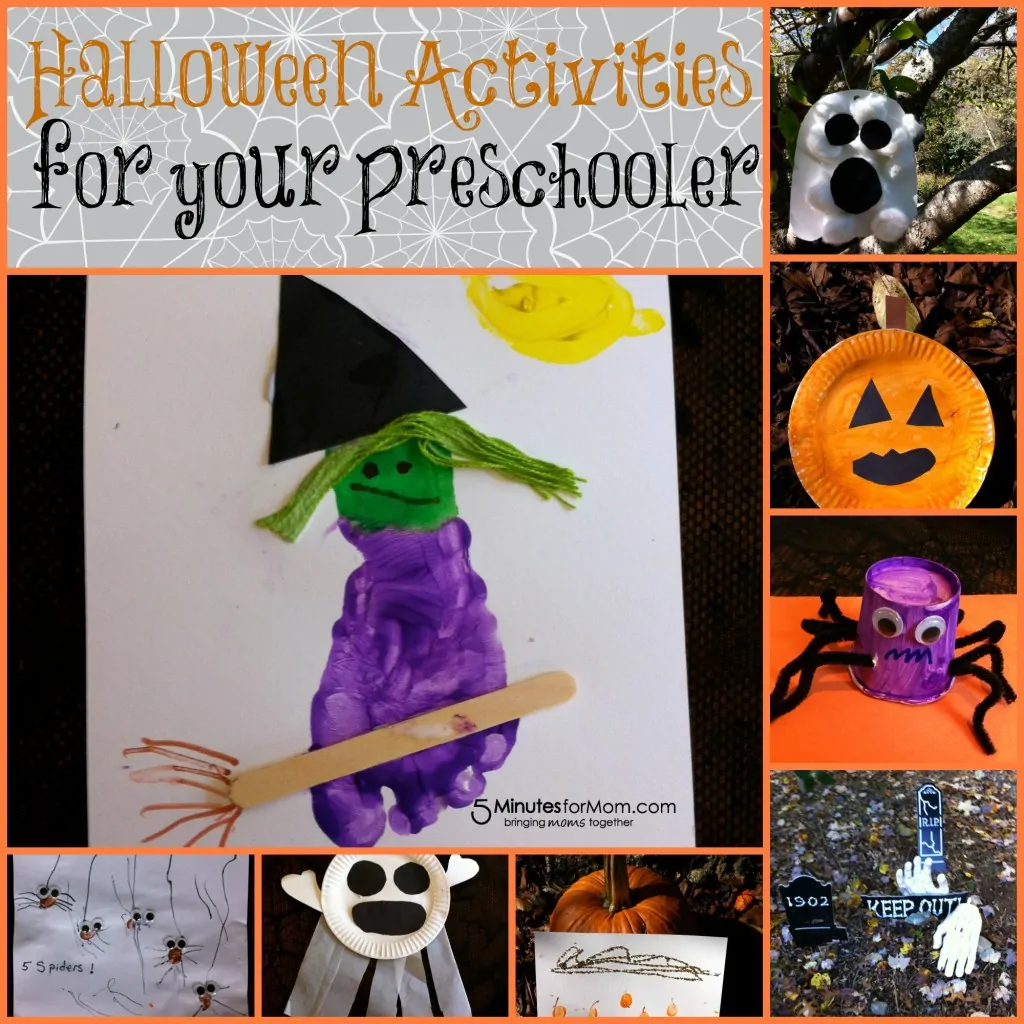 Each activity will also help your child practice their counting, literacy, fine motor, and listening skills. How's that for a trick?
Footprint Witch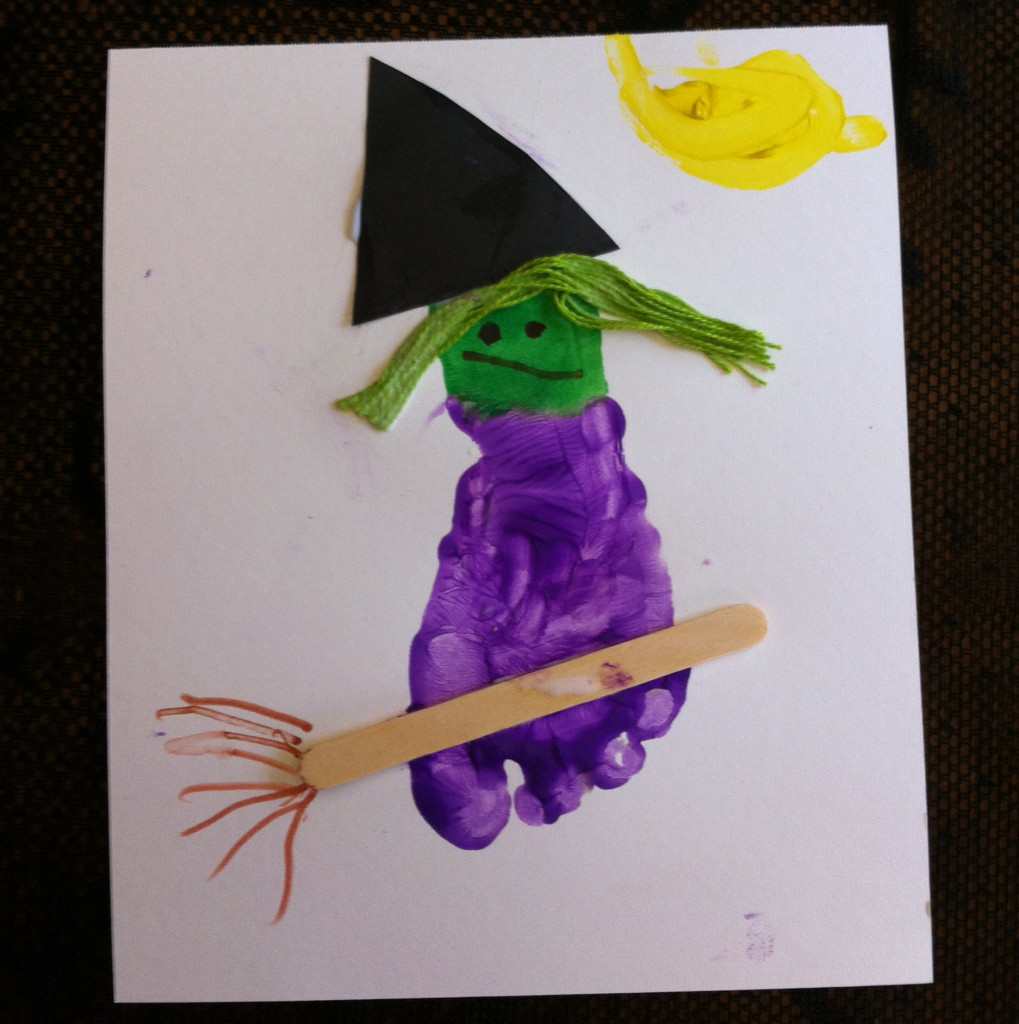 What You Will Need:
White and black construction paper

Green, purple, and yellow paint

Paintbrush

Brown marker

Green string

Popsicle stick

Glue

Your child's adorable little foot!
Paint your child's toes and foot purple. Paint the heel green. Have your child stamp their footprint on white construction paper. Next, glue a black triangle on top of the green paint for the witch's hat. Glue the popsicle stick by your child's stamped toes.
Let your child swish yellow paint with a small paintbrush in a circular motion to make a moon. When the paint is dry, let your child draw the witch's face and add brown lines to complete the witch's "broom." Last, but not least-don't forget to glue green string for her hair!
To finish this fun activiy, read Room on the Broom by Julia Donaldson and Illustrated by Axel Scheffler. Also, there is a great animated video to follow along with the story.
Spiders, Spiders everywhere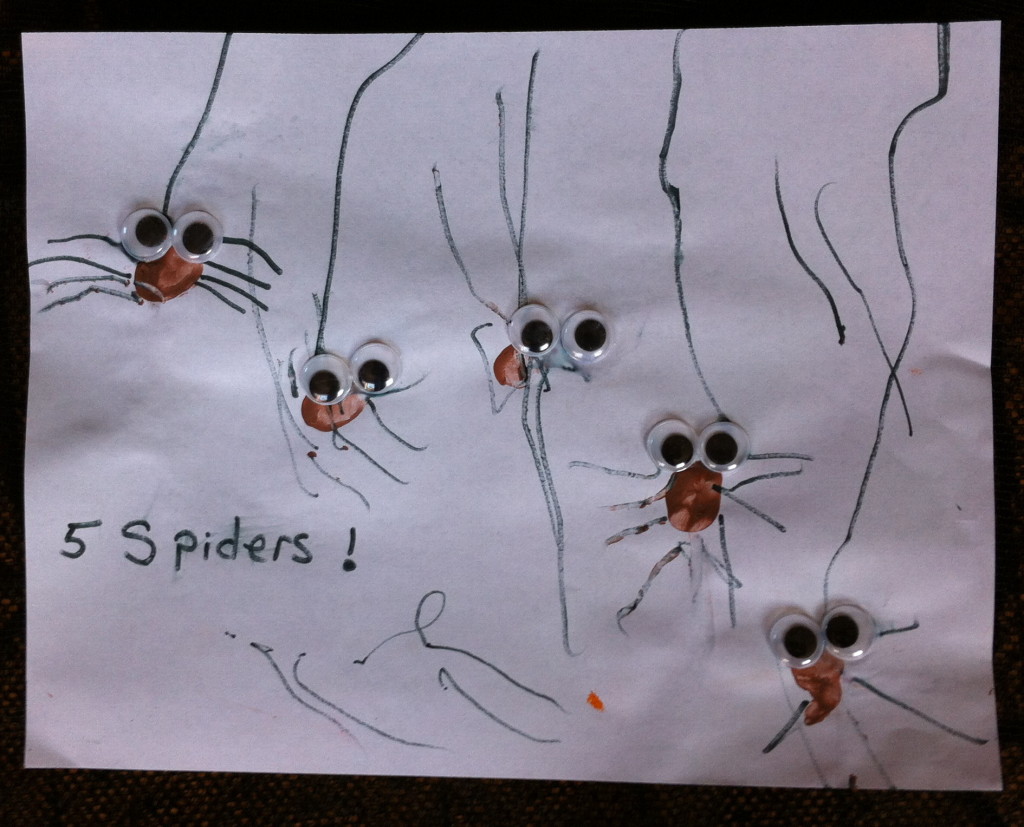 What You Will Need:       
White Construction Paper

Black Paint

Black Marker

Google Eyes

Your child's thumb
Paint your child's thumb black. Let your child make thumbprints on white paper. When the paint is dry, have your child draw four legs on each side of the thumbprints. Count and discuss that spiders have eight legs. Glue wiggle eyes.
Another spider craft you can make is spiders with paper cups.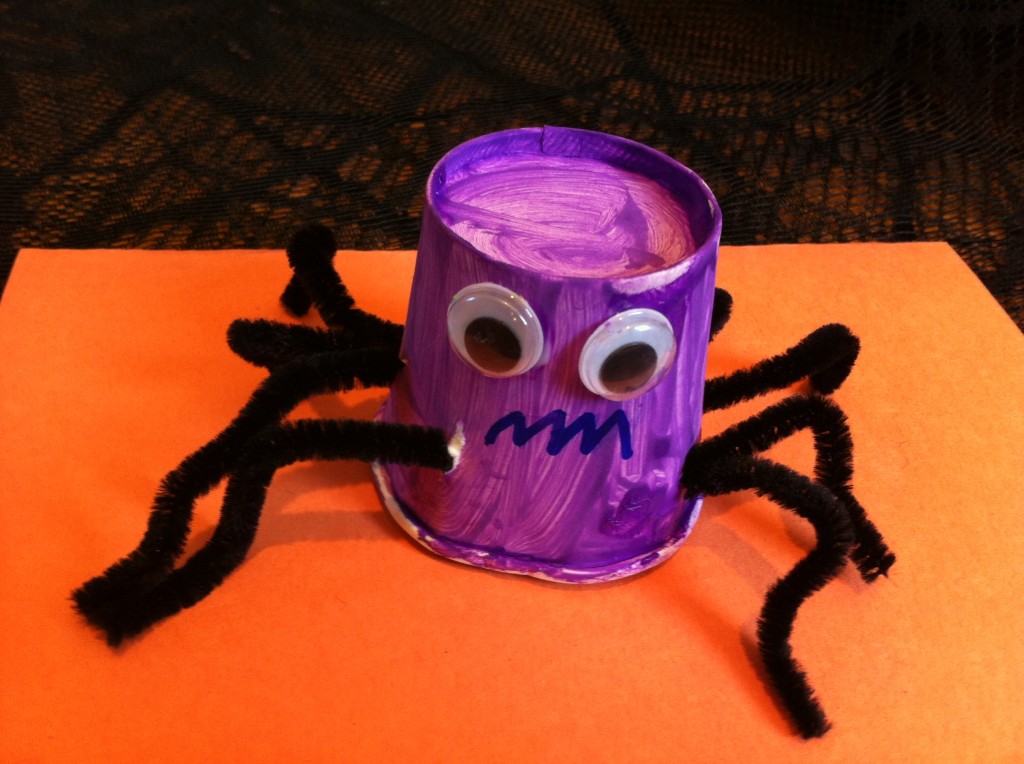 First, carefully poke holes in the cup, four on each side for your child. Next, have your child paint the cup. When the paint is dry, have your child weave pipe cleaners through the holes for the spider's "legs". Glue wiggle eyes and let your child draw a funky spider smile with black marker. Follow up by reading The Very Busy Spider by Eric Carle.
Boo! It's a Ghost!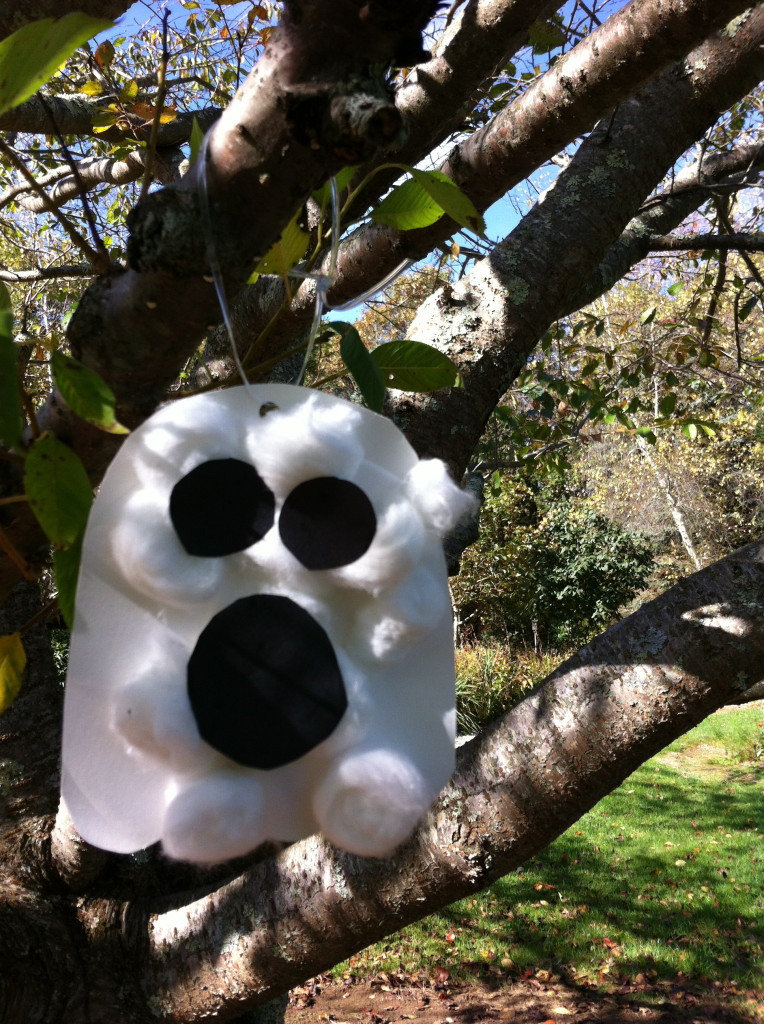 What You Will Need:
Paper plate cut into a ghost shape

White cotton balls

Glue

Black Construction Paper

Child safe scissors

Clear string
Older preschools can cut out their own ghost shape and ghost face from the paper plate and black construction paper. Younger children will need your help. Let your child dip cotton balls in the glue and stick to the ghost. Glue on black eyes and a mouth. Punch a hole; add clear string to hang your ghost up so he can swoosh through the air!
You can also make paper plate ghosts by gluing black circle cutouts to a paper plate, and tape white crepe paper or white tissue cut into strips to the bottom.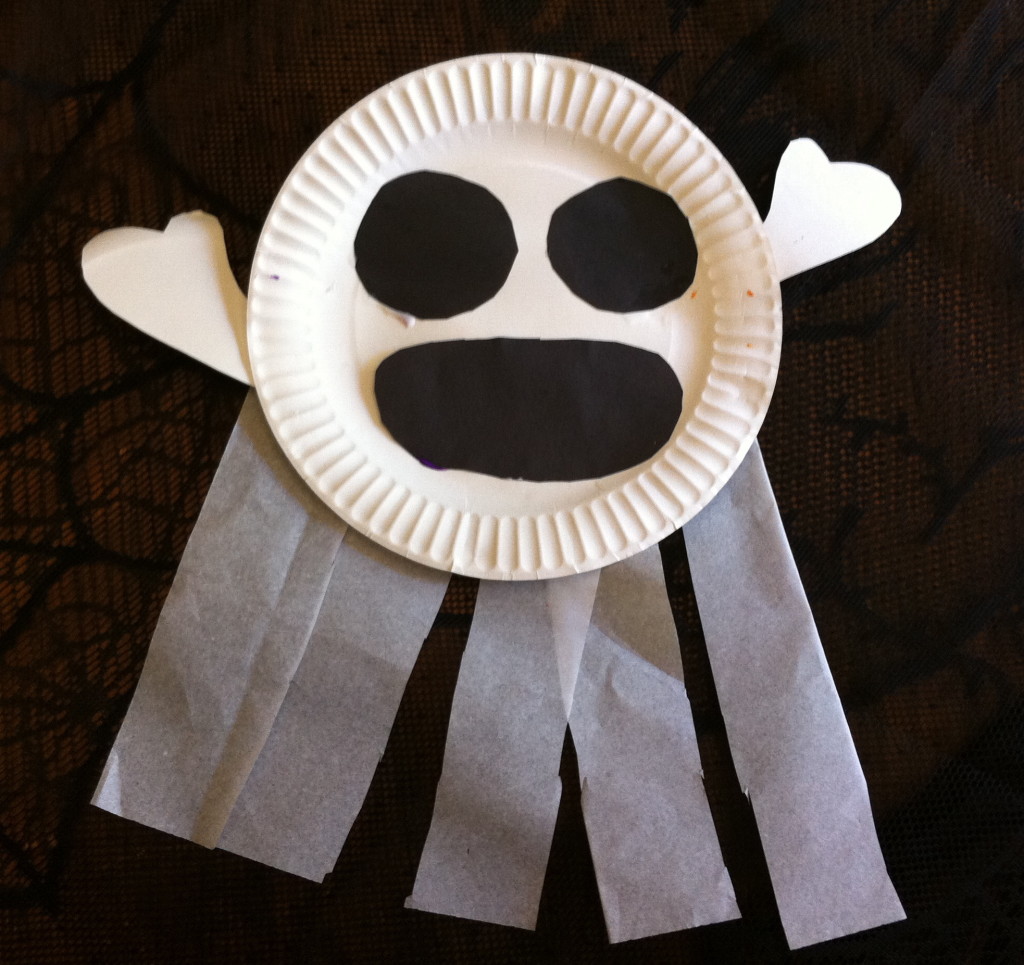 Hang with your cotton ball ghost! Don't forget to read Ten Timid Ghosts by Jennifer O'Connell!
Pumpkin Time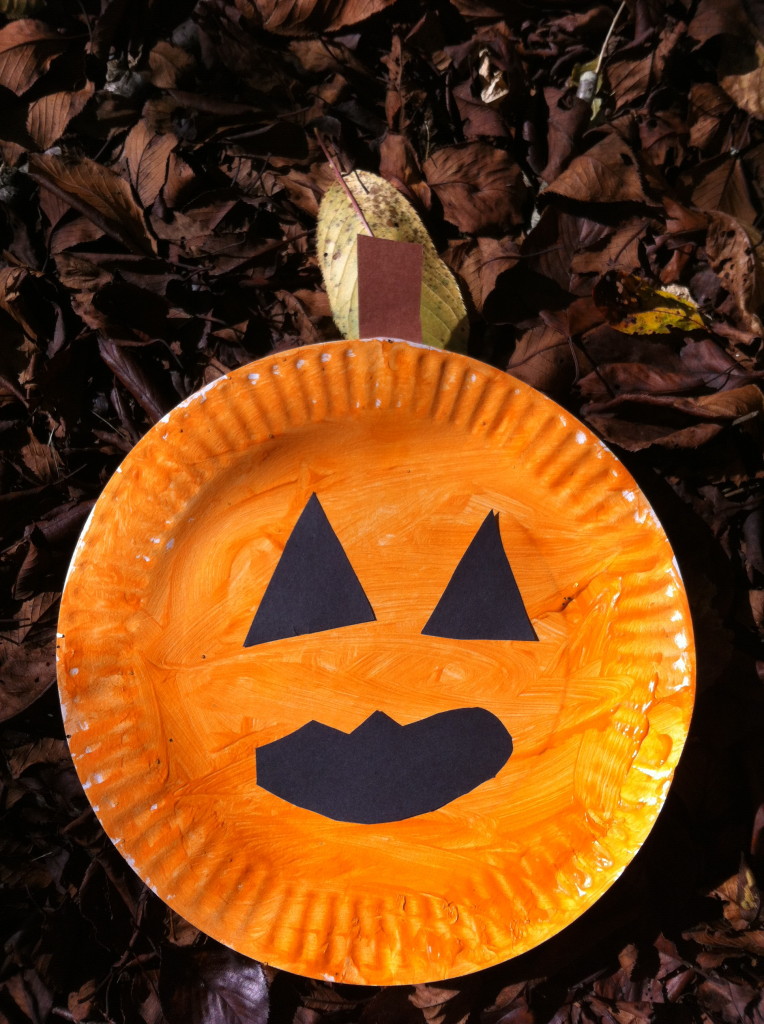 What You Will Need:
Paper plate

Orange paint

Black and brown Construction Paper

Glue

Child Safe Scissors
Have your child paint a plate orange. As it dries, let older children cut a pumpkin face and stem from the construction paper. Younger children will need your help. Glue the face onto your pumpkin. Get creative-you could discuss different emotions and make happy/sad, excited/surprised faces on your pumpkin!
Another thumbprint activity –paint your child's thumb orange and make prints just like you did for the spider activity in #2. When the paint is dry, let your little one add faces with black marker, or draw a "fence" with brown marker.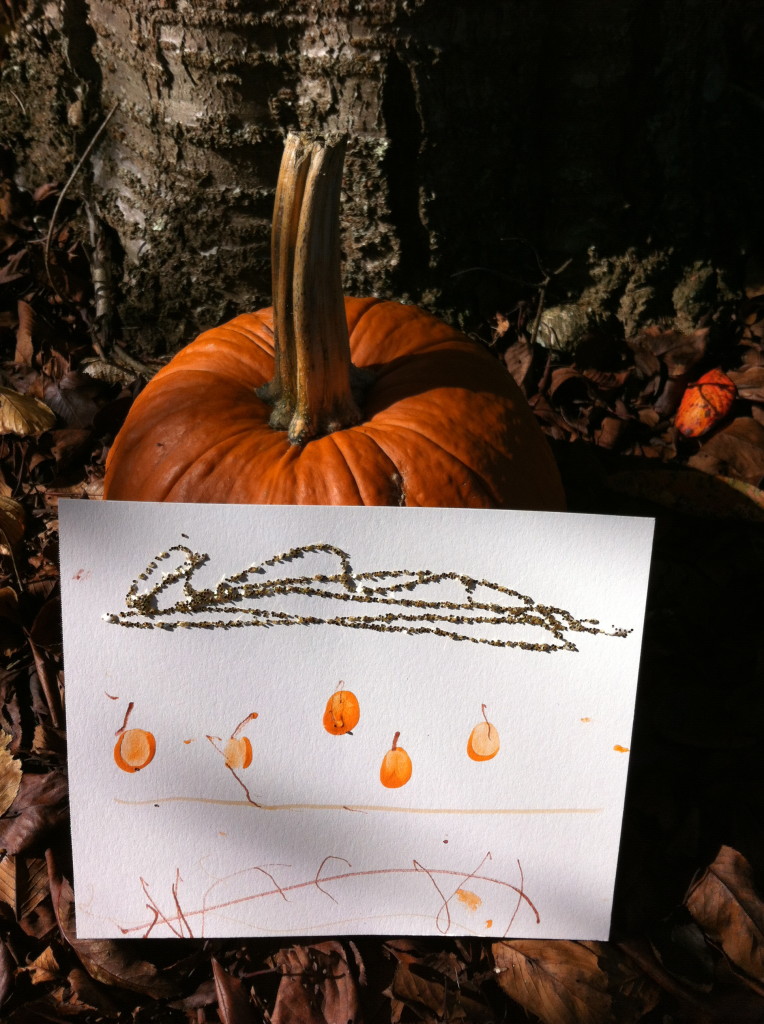 Even young children can draw the fence. Simply have your child practice drawing lines horizontally and vertically. This will help your child practice their fine motor skills and learn to follow directions. Add some glitter and don't forget to sing Five Little Pumpkins Sitting on the Gate! There is a great animated film for Five Little Pumpkins here.
Have a "Treat and Greet!"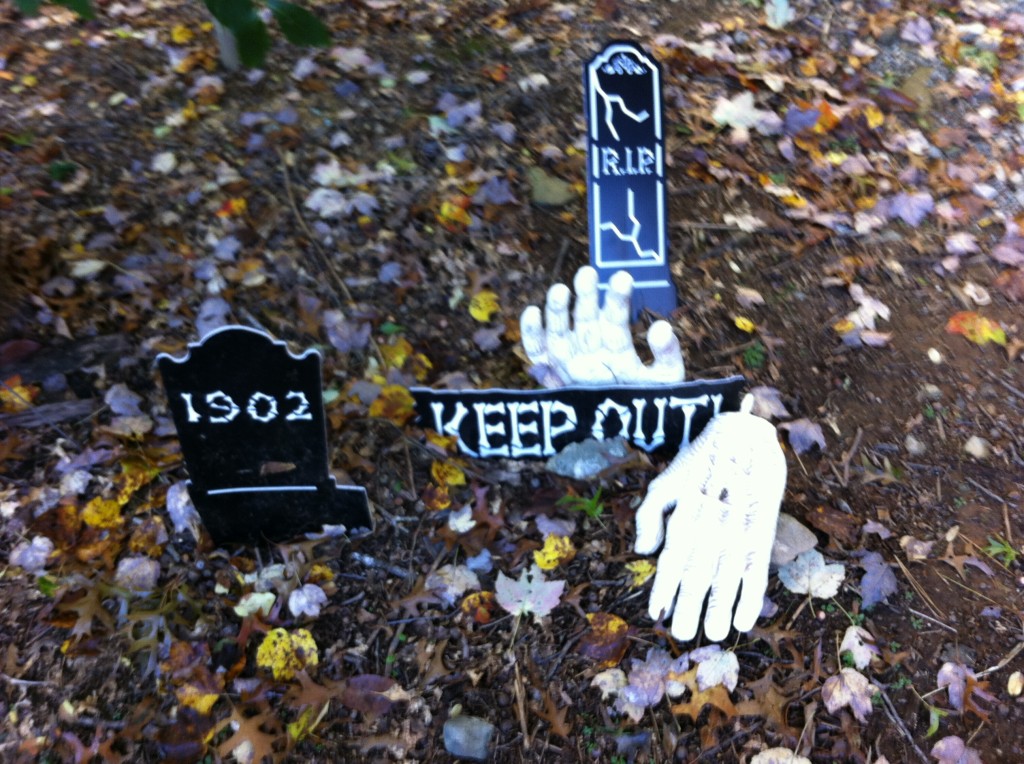 Every year Halloween feels like a mad rush. The kids want to go trick or treating throughout the neighborhood, but the grandparents, aunts and uncles all want to see how adorable they look in their costumes too. Even when relatives live nearby, they don't always live in walking distance or near your trick or treating neighborhood. It can be exhausting to visit each one and still go trick or treating.
So instead, why not have a "Treat and Greet"? Send out invitations for family and close friends to stop by your "haunted" house about 1-2 hours before you take the children trick or treating. Let your children decorate the house with their amazing new Halloween crafts. Serve up your favorite Halloween punch and don't forget the Halloween music! Family members can pose for pictures and then join you for your neighborhood trick or treat if they dare!
With these bewitching activities, your Halloween is sure to be full of thrills! Happy Halloween!