This post may contain affiliate links. Read my disclosure policy here.
As a mom one of our daily goals is to feed our children healthy meals three times a day. Kids are not cheap and keeping their bellies full costs a lot, but it does not need to cost as much as you think. For the past 3 months I have learned how to save money on groceries with price matching. I want to share with you how I do that so you can put money back in your pocket.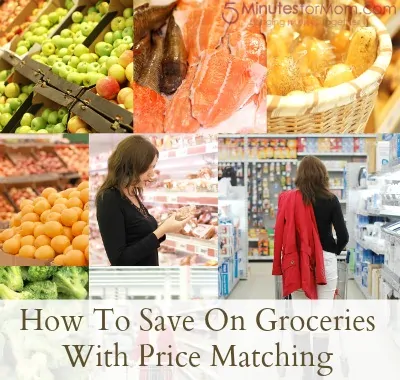 Just like gas, the price of groceries keep going up and up. I wanted to start saving money to help pay for my wedding in May and needed to look back at cutting down on my expenses. One day I stumbled upon a Facebook group for my city that was all about price matching and couponing. That day changed my life and my habits. I now refuse to go shopping anywhere without first price matching.
How I save on groceries with price matching:
Know what you need. To begin with price matching you need to know what it is you are going to buy. This is the perfect time to draft up your menu plan for the week. I do 2 weeks so that I only have to grocery shop twice a month.

Understand store policies. Every store has different policies with regards to price matching. Some stores will limit the amount of items you may price match while others may limit which stores they will price match. Some stores won't even price match at all. Knowing the policy of the store you will shop at will save you a lot of hassle and headaches.

Gather your flyers. Now is the time to start your price matching. With your grocery list in hand start combining through the flyers to see what it is on sale. Circle the sale items or highlight them so that they will be easy to find when at the cash.

Electronic flyers. Some stores will allow pictures of electronic flyers (this goes back to knowing your stores policy). If your store does accept electronic flyers then your life just got that much easier. I use an app on my iPhone called Rebee which is also available on Android. I can take screenshots of sale items and then just show the picture to the cashier.

Checking out. When putting your items on on the belt to check out, I highly suggest putting up non price matching items and then separate them from your price matching items. This way you can let your cashier know that all items past this point will be price matched. Many cashiers go into a zombie mode while scanning and you want to make sure they don't scan items that need to be price matched.
A few more tips:
On your grocery list write down beside each item which flyer the price match is in and page or what picture if using electronic flyers. This will help save you lots of time instead of fumbling through your flyers.

Don't go when the stores are busy. This will cause undue stress on you, the cashier and other shoppers.

Be polite to other shoppers. Let shoppers arriving in line behind you know that you will be price matching. This gives them the option to go to another cash if they do not want to wait behind you.

Never be embarrassed to price match. You are saving your hard earned money to use on other things.

I hope these quick tips are useful to you. I have a new love for saving money this way and will now not buy anything without first checking if I can price match it. I have been known to stand in Wal-Mart searching flyers in Rebee because I find myself shopping on the fly and was not able to prep before hand.
Nolie is a military spouse and mom sharing stories of her life, opinions and reviews at Nolie's Place