This post may contain affiliate links. Read my disclosure policy here.
Kids love stuff that glows in the dark! So make your little ones these Nightmare Before Christmas Inspired Glow in the Dark Painted Shoes.
Hello, 5 Minutes for Mom Readers!  This is Sarah again from Bombshell Bling. I am so excited to be back today sharing a new project with you.  This is a timely seasonal project because it is inspired by the fabulous movie The Nightmare Before Christmas. 
Being the Halloween freak that I am, it is one of my favorites. Of course, some people think of this as a Christmas movie as well, so if your little one adores these glow-in-the-dark shoes then they can wear them for several months in a row.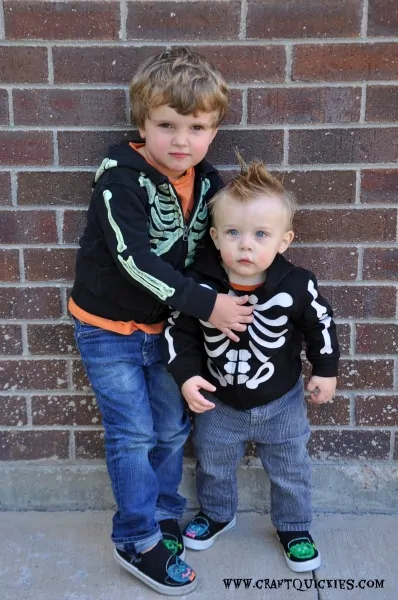 Last year my sister and I painted my son and my nephew some Monster Glow-in-the-Dark Shoes, and my son was obsessed. He wore them until he couldn't fit into them anymore. But hey, it's totally normal to wear glowing monster shoes in January, right?! 
This year he asked me to make him another pair and I proposed that he choose two different characters from The Nightmare Before Christmas. He was especially excited about that idea since I had just made him a Jack Skellington Shirt!
Now let's talk shoes. For this project you will need some glow-in-the-dark puff paint and a basic pair of sneakers. I got both at Walmart. The shoes were only $5.
You will also want a pencil and the template, which you can download HERE. 
I am not a fabulous artist by any means, but I think these images are sufficient to get you started.
(Below is a picture of the template I am sharing, but download the PDF for Nightmare Before Christmas Shoe Templates HERE for a more clear and easily printable image.)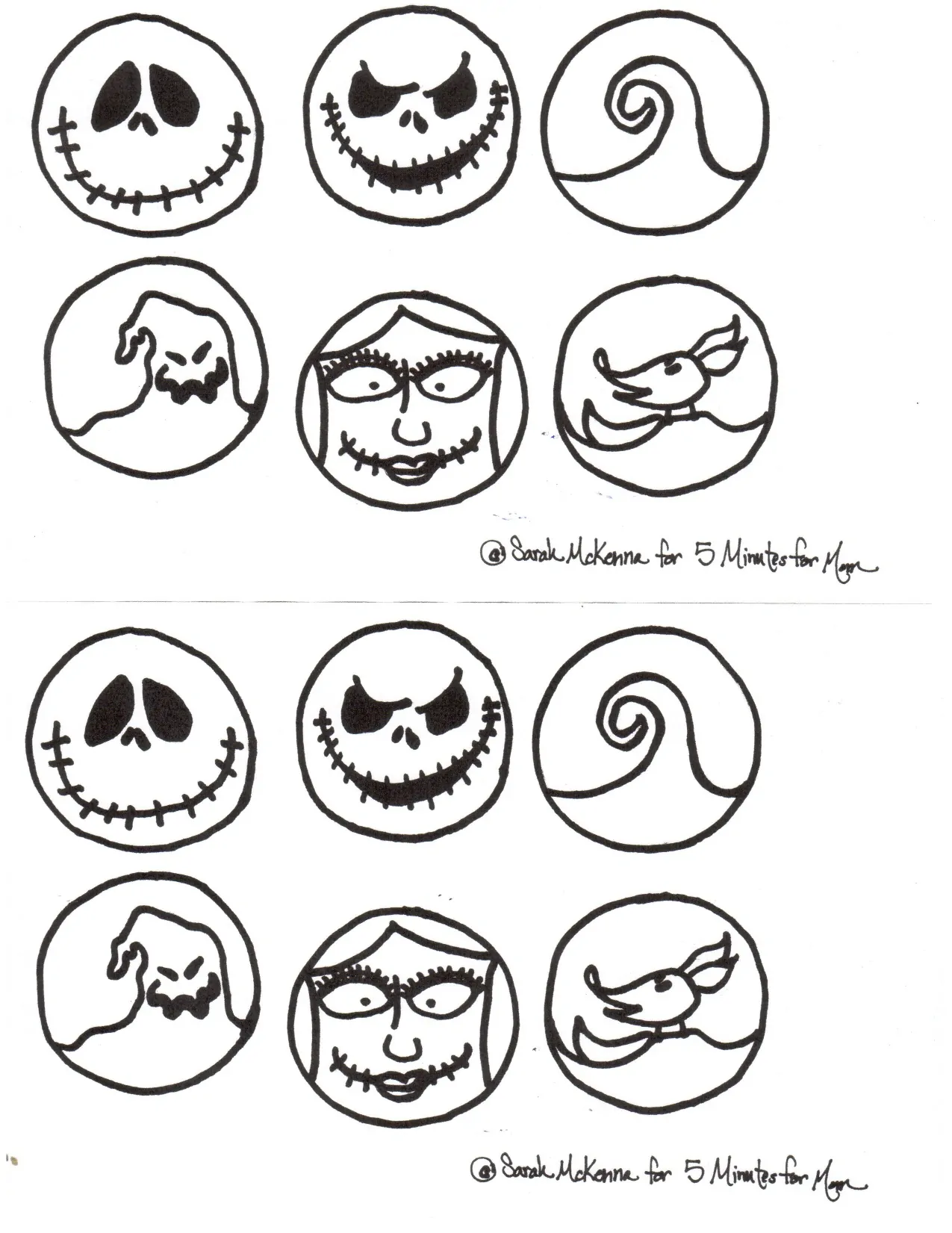 Begin by tracing your template onto your shoes.  I used a sewing pencil, but a normal one would work.  These templates were made for size 9 little boy shoes, but you can use a copy machine to easily shrink down or enlarge the images to fit your child's shoe size better.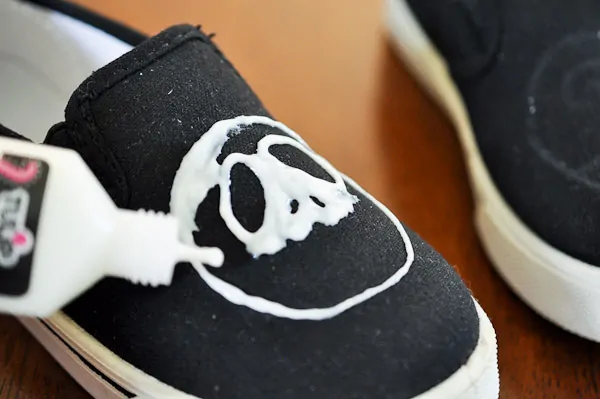 Now just use the puffy paints to trace and then fill in the images you have chosen!  To make Jack Skellington's mouth I just used black puff paint to draw one on top of the white glow-in-the-dark paint after it was dry.  I figured that would be much simpler than trying to outline it.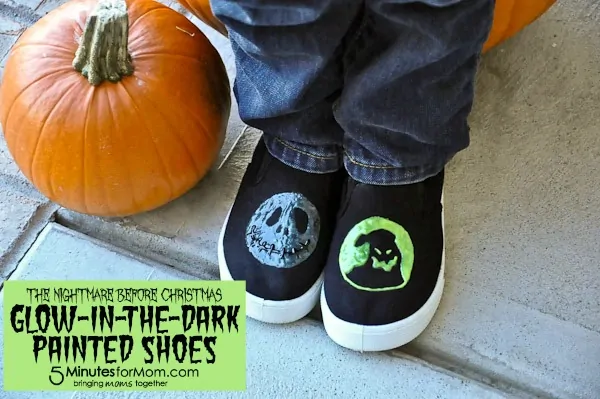 Allow them to dry (preferably in the sun so that they will glow brightly right away) and then stick them on some spooky little feet.  Cutest!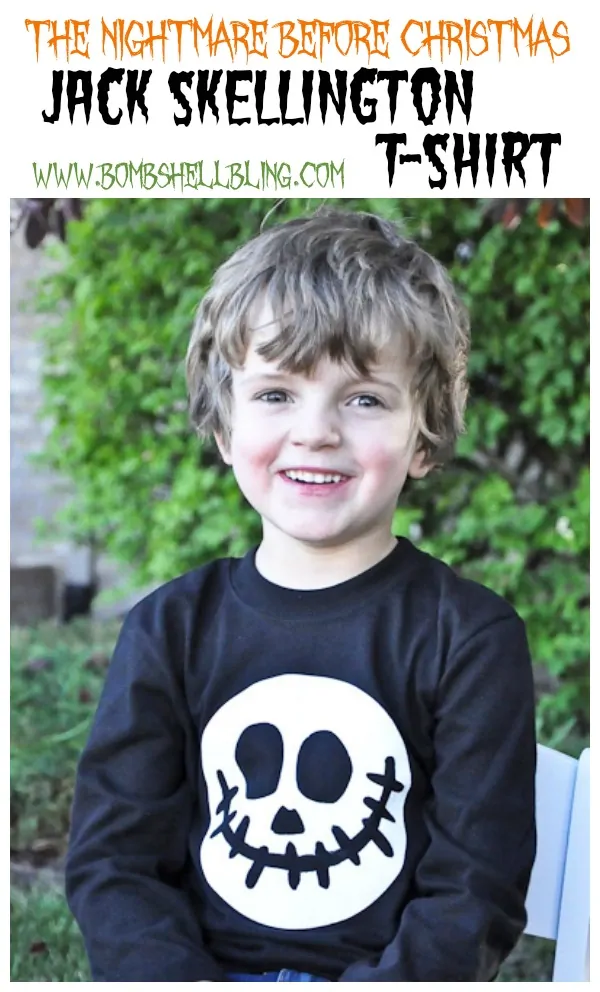 You may also want to make your child a Jack Skellington Shirt.
I made this shirt in about 5 minutes flat.  Seriously, come see how. Or how about a Jack Skellington Caramel Apple?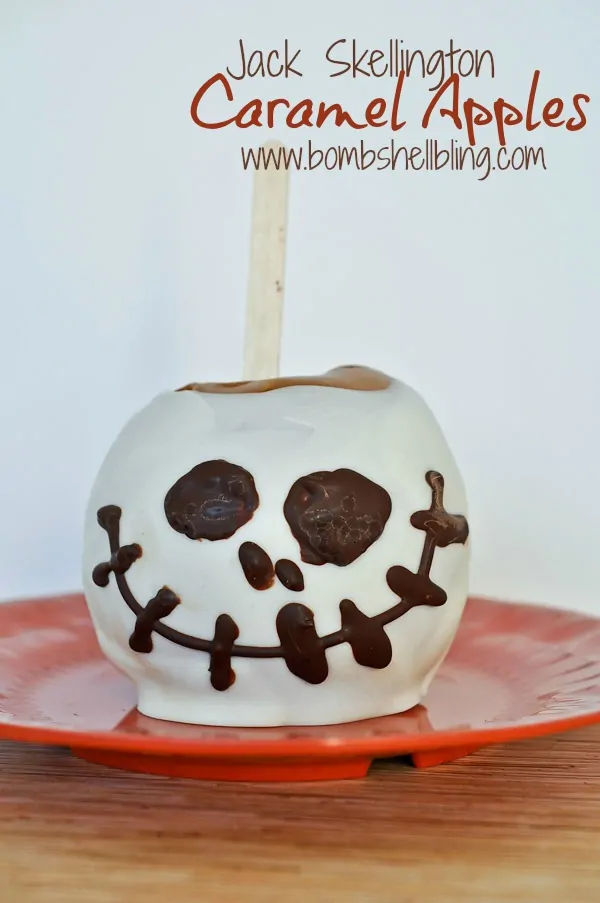 Be sure to check out all of my Halloween projects over on Bombshell Bling, and have a spooooky day!
DIY Costumes
If you want to get crafty with more DIY costumes, try some of these ideas…