This post may contain affiliate links. Read my disclosure policy here.
When I found out that I was going to get the opportunity to review a dress for 5 Minutes for Mom from Shabby Apple I was THRILLED!  I have had my eye on Shabby Apple's dresses for a few years now.  I had seen Shabby Apple mentioned on blogs and in ads, and every dress or skirt that I saw just called out to me.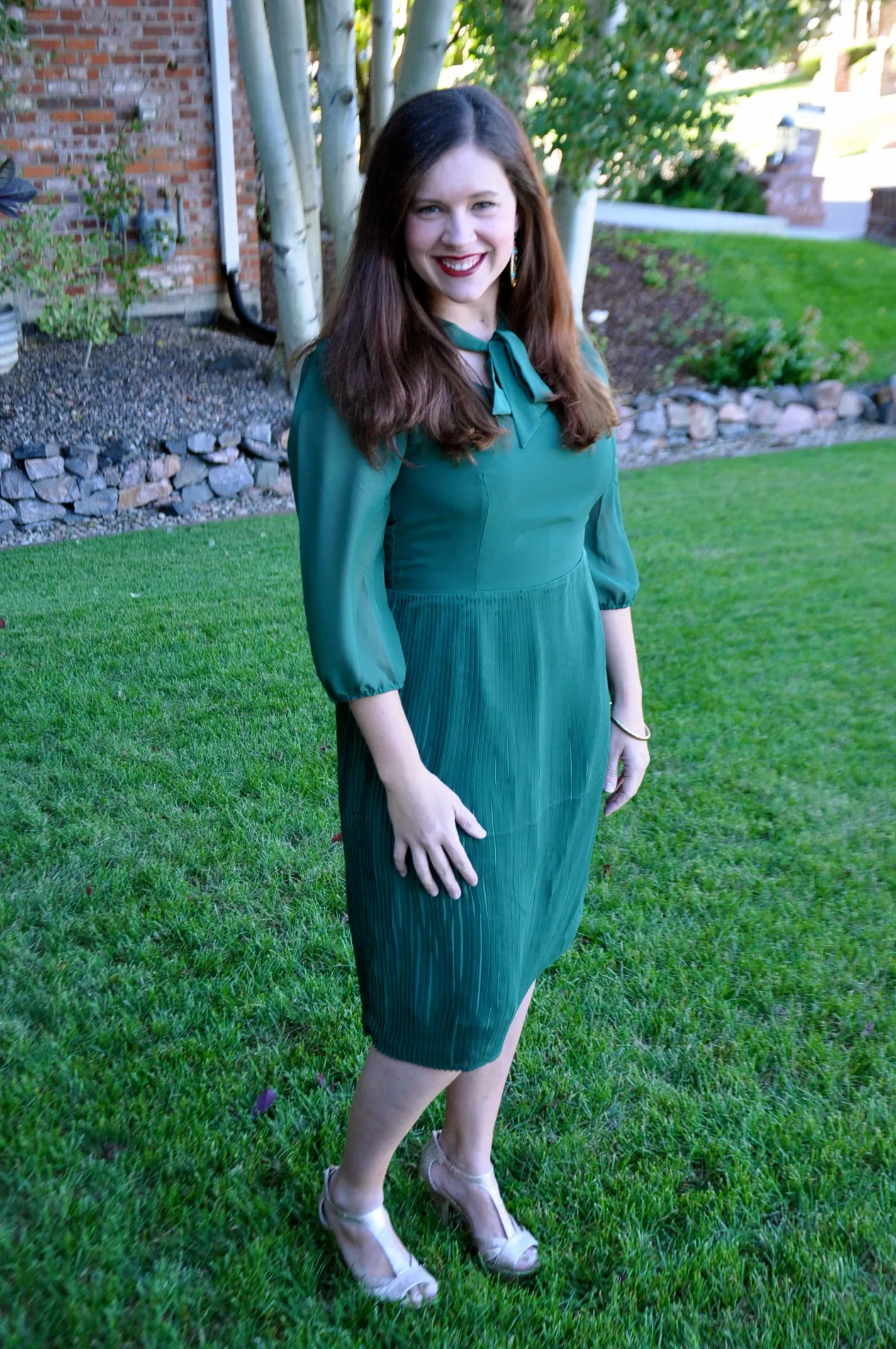 I love that the dresses are modest and unique, and I adore the vintage flair that they have, especially since they seem to pull inspiration from so many different eras!  I was just waiting patiently for the right moment to splurge on a new dress.  I hesitated a bit because I have a hard time investing in something that I can't try on in a store, but this opportunity was exactly what I needed to convince me: I am SOLD!  Next time I'm looking for a dress I am coming straight to Shabby Apple and ordering with confidence!
Once upon a time it was easy for me to find dresses that were stylish and flattering.  My skinny-minnie pre-baby body could handle clothes from almost any brand!  But after two kids I have had to add a one in front of my former size number, and so things have become a bit more complicated.  When I spotted the "Animalia" dress on the Shabby Apple site I just knew it would be flattering on me.
A high enough neckline to cover my large bust, but with a cute tie and peek of skin so I would still look a little sassy and fashionable, rather than just frumpy.  I also liked that the three-quarter length sleeves would cover the tops of my arms in pictures and that the skirt was slightly pleated and flowy, so it would dance around my hips without clinging to them.  And you know what?  I was right!
When it came in the mail and I put it on I squealed!  I think it is a great silhouette and color for fall, don't you?  I also think it would look great on anyone from a size XS to a size XL.  I love the style and look of vintage clothing, and this dress feels very vintage to me.  My favorite thing about vintage clothing is that it is classy and modest, but it doesn't look frumpy.  It looks purposeful and thought out in the design.  Like I am choosing to be modest, not because of body shape or religious or personal reasons, but because I think this is the cutest dress ever.  Which I kinda do….
The only thing missing from this look for me was a little blingy pizazz.  Toss on a gold bangle, some massive jeweled gold earrings, and some outrageously tall glittery stilettos and I was ready to go out on the town!  I haven't gotten so many compliments on an outfit in ages!  Shabby Apple has earned themselves a devoted customer in this girl right here!  Go check out their fall collection today.  I know you won't be disappointed!
Enter to win
One winner is going to get their chance to win a dress from Shabby Apple. To enter this giveaway, simply use the Giveaway Tools form below to enter.