This post may contain affiliate links. Read my disclosure policy here.
Jennifer Donovan, 5 Minutes for Books managing editor, received a copy of this book to facilitate her review.
As I was reading Ready for Air: A Journey through Premature Motherhood, I thought a lot about the idea of taking "a journey through premature motherhood." Kate Hopper's first baby was born at 32 weeks after complications due to preeclampsia, so her baby was premature, but her time as a mother was premature as well. The crib wasn't up, she hadn't taken her breastfeeding class, she wasn't expecting a baby for months. My first child was born at 38 weeks (full term, but earlier than that 40 week target). We had literally just happened to assemble her crib the weekend she was born. I wasn't ready to be a mother either. The first night, I gazed at her in the hospital bassinet pushed right up against my bed, and I couldn't believe that she was here and she was mine. Driving home from the hospital, I had more of those feelings, thinking I was never going to be alone in my car again. I wasn't sure I was ready for the responsibility of caring for her.
Motherhood is a journey. We can all relate to the unexpected hills and valleys that motherhood brings us all.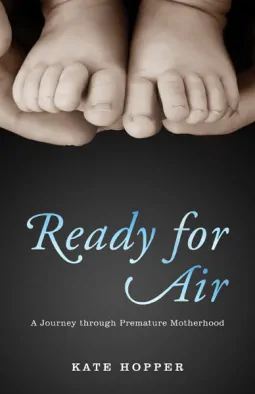 I love reading memoir. If it's well-written, the memoirist creates a compelling story, and the narrative nonfiction reads like fiction. This is exactly what happened as I read this book. And I'll be honest — this is not what I expected. I've read enough blogs turned books about motherhood that I expected a collection of essays about the tribulations of pregnancy and premature birth, and the joy of overcoming obstacles, which can still be good stuff, but it's not something that keeps me glued to my chair. That is not what I got at all. In fact, this is exactly the kind of book which had me stuck on my sofa turning page after page. It wasn't that I wanted to know how it would end. I was fairly certain (though not 100% sure, I guess) that Stella would leave the NICU and Kate would begin to navigate motherhood at home. But their story drew me in, and I didn't want to look away.
Ready for Air is a fully formed memoir. I know Kate Hopper tackled the subject of writing motherhood in her previous book Use Your Words: A Writing Guide for Mothers, and has fought the battle that it be considered alongside and equal to any other type of narrative nonfiction, and while I do regard it as genuine memoir, somehow I still went into it with low expectations. I am so glad to be have been wrong. It's honest, funny, and touching. I'm not recommending this as a "memoir written by someone whose daughter was in NICU." It's a book I'll recommend to people who like memoir.
You may want to know more about what it's like to have to visit your baby in the hospital after you've gone home. You might want to build compassion for those who have gone through something you haven't (which is what draws me to memoir of things outside of my experiences), but that's not the only reason to read this book. Anyone who has ever been hospitalized or cared for a loved one in the hospital — which would be almost all of us I assume — will laugh at Kate's un-filtered thoughts towards some of the medical professionals. Yes, she appreciates what they are doing for her and her daughter, but there are times that she wants to curse them out when they give her a disapproving look or ask her an insensitive question. It's not how we are supposed to react. We are supposed to honor their medical training and experience and always be compliant and thankful, right? But Kate Hopper isn't what she's "supposed to be," she's honest. And that's what makes memoir good.
Enter to win
You will get an extra entry for this if you mark it in the Giveaway Tools widget above: Kate Hopper's publisher is donating 15 copies to NICU units in the U.S. and Canada. Please read her full post, and follow her instructions over there.