This post may contain affiliate links. Read my disclosure policy here.
Today Lindsay Stewart is sharing her ideas for tackling a DIY dinner party.
We all like to celebrate, but planning a party can be very overwhelming. Let me help you tackle getting started.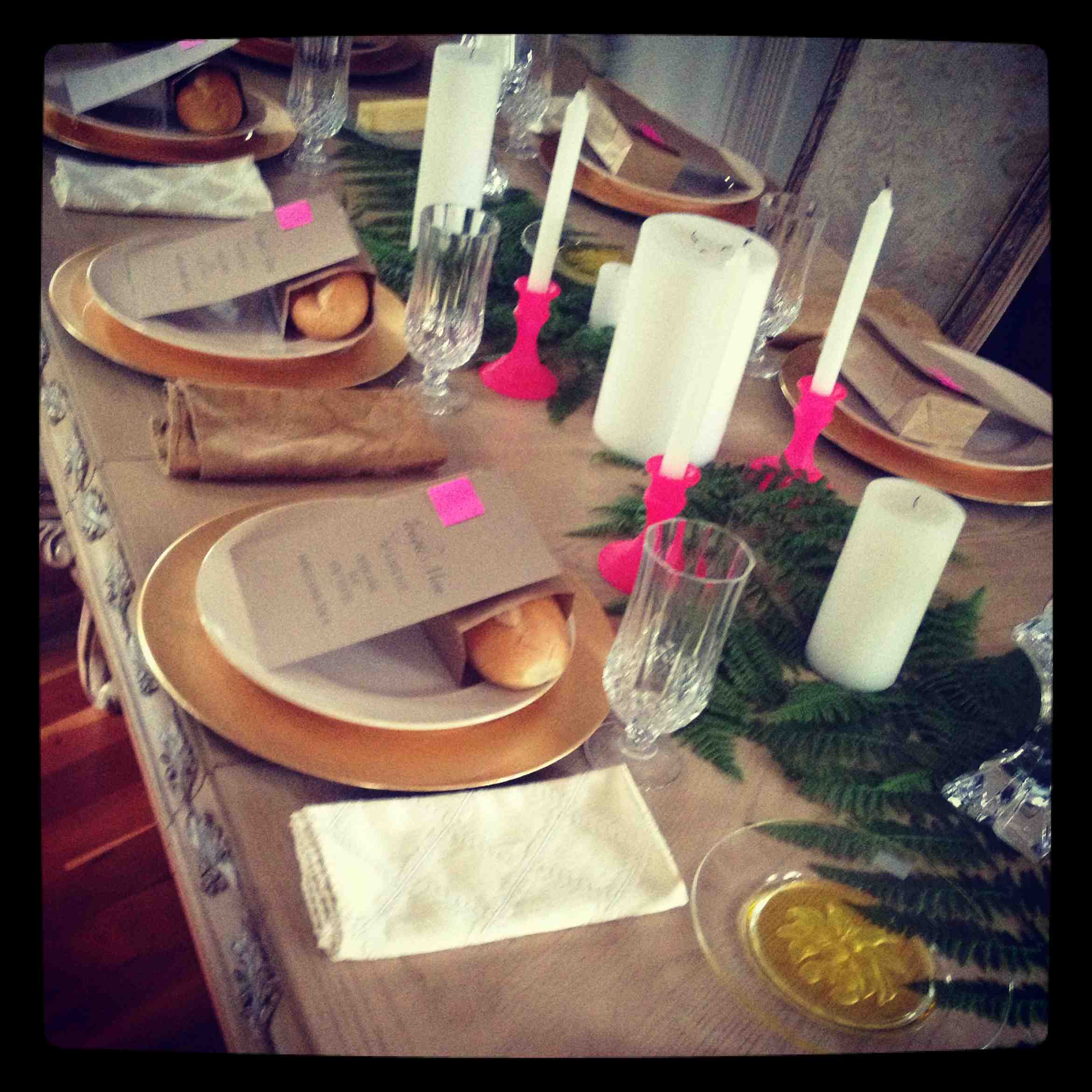 Theme
What kind of party are you throwing – child's birthday party? A dinner party? Graduation Party? Depending on what type of party you are throwing, choosing a theme for the party is the most important in keeping you on track with planning. Once you know the direction you are going decor wise, it is easier to make other decisions.
I tend to be less commercial when choosing themes. I generally like to utilize Pinterest to find inspiration when beginning to plan a party.
What pictures depict they type of party you want to throw?
What color schemes go well with the venue (your house possibly?) or portray thefeeling you want for the party
Once you find your inspiration piece, you can then recreate that look for your own party. Think in terms of color schemes. My friend just threw a Minnie Mouse Birthday Party for her daughters 4th birthday, so everything was Pink, White & Black.
I threw a dinner party this past week, and the color scheme was neutrals with pops of florescent pink. After you determine this, you can decide what DIY projects will enhance your party.
DIY Projects
Again, Pinterest is King when it comes to finding DIY projects, just be careful not to get overwhelmed. You have to determine how much time you have before your party, and prioritize your projects accordingly.
Utilize the Dollar Store. There are so many great things you can get at the dollar store. The long term quality may not be there, but for one time use items this is a great asset.
For my dinner party last week, I wanted some florescent Pink candle holders, so I bought the crystal candle holders from the dollar store and spray painted them! Three perfect on theme candle holders for under $10.00! I also use the tissue paper from the dollar store for a lot of party decor items (i.e. Tissue puffs). Just wander through and see what they have, keeping in mind you can spray paint almost anything!!!
Personalized DIY details. I like to create personalized details in a party when I can. For the dinner party, I printed the menu's with my home printer onto light brown card-stock with contrasting fonts, and then added a strip of florescent pink paper to tie the menu's into the color scheme.
Name cards written for each guest always shows that you thought of the person ahead of time. For my daughter's second birthday party, I made each of the little guests a tutu to wear at the party, and then take home with them afterwards! That DIY project doubled as a photo op at the party & a parting gift.
Hopefully this has at least got your wheels turning. Throwing a party can and should be fun. Choose a theme or color scheme, pick a DIY project or two and HAVE SOME FUN!