This post may contain affiliate links. Read my disclosure policy here.
Jenny, 5m4m contributor, shares her insights into this cool new app that helps you get your fitness in. We were compensated to write this post, however all opinions remain those of the writer.
There was a time when staying fit was easy for me. I visited the gym four to five times per week, went hiking with girlfriends, and took fitness classes. Fast forward one baby and a second pregnancy later and it isn't so easy anymore.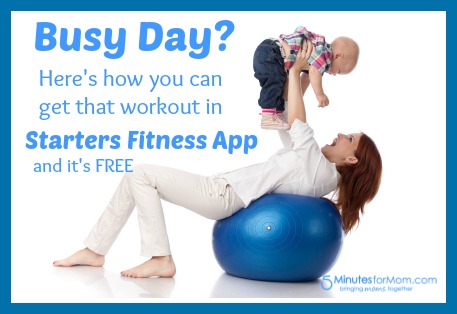 I no longer belong to a gym, most of my girlfriends also have babies, and
I simply don't have the time
for scheduled fitness classes. Ever since my daughter was born sixteen months ago, I have been attempting to establish a regular fitness routine, but so far it hasn't happened. I fit in walks with the stroller and the dog, but not much else.  There always seems to be so many other things to do, and at twenty-four weeks pregnant my motivation isn't exactly high.
Starters Fitness App is just what I have been looking for
This is where the Starters Fitness app came in and saved the day!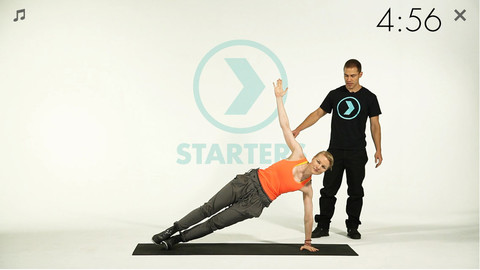 Starters was founded by Kristrun Hjartar, former Judo Champion, and their mission is to help 1 million busy moms to get fit and live longer with loved ones. (for a special one on one interview with Kristrun, click here.)
This app is available for the iPhone and can be downloaded on your iPad (as an iPhone app). Download Starters from the iTunes App Store: http://bit.ly/12narzI.
I downloaded the app for FREE from the iTunes app store and have been using it ever since. This app is perfectly designed for people who don't have scheduled chunks of the day for exercise.  Starters designs simple, ten-minute workouts that can be done at any time and anywhere.
The high quality workout videos, and activity tracker are so helpful in keeping me motivated.  Even better is the built in accountability you can create by making a team that you put together with your real friends!I love that even though I am working out through the use of technology, I can still interact with real people. You can even add in a level of competition through the app that will increase your motivation, and your results!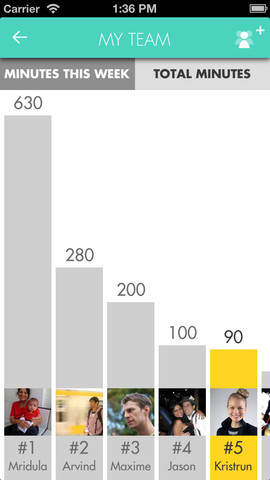 You can also track your progress and earn rewards. All from a mere ten minutes per day!
Favorite Features
Here are my favorite features of the Starters Fitness App:
REAL: Work out with real friends, sweating through it with world-class trainers. Keep track of your progress using simple measurements such as minutes spent and daily consistency, not calories or points.
SMART: Science has taught us that smart, not long, workouts get you the best results. The 10-minute videos are designed by certified trainers to be the most effective for you in the least amount of time. You can share your own activities into the app, whether it be biking, dancing or even walking.
CONVENIENT: Participate with Starters anywhere, anytime: your living room, a hotel, a park, whenever you have 10 minutes to spare. No exercise equipment is required, just you and your iPhone / iPad/ iPod or computer.
SUPPORTIVE: Everyone needs a little MOTIVATION from their friends. With one click, you create your team from your Facebook friends to chat about your progress and cheer each other on by sending rewards, high fives, badges and more.
PRIVATE: Don't worry about signing up through Facebook – you don't have to share your party with everyone unless you want to.
Using this app has taken the stress out of fitness for me.  I can feel better about my body without having to sacrifice my time and money to a gym or complicated workout routine.  It is the perfect app for the on-the-go mom!
To find out more about Starters, visit any of these links:
What about you? Have you used this app before? If not, how would it help you get your workouts done?
Hi! I'm Jenny!
I blog at www.thesweetstuff.blogspot.com all about my home, family (husband and sweet baby girl), being a mom, crafting, cooking, my faith in God, and more. I love the outdoors, living in a small town on the Central Coast and being a mom!