This post may contain affiliate links. Read my disclosure policy here.
5 Minutes for Books reviewer Dawn, also a parent and a preschool teacher, is happy to share her thoughts about Schoolies, a set of books and learning materials. Review copies and giveaway prizing is courtesy of Macmillan, and all opinions expressed are solely the writer's own.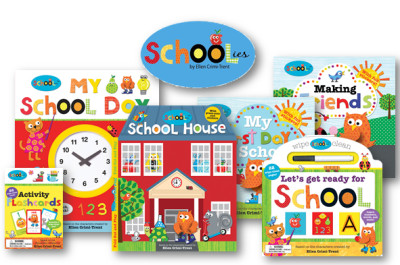 In just over two weeks, my three kids will be heading back to school, and for one of them, it's a monumental year. After two years of preschool, my youngest is taking the leap into kindergarten. We've filled our summer with lots of reading and a bit of basic skills practice, and we've found a treasure trove of fun and valuable learning activities in the Schoolies.
The six products available in the Schoolies line are a mix of storybooks, dry erase activity cards, interactive books, and a fold-out school house with sturdy paper figures for open-ended creative play. All products feature the Schoolies cast of lovable characters, created by Ellen Crimi-Trent– various animals to represent the teaching staff and students.
As both a parent and an early childhood educator, I'm truly impressed with the Schoolies line. The two picture books Making Friends and My First Day of School utilize straightforward storytelling to address some common anxieties that some children may have when they're preparing for going to school. The dry erase book Let's Get Ready for School and the Activity Flash cards provide opportunities for children to practice language and literacy, fine motor, and mathematical skills. In My School Day, children can use the embedded plastic clock with movable hour and minute hands to track the Schoolies characters' experiences over the course of the day, and the play set of School House includes several fold-out school rooms and settings to use as backdrops for playing with the cardboard Schoolies figures provided.
The activities all encourage children to practice their growing skills, and though they are being primarily marketed for preschool aged kids, I see great value for kindergarteners and first graders as well, as the spectrum for learning these skills includes these early elementary students as well. Made by Priddy Books, I expected high quality products, and I wasn't disappointed in the least. The activity cards and books are made to last, and I expect their thick construction will hold up to my son's repeated use over the next couple of years.
Ready to win?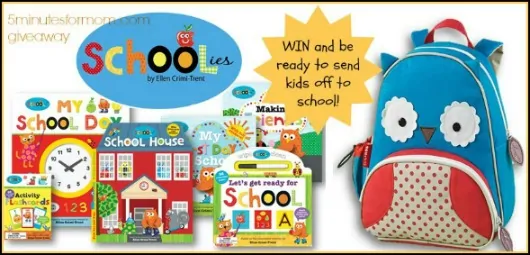 Thanks to Macmillan, we have an amazing giveaway to offer today. One winner will receive the entire Schoolies set, as well as a Land of Nod backpack to help a lucky little one prepare to head back to school this fall! Please enter using the Rafflecopter below. Giveaway is open to U.S. addresses only.
Check out the #Schoolies on social media: @MacKidsBooks and Macmillan Kids