This post may contain affiliate links. Read my disclosure policy here.
This guest post has been submitted by Brie.
Working from home can be a fantastic option for moms, especially those hoping to wade back into the workforce without completely disrupting their time with their kids. Rather than going back to an office, working from home can offer the opportunity to still spend time with family and keep up with household responsibilities while getting back into the professional world.
Here are five tips for how to start looking for a work-at-home job.
How To Start Looking For A Work-At-Home Job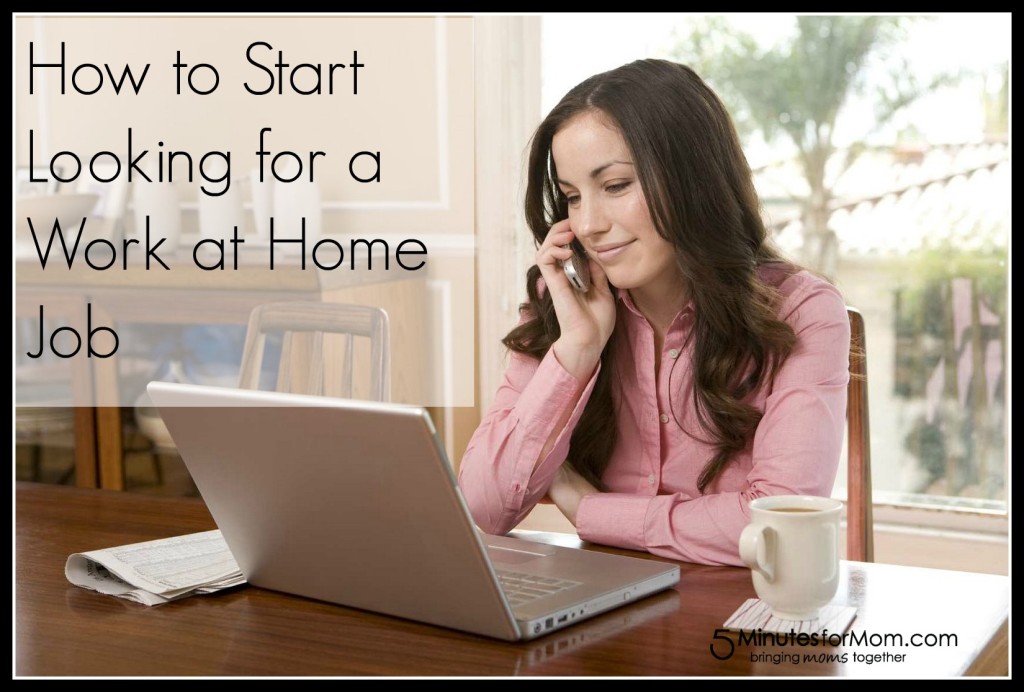 Figure out what you might like to do

This one seems obvious, but it's probably the hardest step. Take some time to survey yourself with these questions: Do you want to stay in your same career field or try something new? Will you be looking for an entry level job or one that requires more experience? Do you want to work for a small, medium, or large company, or perhaps a nonprofit? Is the location of the office important? (Even if you're working from home, you may find yourself wanting some face-time with colleagues, or not!)

Decide if you want to go part-time or full-time

For a working mom, this one is a big decision. Luckily, work-from-home jobs can be found with either type of schedule so choose what is best for you and your family.

Carve out a home office space

Almost all employers who hire for work from home jobs will ask you about your office space. It doesn't have to be large, but it should provide you with some privacy so you can focus on your work. Having a fast Internet connection, a reliable computer and telephone (landlines are sometimes required), and knowing some back-up options (like the local coffee shop or bookstore) are a good idea as well.

Begin your search

The search for a work from home job is much like that for a regular job. Use special keywords like telecommute, remote work, and home-based job to find opportunities. Sites like FlexJobs can help you pinpoint jobs that offer telecommuting options, and you can also target specific companies you're interested in working for.

Be cautious about work from home scams

When searching for a work from home job, it's important to be wary of the many scam jobs out there. If a job promises you lots of money for little work, is offered to you out of the blue, or asks you for personal information right up front, it's almost definitely a scam. Use your best judgment and educate yourself on common job search scams.
Working from home is increasingly common and a fantastic way for busy mothers to balance their work and family needs. As long as you prepare yourself before beginning your search, you're sure to find a great work from home job!
For more work at home information, be sure to check out our WAHM Strategy Hour posts with tons of tips and tricks for working at home.

You can get on our free work-at-home resource email list here.
Brie Weiler Reynolds is the Director of Content and Community at FlexJobs, the award-winning site for telecommuting and flexible job listings. FlexJobs lists thousands of pre-screened, legitimate, and professional-level work-from-home jobs and other types of flexibility like part-time positions, freelancing, and flexible schedules. Brie provides career and job search advice through the FlexJobs Blog and social media. Learn more at www.FlexJobs.com.