This post may contain affiliate links. Read my disclosure policy here.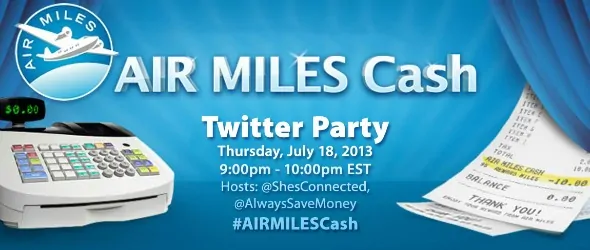 We Canadians get left out of many giveaways and contests. Yes, we love our country, but it's a drag that most of the blog giveaways – even those we run here at 5 Minutes for Mom – are for Americans only.
But, this one's for YOU, Canada.
Yes, our friends at @ShesConnected have got a sweet Twitter Party running at 8pm ET TONIGHT – Thursday, July 18 for Canadians.
(Did you even know that Janice and I are Canadians? Most people don't even realize it. LOL)
We're going to be at the party helping out, and we want you to join the fun and hopefully win 1 of the 6 prizes.
Party Details
Join the party to find out how to start using your AIR MILES Reward Miles to SAVE money AND get a chance to win great prizes!
Date: Thursday, July 18, 2013
Time: 8:00pm-9:00pm EST
Hosts: @ShesConnected @AlwaysSaveMoney
Prizes: There are six (6) prizes valued at approximately $100 each. Each prize contains: one 475 AIR MILES Reward Miles bonus card, one Boogie Board LCD Tablet and one Knock Knock All Out Of Pad grocery shopping check list.
Must be Canadian resident to be eligible for a prize. (Quebec excluded.)