This post may contain affiliate links. Read my disclosure policy here.
Jennifer here to share about Sophie Hudson's new book, A Little Salty to Cut the Sweet. You may know her as BooMama. We were compensated to write this post however all opinions remain our own.
I remember the very first time I landed on BooMama's website. I found her by accident when I was looking up a television show to see if it was one I wanted to watch. She wrote a recap of the show, but it was her hilarity and the events of her day that drew me in. From that very first post I read of hers, I was hooked.
BooMama is one of those ladies that will make you laugh until you pee your pants, and then turn right around and make you cry until you are a blubbering idiot. So when I heard she published a book,A Little Salty to Cut the Sweet, I desperately wanted to read it.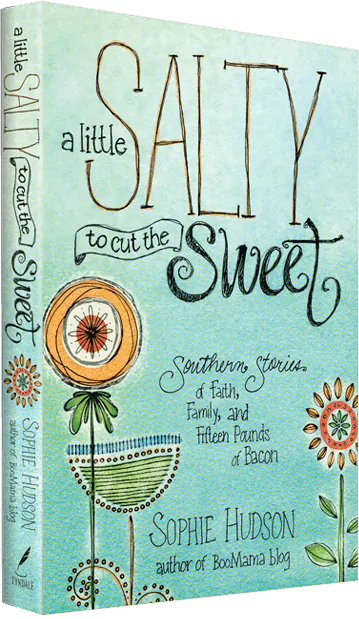 I'm from the south, so I know how important those old family values are. This book just gave me the warm fuzzies all over. BooMama's (or Sophie — her real name) book is full of extremely funny stories of family that are just overflowing with heart and love.
Most of us have grown up in families  that have quirks and expressions that would leave us all dying with laughter, but the best part is the food and a mom who taught all the women how to prepare it.
About the book:
There's nothing quite like family–and some people would say that there's nothing better. But in a world where we sometimes know more about the Kardashians than we do about the people sleeping right down the hall, it's easy to forget that walking through life with our family offers all sorts of joy wrapped up in the seemingly mundane. There's even a little bit of sacred sitting smack-dab in the middle of the ordinary. And since time's-a-wastin', we need to be careful that we don't take our people–and their stories–for granted.
Whether it's a marathon bacon-frying session, a road trip gone hysterically wrong, or a mother-in-law who makes every trip to the grocery store an adventure, author Sophie Hudson reminds us how important it is to slow down and treasure the day-to-day encounters with the people we love the most.
Written in the same witty style as Sophie's BooMama blog,
A Little Salty to Cut the Sweet
is a cheerful, funny, and tender account of Sophie's very Southern family. It's a look into the real lives of real people–and a real, loving God right in the middle of it all.
Enter to win
3 winners are going to get their chance to get a copy of BooMama's book. Use the Rafflecopter form to enter this giveaway. New to Rafflecopter? Watch this 45-second video on how to enter!
So what is a funny story about your family?