This post may contain affiliate links. Read my disclosure policy here.
5 Minutes for Books staff reviewer Dawn reviews this new picture book. She received a copy for review purposes and was compensated for writing it, but her opinions are her own.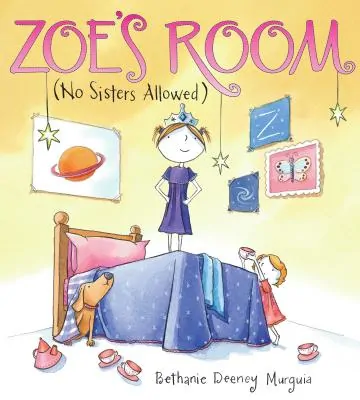 In her bedroom, Zoe has created an entire world of her own. In her space, she can enjoy tea with the royal court, build empires out of blocks, and gaze out at the stars from her dormer window. As the self-proclaimed Queen of the Universe, this situation suits her just fine, until the day that her parents change everything. From the title of Zoe's Room (No Sisters Allowed), astute and experienced parents can likely guess what fate awaits Zoe in the new picture book by Bethanie Deeney Murguia.
Zoe's spirit shines through in this relatable story, and children and parents alike will see that Zoe is a child who loves to play and stretch her imagination. Sometimes, that playtime just can't be interrupted by something as dreadful as bedtime. It would appear that Zoe's evening playtimes have gone unchecked until the day that her parents announce she will be getting a roommate– her little sister Addie. It's not so easy to continue her nighttime adventures when they wake her sister, and a crying toddler stops everything cold. Will Zoe be able to adapt to her new living conditions? Perhaps she'll find some advantages to having a little sister nearby!
Readers may already know fiesty little Zoe from Murguia's 2012 picture book Zoe Gets Ready, and they will be happy to see that she's still as spirited as ever. The simple story structure makes this picture book accessible to young readers, though the story certainly allows for extended conversations with children, especially those who may have first-hand experience with the sharing that is often required among siblings! The illustrations are colorful and engaging, giving life to the world of young children in pen, ink, and watercolor.
Check out the trailer to get introduced to Zoe:
Win it!
Are you interested in sharing Zoe's Room (No Sisters Allowed) with a child in your life? We're happy to announce a special giveaway. Please follow the instructions in the Rafflecopter below to enter. Giveaway open to US addresses only.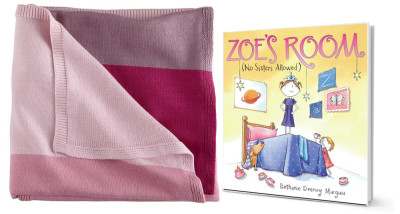 Prize pack (valued at $72.98, courtesy of Scholastic) includes: