This post may contain affiliate links. Read my disclosure policy here.
Lesley, 5 Minutes for Mom contributor, shares her insights on The Case of the Secret Valentine by Rod Van Wyngarden. We were compensated, but all opinions remain her own.
I am so excited to share with you another wonderful Lake Alamo Mystery book today! I've reviewed them all so far and I have to say each time I read one I fall in love with these girls a little more. Each book is so uniquely different but at the same time contains the sweetness and fun that you will come to know and love. Van Wyngarden did not disappoint with this one either!
This book is set in February 1967 and revolves around Valentine's Day. It was such an interesting read. I hate to give spoilers away and ruin it for other readers but I really do think that you will enjoy this mystery. I just love these Van Duren girls, they all have such spunk!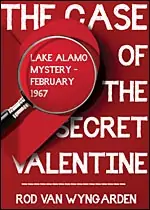 The Case of the Secret Valentine
Lake Alamo Mystery – February 1967
by Rod Van Wyngarden

The Van Duren girls were all very smart and good at sports. Haylie and Rachel were ten-year-old twins. Haylie was strong and could even beat up the boys if she wanted to. Rachel could think her way out of any situation. She was the all-city checkers champion, and could even play chess and beat grownups, something that no other kid in her grade could do. Kayla was only seven, but she was a quick thinker and could keep up with her sisters, both on their bikes and using her brain.

When the three of them team up to form a detective agency, no mystery stands a chance! As the sisters patrol the streets of Lake Alamo on their bikes, they're ready to take on any challenge. The Van Duren sisters solve mysteries of all kinds, from secret identities to stolen items to bullies, these sisters are ready to take it all on, one case at a time.

68 pages – $7.99 (paperback) or $6.99 (e-book)
Enter to Win
SinceI am so sure that you will love this book as much as I do (and a great big thank you to Rod Van Wyngarden for providing us the copies). . .we are going to giveaway five (5) copies of The Case of the Secret Valentine to some of our lucky readers! Use the Rafflecopter form to enter this giveaway. New to Rafflecopter? Watch this 45-second video on how to enter!
a Rafflecopter giveaway
Lesley is mama to two kids,Gracie & Matthew. She's married to her first and only love, Robby. Living a simple life in WV she is author ofLife with Lesley. Her blog has a little of everything – life, books, reviews, giveaways, and more!