This post may contain affiliate links. Read my disclosure policy here.
This guest post was submitted by Hampshire Attractions.
In my mind, I have a kind of idealized version of our family days out – we will be strolling along in glorious sunshine, licking ice cream cones, laughing as the children play merrily and probably all wearing pristine white clothes. That's what you see in holiday brochures, right?
It's kind of implanted itself in my brain. But the reality is quite a long way away from that. We've had meltdowns at the zoo, we've had to leave the theater early, there was an incident at a local play zone that I can only now start to think about. Seriously — it involved pre-schooler nudity — that is all you need to know.
In other words, we haven't yet mastered the perfect family day out. But we have learned some tricks along the way which, hopefully, make it easier. Here are 5 of those tricks.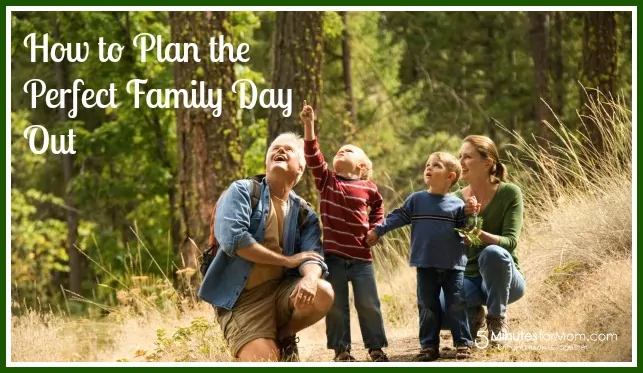 1) Be prepared for anything
Think ahead about what the day might involve. Where are you going to eat? Do the kids need snacks? Will they get muddy and need fresh clothes? We're planning a trip to Peppa Pig World in Hampshire, where they have an exciting looking water play area. I love water play, but it requires another level of packing – wet suits, towels, change of clothes all round.
It is definitely worth being prepared for anything and water and snacks are essential if you're going somewhere that will charge premium prices for those things or not have any amenities available. Don't forget sunscreen and hats if it's going to be hot, or extra layers if it's going to be cold. But — that leads me to my next tip —
2) Don't take too much stuff
On the flipside, here's a lesson I have yet to learn. I am, by nature, a planner and need to know that I have point #1 covered at all times. But there are exceptions. Take our trip to the Natural History Museum where I realized too late that we were carting a spare pair of shoes around for no good reason. And not tiny baby shoes, no no — these were my husband's. If it hadn't been his birthday I might have made him wear them around his neck.
Or the zoo trip, where I had seriously overpacked on the extra layers (and inexplicably an extra sling) because it was snowing. It was all fine until, 100 meters from our house, the wheel snapped off our buggy. What I should have done is rationalize the stuff we had with us and take only the bare minimum. But I didn't – we took it all with us, extra sling and all. By the end of the day, we were exhausted from carrying it all and the tired pre-schooler as well, and let's not forget the baby — and no, we didn't use most of it.
3) Plan how you're going to manage everything
Another lesson I could have learned from that day is to find the lockers at the start of the day and use them. Zoos, museums and theme parks all tend to have somewhere you can leave things and it pays to utilize them. Some museums in London have handy buggy parks just outside each exhibit, others make you fold the buggy and leave it in a cloakroom, along with your bags where you have to bother an attendant every time you want something. The best system is where you can rent a huge locker, chuck everything in and go back whenever you want.
4) Lower your expectations
It's not all about stuff, though. Part of the reason family days out can be disappointing is that you have – as I do – a picture of an idyllic day in your head. Forget it. If you can get somewhere and do one thing that one of you enjoys, then you have won. Anything else is a bonus. Remember that when you have to make toilet-related hasty exits.
5) Be guided by the kids
Remember that the day out, primarily, is for the children. That's where we've gone wrong before – picking theater shows and movies that we, as adults, might like, and then being surprised when we get a wailed "I wannnnaaa go hoooome" halfway through.
When we went to the zoo, we saw all the animals that the pre-schooler wanted (except the elephants. There were no elephants. Cue elephant-related meltdown) and skimmed over some of the boring ones.
At the Motor Racing museum he wanted to spend most of his time in the soft play, and that was fine too. If you have both parents, you can always alternate one person sitting on the edge of the ball pool while the other one goes and looks at the interesting stuff!
Finally, have fun. Take photos and make memories for yourself, even if the kids may be too young to remember!
How would you plan your perfect family day out?
You can follow the writer on twitter at @HantsTopDaysOut and check out Hampshire attractions for more activities you can do as a family.