This post may contain affiliate links. Read my disclosure policy here.
Jennifer here to share with you about a brand new frying pan that I just discovered. We were sent an item to review and one to giveaway, however all opinions listed are totally my own.
I love to cook. It is my second passion next to writing. However, my cookware at home is only about 15 years old. Yes, I know I should probably invest in new cookware. I have just been super lazy about it. There are certain pieces I am looking for, and I just don't want to settle for just any old piece.
When we were contacted at the beginning of May about a cast iron skillet that makes cooking a breeze, I was very intrigued. I had to check it out for myself and just see if this pan was as good as they were claiming it to be.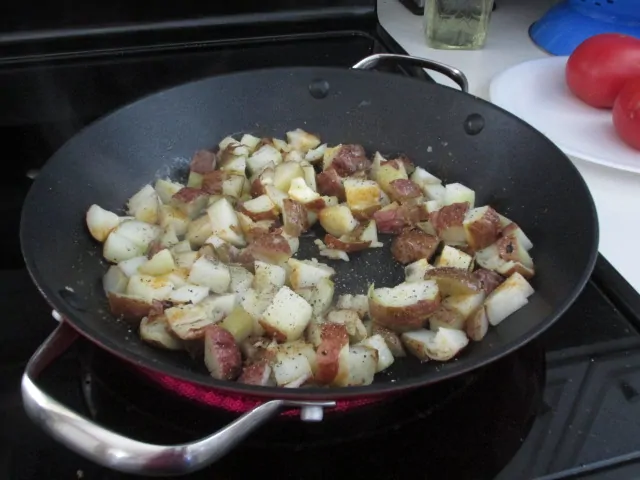 My husband LOVES this pan, and frankly, so do I! This pan has been used so far to cook bacon, sausage, fried potatoes, make gravy, and scrambled eggs. I have used every utensil known to man (some of them metal) and it has not left one scratch on.
I love how even everything cooks. I guess it is true — when it comes to cooking utensils, you get what you pay for — and this is one of those pieces that will forever be my favorite.
About the Technique 3 Quart 11″ Lightweight Cast Iron Open Everyday Pan
The Technique 3 Quart 11″ Lightweight Cast Iron Open Everyday Pan is coated with DuPont™ Teflon® Scratchguard Ultra, so it is safe to use with metal utensils. Some additional benefits include even and energy efficient heating; all the benefits of easy cleanup; it's dishwasher safe; and it's available in 3 colors (not to mention it has a 5-star rating on QVC J).
Did You Know that May is also National Egg Month?
Fresh eggs are one of the best sources of protein and healthy nutrients, and one of the most versatile foods available for any cook – from fried eggs and omelets to eggs benedict and frittatas. But no matter which way you choose to cook your eggs, cookware with Teflon® nonstick coatings will ensure even cooking and delivery of eggs — wholly and gracefully — from pan to plate.
This pan makes THE best scrambled eggs — and cleanup is a breeze. No scraping or scrubbing. You simply just wipe it out. Nothing sticks.
#TeflonEggMonth Facebook Sweepstakes
Right now, Teflon has a great Facebook Sweepstakes going on. Fill out the form on their facebook page for the chance to be one of the lucky National Egg Month DAILY PRIZE winners. Enter to win one of the larger weekly prizes, including a kitchen egg kit or an iPad Mini, by referring five or more friends throughout the month of May. Good luck and remember, nothing messes with the Teflon® brand!
Enter to win
One of our readers are going to get the chance to win one of the Teflon RED cast iron pans. Use the Rafflecopter form to enter this giveaway. New to Rafflecopter? Watch this 45-second video on how to enter!
What would you fix if you had this awesome cast iron pan?