This post may contain affiliate links. Read my disclosure policy here.
A few months ago I got a smoothie maker. Every since I have been making great blended concoctions in my kitchen.  My husband likes the healthy, more questionable smoothies like kale and beets.  The kids and I tend to lean toward the sweeter fruity smoothies.  This is our favorite recipe– Strawberry Pineapple Smoothie.  The pineapple make the recipe sweet,  and the strawberry adds great flavor.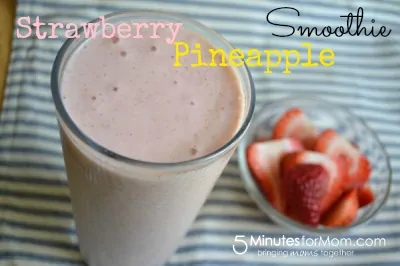 A great tip is to take your fresh fruit, cut it up the night before, and freeze it.  Use a cookie sheet with freezer or wax paper and lay the sheet flat in the freezer.  Then you can bag up the extra for the next smoothie.  You can also use frozen fruit from the store, however cutting the fruit yourself  will allow you to slice it thin, so the smoothies blend smoother and you will have less chunks.  By freezing the fruit ahead of time you don't  have to use ice,  so no watering down or separation of the milk/water .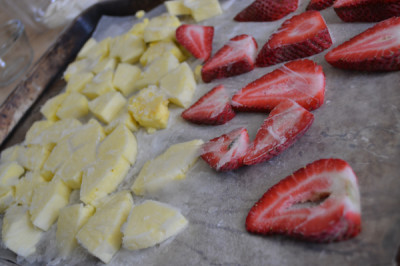 Also while making a smoothie you can slip extras in  like powdered oats or protein powder. The kids will never notice and they will be getting the good stuff to keep there bellies full.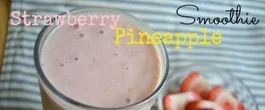 Strawberry Pineapple Smoothie
Great morning Strawberry Pineapple smoothie oats fill you up the pineapple adds sweetness
Print
Pin
Rate
Servings: 2
Ingredients
½ cup of frozen strawberries
½ cup frozen pineapple
½ cup of Greek yogurt
¾ cup milk
1/8 cup oats ground
1 tbs of honey
Instructions
In stages to blend smoothie

In a blender add milk and 1/2 frozen fruits blend

Add Greek yogurt,honey, and oats

Add remaining fruit blend till smooth
This recipe is also great frozen so don't forget any leftovers. You can use them in Popsicle mold for yogurt pops.
Enjoy and have a great morning treat!