This post may contain affiliate links. Read my disclosure policy here.

A Family Hit
Finding movies that appeal to both my sensitive five year old girl and my action loving eleven year old boy can be challenging. But The Croods in 3D was a huge hit for all of us! Yes, I laughed almost as much as my kids did.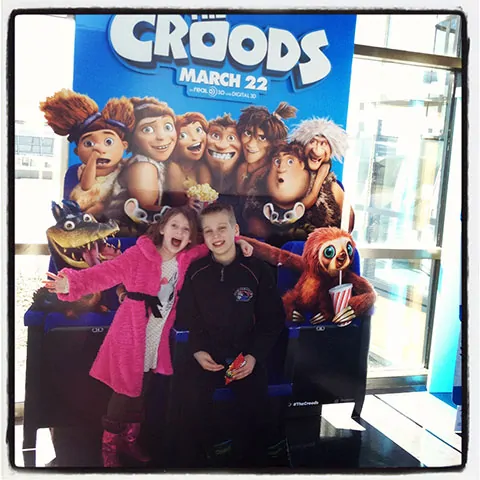 The Croods does a fabulous job of keeping everyone laughing, from little ones to parents, with their slapstick humor and perennial family squabbles. This "cave family" faces all of the same issues we modern day families do, from identity issues to cranky kids fighting on family trips, and seeing ourselves reflected in caveman form is both hilarious and strangely comforting. We all really do face similar challenges and feelings in life, don't we?
Starring the voices of Nicolas Cage, Emma Stone, Ryan Reynolds, Catherine Keener, Clark Duke and Cloris Leachman, THE CROODS is a 3D comedy adventure that follows the world's first modern family as they embark on a journey of a lifetime when the cave that has always been their home is destroyed. Traveling across a spectacular landscape, the Croods are rocked by generational clashes and seismic shifts as they discover an incredible new world filled with fantastic creatures — and their outlook is changed forever.
Safe for Littles, and Cool for Big Kids
As the movie theater darkened and the previews started, my five year old Olivia started to get second thoughts, "Mommy, I changed my mind… I am scared… let's go…"
I reassured her that she was going to be fine and to give it a try, meanwhile hoping very hard that nothing scared her during the movie. With huge relief, I can say that even though there were scenes of the "world ending" with earthquakes and crashing rocks, and some pre-historic tiger chases, Olivia was never afraid.
When it comes to taking little kids to movies, the "scary factor" is critical.
Is The Croods "scary?" The movie is rated PG for some scary action scenes. But, while some kids may find some of the scenes frightening, I can say that my sensitive five year old girl was fine with all of them and described the movie as "not scary."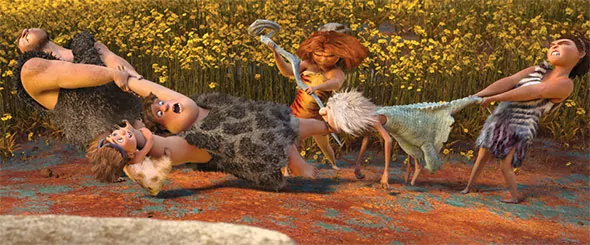 Fortunately, The Croods didn't have to be "scary" to be cool. My eleven year old son thought it was a riot and loved it. The cartoon slapstick humor appealed to his pre-teen sensibilities as he cackled away while characters were pummeled and tossed around, but end up unscathed in the next scene.
So, if you are looking for a funny family movie that won't terrify your smaller children, The Croods is it.
More Croods…
To get more of The Croods, you can visit the official Croods website, like The Croods on Facebook, and follow @DWAnimation on Twitter #TheCroods. And check out The Croods on Pinterest to find and re-pin great DIY tutorials, printables & more.
Want to Share? We love it when you do! Stumble, Tweet, Pin, Facebook Like… whatever suits your mood. Thanks so much! We really appreciate your support of 5 Minutes for Mom.
Written by Janice Croze, co-founder of 5 Minutes for Mom
Please Note: I was provided passes for my children and myself to attend a local screening of The Croods. This post is not compensated. All opinions are always 100% our own.