This post may contain affiliate links. Read my disclosure policy here.
Springtime in March brings green beer and Girl Scout cookies. I maybe short on luck and gold, but my pantry is stocked full of those delicious Girl Scout cookies.
Every year, my kids and I build leprechaun traps in attempt to capture a leprechaun and seize his pot of gold. This St. Patrick's Day in addition to constructing bigger and better leprechaun traps, we'll build some leprechaun bark with the help of some tasty Thin Mints. Hopefully, this delicious bark will bring us some luck.
Once the traps are set, we'll bait them with this enticing, too irresistible shamrock green delight.  One taste of this minty treasure and that leprechaun will surely surrender his pot of gold!

Next to a savory corned beef and cabbage dinner with Irish soda bread, this chocolate mint crunchiness will become a St. Patrick's Day staple in your home too and guaranteed to please the flock.  Plus, as luck would have it, this recipe is simple.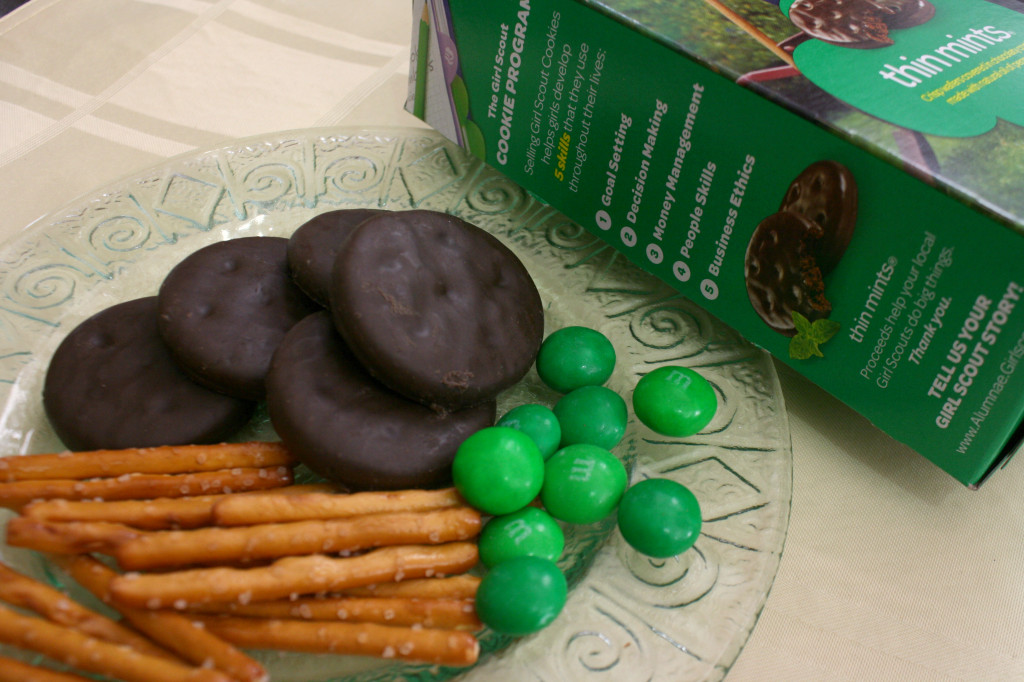 Melted milk chocolate and broken Thin Mints are the base and secret ingredient for this cookie bark. Toss in a few minty green M&Ms and a handful of plain green M&Ms for extra some chocolaty goodness. Add a few broken pretzels for a salty-sweetness and not even the trickiest leprechaun can resist.
Once the bark is cool and set, serve it with a cup of steamy, hot Irish breakfast tea or your favorite Irish Stout and your St. Patrick's Day is complete.  No need to fly to Ireland to kiss the Blarney Stone, but you can count your blessings with the crumbs.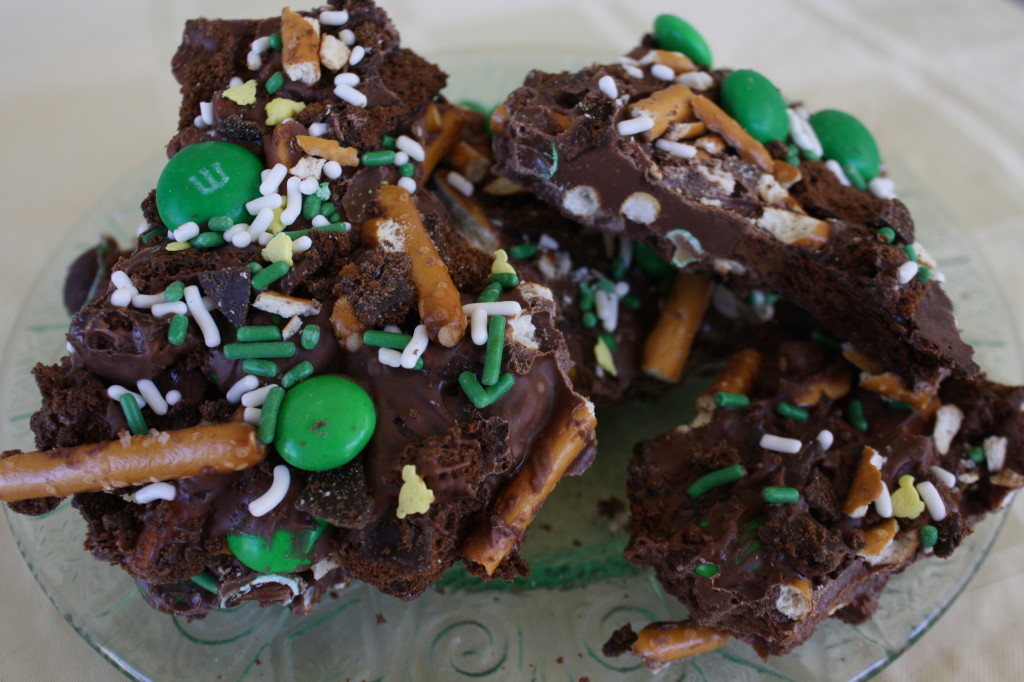 "May your thoughts be as glad as the shamrocks. May your heart be as light as a song. May each day bring you bright, happy hours.  That stay with you all the year long." – Irish Blessing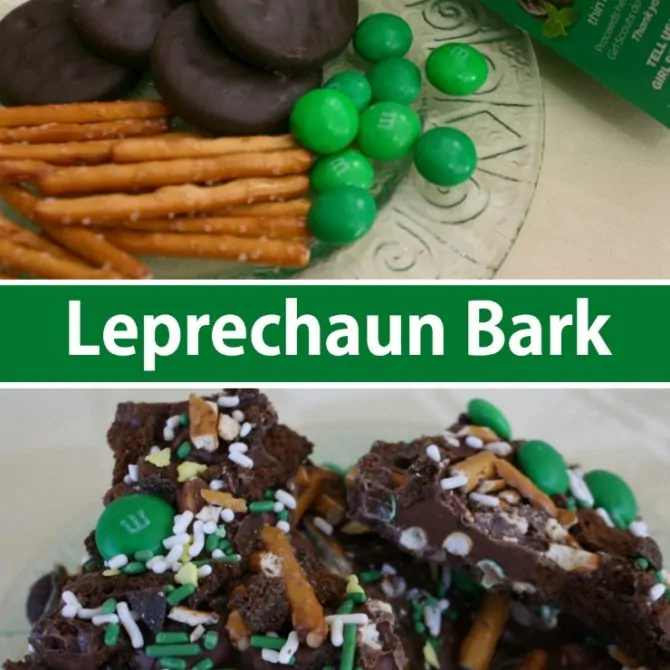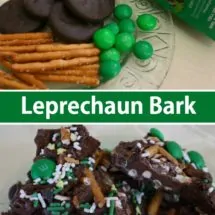 Ingredients
2 cups Thin Mints 1 box
1 1/2 cups thin stick pretzels
11.5 oz bag milk chocolate
½ cup green M&M's
½ cup mint M&Ms
Green and white cake sprinkles
Instructions
Prepare a cookie sheet with non-stick aluminum foil.

Place Thin Mints in a gallon-size Ziploc bag and smash with a mallet, allowing for some larger broken pieces. Pour broken Thin Mints into a mixing bowl.

Smash pretzels in the same Ziploc bag and add to Thin Mints.

Spread broken cookies, pretzels and about half the M&Ms onto the cookie sheet, but reserve half cookie pretzel mixture for topping.

Place milk chocolate a double-boiler. Stir over heat until chocolate is smooth and completely melted.

Pour melted chocolate over cookie pretzel mixture and spread evenly with spatula. Sprinkle remaining cookie pretzel mixture, remaining M&Ms and colored sprinkles over the chocolate before it cools.

Place cookie sheet in refrigerator for 30 minutes to cool and set. Remove and gently break bark into small pieces. Store in air-tight container.
Pin It For Later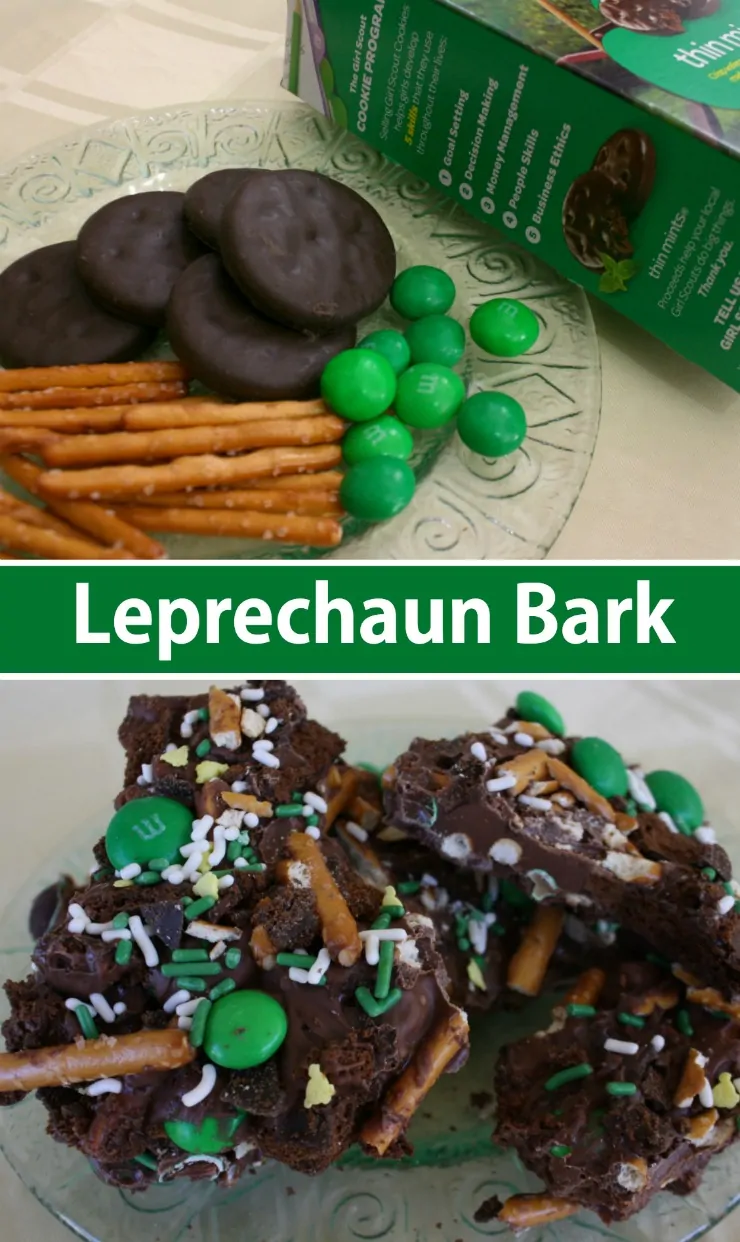 Find More Treats…
Find more tasty treat recipes on our Cookies and Treats Pinterest Board.
And don't miss these… 2 Ingredient Reese's PB Cup Cookies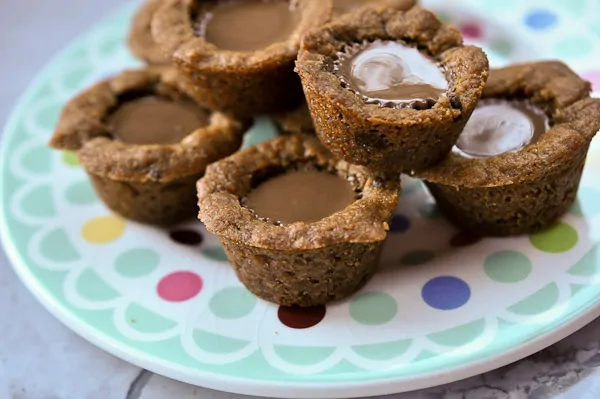 Originally published here at 5 Minutes for Mom on March 14, 2013
Written by Denise of Run DMT – a domestic diva raising three beautiful and brilliant children. Find Denise @denisermt and Run-DMT on Facebook.