This post may contain affiliate links. Read my disclosure policy here.
I am super excited about the new The Croods movie set to hit the theater on March 22nd. The more I see the trailer on t.v., the more I want to go to the movies. There is just something about those cave people that remind me of every member of my family.

Recently, there have been tons of great DIY food and fashion tips that have been shared by various bloggers that were all inspired by The Croods movie. Some of them are super cute and would be great to use if you plan on having a viewing party.
Here are some of my favorites:
Food DIY Ideas
I showed these campfire cookies to my daughter and she flipped out! She told me that we definitely have to make them.
These smashed steak skewers look scrumptious, and they are perfect for those of you who are on a Paleo diet.
How about these yummy no bake popcorn balls? These look very kid friendly where they can even help you make them in the kitchen.
There are tons more recipes like these on our The Croods pinterest board.
Fashion and Beauty DIY tips
If you are planning on going to see The Croods at the theater, why not use these fashion and beauty tips to really get into the character?
I love the look of this "Egg" mani.  It looks just like a speckled egg.
This messy updo will look great with my new Spring outfit that I have put together.
The Croods movie is going to be amazing and I cannot wait to go see it. What about you? Are you planning on seeing the movie?
About The Croods:
THE CROODS is a 3D comedy adventure that follows the world's first modern family as they embark on a journey of a lifetime when the cave that has always been their home is destroyed. Traveling across a spectacular landscape, the Croods are rocked by generational clashes and seismic shifts as they discover an incredible new world filled with fantastic creatures — and their outlook is changed forever.
Starring the voices of Nicolas Cage, Emma Stone, Ryan Reynolds, Catherine Keener, Clark Duke and Cloris Leachman.
Link Up!
Visit the official website
Like The Croods on Facebook
Follow @DWAnimation on Twitter #TheCroods
Enter to win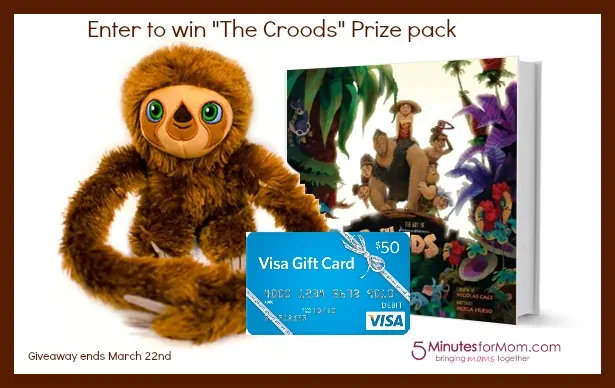 One (1) winner will receive:
$50 Visa gift card for a family adventure to the movies
The Art of The Croods, hardcover book
Belt Plush doll
Prize pack valued at $99.95
It is very simple to enter this giveaway. To be eligible to win, simply make sure to follow The Croods board on Pinterest. Then come back here and leave a comment letting us know you did along with your Pinterest URL so we can verify your entry.
So, which DIY project would you like to try the most?
This post is part of a promotional campaign with The Croods. All opinions listed are our own.