This post may contain affiliate links. Read my disclosure policy here.
Looking for fun, creative ideas to celebrate Saint Patrick's Day with the kids? How about a Saint Patty's Day party? It's a hit at my house every year, for both my son and daughter. We dress in green, decorate the house with shamrocks, blast Irish music and party it up with the leprechauns. Check out our favorite activities below.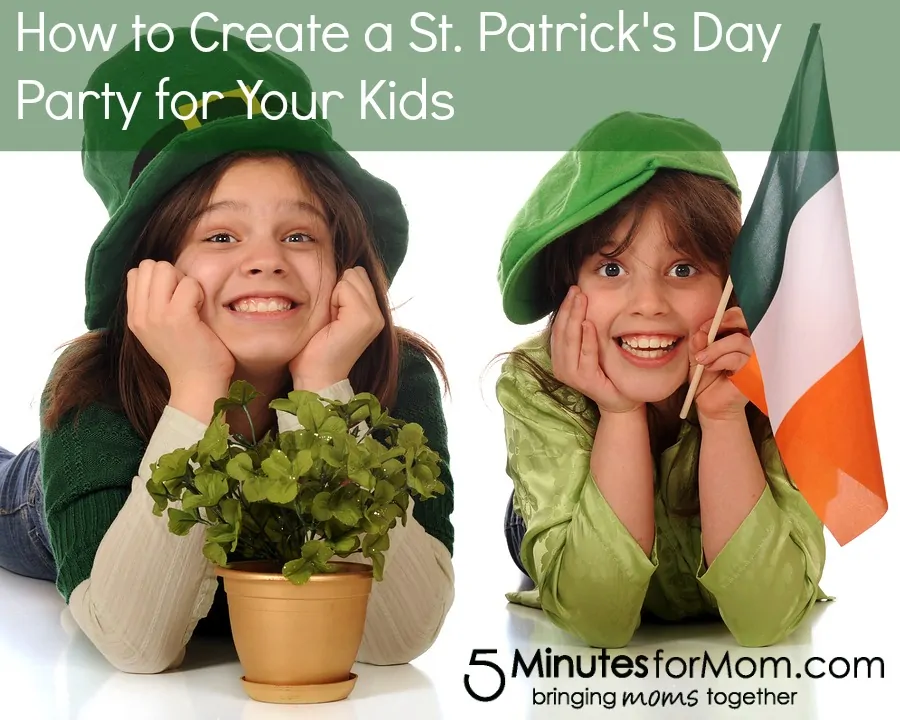 Make a Lucky Box
Last year we started a new tradition called "The Lucky Box." I bought a small, wooden craft box and green paint from the local craft store. My daughter and son had a blast painting it. While the paint was still wet, they sprinkled gold glitter for that extra touch. We left it out the eve of Saint Patrick's Day, hoping the leprechauns would leave us some gold. The next morning we found some chocolate gold coins inside. This year, I think the leprechauns will leave some "lucky notes" too. Type up some tiny letters on your computer with green 9pt font, cut the paper small, roll it up, and tie with a green ribbon. These tiny notes are the perfect lucky leprechaun letters to add to your chocolate gold.
Plant a Lucky Pot
Instead of searching for four-leaf clovers, why not plant your own? The Oxalis Shamrock plant can easily be found by doing a search on Google. Order a plant, have it sent to your house, or check your local floral shop. Get some flowerpots and have the kids paint them green. Young children can sprinkle on some gold glitter, and older kids can create special designs. Plant your own Shamrock plant, and with a little luck, maybe you'll grow your own four-leaf clovers. Of course, make sure you don't give your Shamrock too much water. These plants like moist soil and they prefer bright, indirect light. Placing it by the window would be best.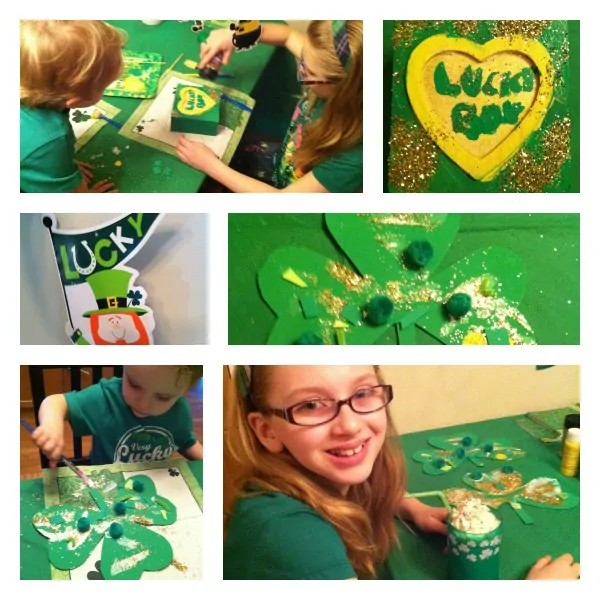 Decorate a Shamrock
Download a Shamrock pattern online, or draw your own. Older kids can trace and cut it out on paper, foam, or cardboard. Grab some glue, some green decorations such as pom-poms, buttons, paper scraps-let your imagination run wild! Give glue a new twist by pouring some on a paper plate and let the kids spread it with paintbrushes. Add some gold glitter, and you've got a Shamrock masterpiece!
Have a Leprechaun Feast
For our leprechaun feast we ate corn beef sandwiches on rye. To drink, we had "Lucky Rainbow Shamrock Shakes". For our shakes we blended mint ice cream with milk and served it in a special green mug. We added whip cream and rainbow sprinkles, said "Cheers" and sipped our lucky drinks with green straws. We finished off our feast with special "Rainbow Chocolate Chip Cookies" for dessert. These were regular chocolate chip cookies with rainbow colored candies added to the dough.
Go On a Leprechaun Hunt
If the weather's good go on a leprechaun hunt! Explore clover patches in your yard to search for four-leaf clovers. You can also have your kids make leprechaun traps. Grab a shoebox, construction paper, glue, and any other craft supply you have on hand. Let your kids engineer their very own "trap". Of course, leprechauns are quick and sneaky, so chances are they won't actually catch a leprechaun. Instead, they might get some more chocolate gold coins and a "better luck next time" note.
Remember, Just Have Fun
With these ideas, your Saint Patrick's Day is sure to be one your children will never forget. Of course, remember, what's most important is spending time with your kids. Even doing just one activity, such as cranking up the radio and doing the Irish jig together is sure to be a hit. Don't stress about trying to do it all-instead, kick back and let the luck of the Irish put smiles on everyone's face.
Sarah Normandie is a law student, freelance writer, and mom. She has a Masters in Early Childhood Development and several years of experience in Early Childhood Education including both teaching and education management. Additionally, she has been an ongoing student in the prestigious UCLA Writer's Program where she was selected from a national pool of applicants to complete a Novel Writing Mentorship under the direction of a NYT bestselling author. She recently penned her first novel, "The Broken Girl" and is working on her next book.  She is currently seeking agent representation. Learn more about Sarah and her other publications at http://redroom.com/member/sarah-normandie.