This post may contain affiliate links. Read my disclosure policy here.
Today is National Potato Chip Day. To celebrate this spectacular spud day, my daughter and I are whipping out all of our favorite chip flavors and creating some new recipes. I love to take potato chips and crunch them up for a crisp crust on chicken, dipping chips in chocolate and letting them harden. Then there is of course, the ultimate burger, topped with crunchy potato chips. The possibilities are endless!
My all time favorite chip though is salt and vinegar. I can eat an entire bag all by myself. The salt and the flavor of the vinegar is like heaven to me. Since this is a very important chip day, we could not let it go by without mentioning the new Lay's flavors that are in stores now.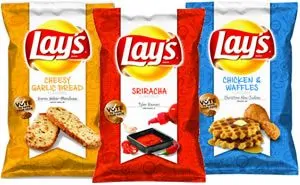 Frito Lay Chef Stephen Kalil answered a few questions for us about the new flavors and how they were developed:

The Finalist Flavors Have Arrived
Now that the three finalist flavors have arrived, it's your turn to vote for your favorite chip flavor.
Chicken and Waffles
Cheesy Garlic Bread
Sriracha
Vote for your favorite flavor on the Lay's Facebook page  via Twitter using the hashtag #SaveChickenWaffles, #SaveGarlicBread or #SaveSriracha, or via text message by texting "VOTE" to 24477 (CHIPS).
The voting period ends May 4th, 2013.
So now — you tell us — which potato chip flavor is your favorite?
 This post is a sponsored post on behalf of Frito Lay. All opinions listed are our own.