This post may contain affiliate links. Read my disclosure policy here.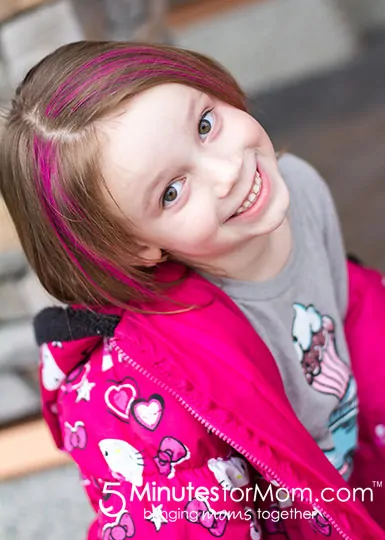 Olivia's First Haircut
Most children have had their hair cut before they are in kindergarten. But, not my Olivia. Olivia's hair has taken its sweet time to grow and I just couldn't part with one millimeter of it.
Finally, at five and a half years old, I gave in and let scissors snip away some of my daughter's baby soft hair. Olivia was thrilled — albeit a little scared that the hair dresser might slip and cut her.
Of course, for the finishing touch, Olivia asked the hair dresser to paint on a little temporary pink. A girl can always use more pink.
What is Your Weekly Photo?
Mom Bloggers (and Dad Bloggers too!) post a photo on your site, link up and find others… Wordless Wednesday is tons of fun. (And I know it says "wordless" but I usually just can't bear to not write anything! If I had created it, I probably would have named it something different! LOL So feel to link up your word-full or word-less Wednesday photos!)
Leave the URL to your photo (clearly mine are never truly "wordless") and then visit others!
Here is a thumbnail linky:
Or a basic linky:
Thanks to Uisce for creating Wordless Wednesday.
Written by Janice, co-founder of this Mom Blog 5 Minutes for Mom
We are running a promotional campaign with Groovebook.com. All opinions are 100% our own.

http://www.5minutesformom.com/73643/wordless-wednesday-olivia-first-haircut