This post may contain affiliate links. Read my disclosure policy here.
I did not know about cord blood banking or what it even was when I gave birth to my oldest child. I was informed about it shortly after his birth, and the peace of mind it can provide . With the knowledge I had about the medical advances being made with cord blood, I knew I wanted to save and bank the cord blood of any other children I might have.  I made sure I was prepared when I gave birth to my second child, and then my third.  Saving and storing your child's cord blood is simple and easy to do.
The five minutes it takes to save your newborn's umbilical cord blood could prove to be a once in a lifetime opportunity to protect your child. Cord blood collection is painless for mother and baby. The procedure is simple and it takes just minutes after delivery.
Benefits of Saving Your Child's Cord Blood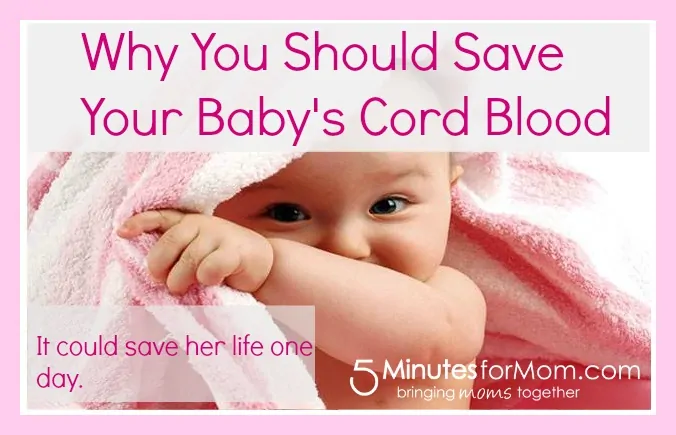 A Perfect Match for Your Child
When our kids get sick and need a blood transfusion or something of that nature, they have to go through extensive testing to find an exact match. By saving your child's cord blood, there is no chance it will be rejected by your child's system when its re-infused for medical treatment. This will ensure that your child has a match and will not have to be put on a waiting list.
Can Be Used to Treat Other Family Members
Because most family members share similar blood cells, the cord blood can be used to treat other family members (so long as they are a match).  Nothing feels greater than being able to help a family member fight off a disease.
Helping Others in the Future
Stem cell treatments are constantly being researched. Potentially, stem cells from cord blood may eventually be used to treat conditions such as heart disease, strokes, diabetes, Alzheimer's and nerve damage from spinal cord injuries. Since cord blood can theoretically be frozen indefinitely, cord blood that is banked may be useful for such treatments in the future.
Which Company Can I Trust?

CorCell
enables you to save and store your baby's cord blood.
CorCell
®
, a
Cord Blood America
®
Company, aims to combat life-threatening illness. Our goal is to become the world's most respected stem cell company.
CorCell
®
will achieve its mission by educating expectant parents, families, and healthcare providers about the life-saving ability of umbilical cord blood stem cells as well as the importance of private and public cord blood preservation.
How Does the Process Work?

Once you have decided to save and store your baby's cord blood, all you have to do is contact CorCell.  You can reach them for a live chat from their website or call the CorCell 24/7 customer service number. After you speak with a CorCell representative and make arrangements, they will send you a collection kit.  You will want to discuss the decision to save your child's cord blood with your obstetrician or midwife prior to delivery.
When you arrive at the hospital, give the collection kit to your nurse. She will take it from there! It is that easy and simple. Once your doctor collects the cord blood, it gets shipped to CorCell via a medical courier.  CorCell partners with AirNet, who understands the need to preserve the integrity of your shipment and protect the collection from extreme temperatures. There are also other options you can discuss with your CorCell representative.  Every hospital works differently, so be sure to discuss how it works with your doctor and hospital ahead of time.  To find out everything you need to know, access an information packet on the CorCell website.
How much does it cost?
CorCell's unique pricing structure makes private cord blood banking affordable and flexible for everyone. CorCell offers many options and services to make cord blood storage easy and convenient for their customers. CorCell gives you the option to set up automatic annual storage payments for your cord blood storage.
If you aren't pregnant, but know someone who is; think about what an amazing, life giving gift CorCell cord blood collection and storage could be!  CorCell also does many giveaways throughout the year that you can enter by filling out the Request for More Information online (must be pregnant to be eligible).
You can also  refer a friend  online or through phone   (both the referrer and referred are then eligible to win). If you aren't pregnant, but know how important saving cord blood is, refer your friends and family to CorCell.  You might win!
Get $200 off!
If you decide that you want to save your baby's cordblood, be sure to mention that you found their information on the 5 Minutes for Mom website and you will get $200 off your enrollment fee!
Visit the CorCell website today to learn everything you need to know about cord blood banking. You can also visit them on Facebook.  Do it for the health and safety of your family.  Do it for peace of mind.
This post is part of a promotional campaign with CorCell. All opinions listed are my own.