This post may contain affiliate links. Read my disclosure policy here.
Find Your Way to Oz is an interactive journey inspired by Sam Raimi's latest feature film, Disney's Oz The Great and Powerful.
Built using advanced web technologies, this Chrome Experiment will take you through a dusty Kansas circus to the vibrant land of Oz. Take a look around – nothing is as it seems.
Can you find your way to Oz?
Click HERE to visit the site and see if you can find Oz!
Like any good circus, there's plenty to keep you entertained: compose your own music, play with a fun photo booth and create your own movie with a zoetrope. The path to Oz also involves confronting an ominous tornado; surviving it completes the journey, enabling fans of the movie to watch an exclusive unreleased clip from the film.
Chrome Experiments like "Find Your Way to Oz" would have been impossible a few years ago. Since that time, the web has evolved and allowed developers and designers to create immersive beautiful experiences. For "Find Your Way to Oz" the 3D environment was built entirely with new technologies such as WebGL and CSS3. It's enhanced by rich audio effects thanks to the Web Audio Application Programming Interface (API). The photo booth and zoetrope were built using the getUserMedia feature of WebRTC, which grants webpages access to your computer's camera and microphone (with your permission).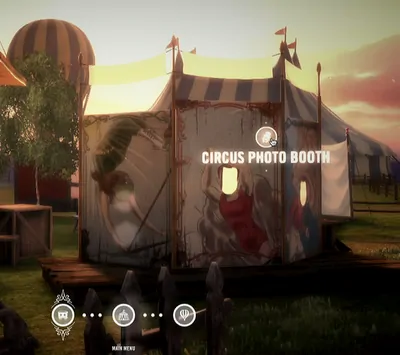 For the best experience, you'll need to use an up-to-date computer built to handle intense graphics. It also works best with a webcam and a modern browser that supports WebGL and WebRTC, like Chrome. The experience also works best on For tablet or smartphone users, we have a smaller scale yet equally enjoyable experience that you can try with the latest Chrome browser on your Android device, iPhone or iPad.
If you want to learn more, or run away and join the developer circus, you can get an explanation of the technologies used on the Chromium blog or in Google's technical case study.
Start your journey towards the yellow brick road at www.findyourwaytooz.com.
"Like" OZ THE GREAT & POWERFUL on Facebook: http://www.facebook.com/ozthegreatandpowerful
"Follow" OZ THE GREAT & POWERFUL on Twitter: https://twitter.com/disneyozmovie
Visit the website: http://www.disney.com/thewizard
OZ THE GREAT AND POWERFUL lands in theaters on March 8th!
I am being provided an all expenses paid trip by Disney for the #DisneyOzEvent Press Junket. All opinions listed are my own.