This post may contain affiliate links. Read my disclosure policy here.
Do you want to own a home? Start a business? Make a major purchase?
Associated Bank is helping people everywhere find their inspiration with My InspirationBank.com, a website designed to help inspire users to take action and reach their goals while connecting with and motivating others. An interactive site with pictures, videos and more, you can't help but be inspired when you visit MyInspirationBank.com.
The first time I visited MyInspirationBank.com I signed up for a free account. It was quick and easy to do, just requiring your name, email address and a password you create. Log in to create your account and once created, your journey to inspiration begins.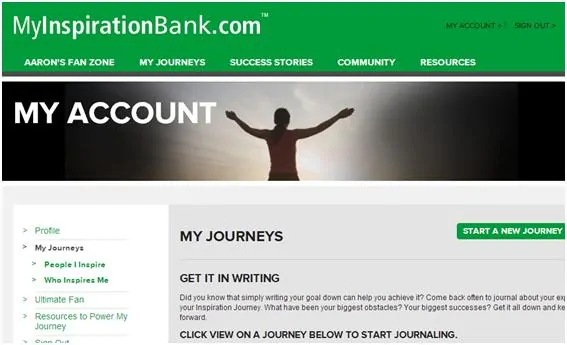 MyInspirationBank.com is an interactive web portal designed to help people identify sources of inspiration and harness that inspiration to achieve key life goals, such as realizing the dream of home ownership, achieving peace of mind in retirement or providing for their children's educational future. Whatever your life goals may be, Associated Bank and MyInspirationBank.com can help you achieve them.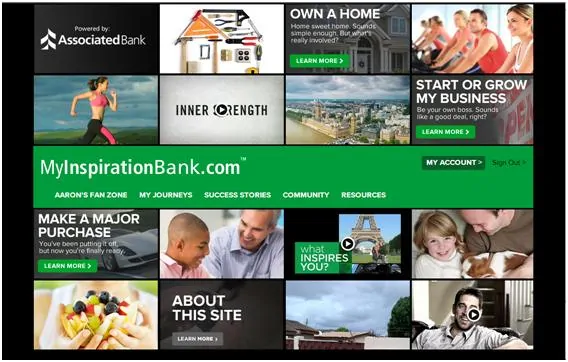 What motivates you? Inspires you? Associated Bank asked what they could do to help others become inspired, set a goal, and take action. MyInspirationBank.com is interactive and designed to help you learn something about yourself and ways to help you to turn that inspiration into action.
There are also ways for you to connect with others and share your experiences, read success stories from real people that have been in your shoes – wanting to get healthy, get involved in their community, inspire others – and how they achieved their goals. If you have a financial goal such as making a major purchase or owning a home, there is a page on the portal for you.
Their stories will inspire you. You, in turn, will have the chance to provide inspiration to others. The portal also allows you to control your privacy settings and keep your journey private if you choose.
In addition to the various tools and resources available on the website, MyInspirationBank.com allows you to view featured users' success stories, including unique insights from Green Bay Packers QB Aaron Rodgers on what motivates him to achieve both on and off the field. Everyone, not just football fans, will enjoy what Aaron Rodgers brings to the site.
The sense of community is at the heart of everything Associated Bank does, and MyInspirationBank.com helps users envision their goals and take steps to meet them.

MyInspirationBank.com will not only inspire you, it provides concrete, specific information to help you meet your goals.