This post may contain affiliate links. Read my disclosure policy here.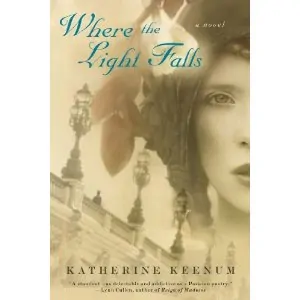 At the dawn of the Belle Epoque, an artist in Paris tells his students to "study where the light falls and where the shadows lie." In many ways, Where the Light Falls
does just that–looks at the light and shadows in the lives of the American expatriates who flocked to Paris in the 1880s to learn art and life, and to find themselves and who they really want to be.
Jeanette Palmer knows she'll get into trouble when she helps a fellow student elope from Vassar College with a young man considered unsuitable by the bride's family. But she doesn't expect to actually get expelled. At first she's devastated, but she manages to talk her family into letting her go to Paris to study art, as long as she's chaperoned by her middle-aged Cousin Effie, a spinster since her one true love was killed in the Civil War.
The two arrive, find a suitable pension, and enroll Jeanette in art school. They begin to make friends with other single women artists, some with male chaperones (brothers, husbands) and some there alone. We are offered a glimpse into Paris of that era, with its dingy attics that were too hot in summer and freezing in winter, its crooked and dirty alleyways, its quartiers that are now trendy and expensive but then were considered on the outskirts of town and very accessible to those of limited means. We see women beginning to make their way as serious artists, and the prejudices they  face as such. We see the temptations that befall them, to cheapen their work into sketches for money, to turn to the easy out of drug use to face difficult situations.
Where the Light Falls
also follows the path of Edward Murer, a Civil War veteran now a pharmacist, struggling with an addiction to laudanum. Visiting Paris with his brother's family after a trip to their family home in Germany, Edward decides to stay and begins to spend time with Jeanette and Effie. At the same time, Jeanette is beginning to win some recognition for her work. In a timeless quandary, she will have to decide how to balance art and love, or indeed if such a balance should even be attempted.
Where the Light Falls
offers a tantalizing glimpse into Europe of the times. Jeanette, Effie and some of their friends spend the month of August in Brittany. Edward attends an art show of artists whose works weren't permitted in The Salon, people like Monet, Cassatt and Degas. He spends some time in Italy and the south of France as well.
Characters grow, develop and change. My favorite was the character of Effie. Semi-despised by her nieces and nephews who she's helped raise in her role as the washed-up, faded spinster aunt, she comes into her own as a independent woman in a new place where she's accepted, or not, on her own terms. I also enjoyed watching Edward emerge from a lonely bachelorhood in Ohio to a man about town amongst the expatriates of Paris, and watching Jeanette develop as an artist and as a person, as she watches her friends face consequences of their actions.
Author Katherine Keenum drew upon her own family history as inspiration for this story. Her great-grandmother was dismissed from Vassar after helping another student elope and spent time in Paris. However, since none of her actual diaries have survived, Keenum drew on other sources and her own imagination to create the characters that people this novel. She has obviously researched the times and places she portrays, as they are well-presented and accurately drawn, and mix historical and fictional characters.
I'm pleased to announce that one of you can win a copy of Where the Light Falls. Just enter to win in the rafflecopter below.