This post may contain affiliate links. Read my disclosure policy here.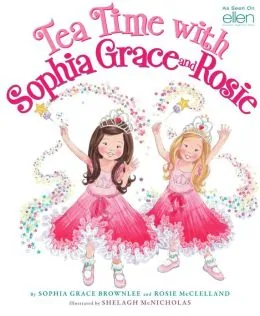 I am not a girly girl, but I seem to have given birth to one. I have to say that I have delighted in the color pink and in sparkles more as a thirty four year old than I did as a four year old. It has been so enjoyable to see my daughter reveling in "girly" things that I find myself wanting to be a part of her fun and fancy. Therefore, when I was offered a chance to review a copy of Tea Time with Sophia Grace and Rosie
, I really couldn't pass it up!
I was very excited to receive the book in the mail and I eagerly dove into it to preview it for my daughter. Tea Time with Sophia Grace and Rosie
is based on real life cousins who love pink, tutus and tea time. These cousins appeared on the Ellen show and gained some notoriety there. I confess I haven't seen the show, the episode with them on it, nor have I read any interviews. My opinions about this new picture book are based solely on my experience with the book and nothing else.
In this story, Sophia Grace and Rosie want to throw a fabulous tea party. Using their imaginations, they call upon with their fairy friends and are given fairy wands with which they transform their bedroom into the "fanciest, most sparkly castle that ever existed!" They agree that they will each invite one guest to the tea but they will not tell the other who it is. They craft beautiful (and sparkly) invitations to their guests of choice – which just happen to be each other! It is a very cute story of two girls who get along well and enjoy the same sorts of activities. Of course, any story which involves fairy dust is certain to catch my attention. I did enjoy the book. My only hesitation in giving it my full 100% stamp of approval is the characters' manner of speaking to one another. They emphasize everything they say with the word "So" – in italics. Everything seems to be "so good" and they love it "so much" that their energy starts becoming exhausting just to read about. I love having fun and throwing parties but my personality is a little bit more muted and so it wasn't my favorite form of enthusiastic conversation to read aloud.
But there is still the pink. And there are tutus. And there is a magical castle and fairy-sponsored tea and all of that can be enjoyed.
I'm delighted to say that you also can enjoy all of the above. (Well, perhaps not the magical castle bit. You're on your own for that one.)
We have the following items to give away to one of you:
This is a fun gift package valued over $100, and I wish you the best of luck! Follow the instructions in the rafflecopter below to enter. Use the Rafflecopter form to enter this giveaway. New to Rafflecopter? Watch this 45-second video on how to enter!
Carrie blogs about books that she enjoys for herself, as well as those she enjoys with her children at ReadingtoKnow.com and 5 Minutes for Books.