This post may contain affiliate links. Read my disclosure policy here.
A little red balloon sits on a toy store shelf in his box wanting desperately to be filled with helium so that he can be a big balloon, fly, make friends and see the world. A mom comes and buys him for her daughter's birthday party. The kids love the balloon and Baldo is so happy right up until the kids tie him to a chair and run off to play leaving him all alone. He tugs his string loose and his awesome adventures begin. Will he ever find a friend?
Silvia Beck Speyer wrote and illustrated Baldo's Awesome Adventures: A Balloon's Search For A Friend
 as a children's adventure tale for her four grandchildren who loved it so much she decided to share it with the rest of us. Her straightforward, simple illustrations make this children's book an appropriate story for boys and girls of all ages. Children can easily understand the desire to find a friend to play with them. The places Baldo goes to seem so fantastic and far away that it will stimulate lots of discussions about where Baldo has gone in the story.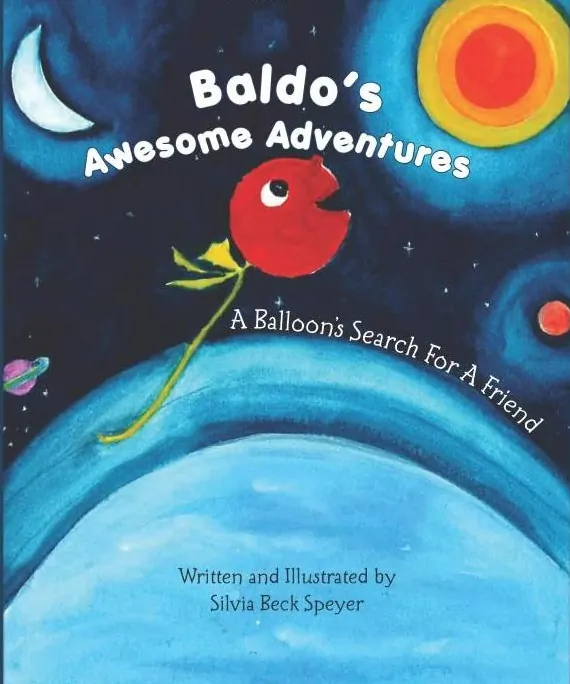 As a teacher, I must say that there are so many different activities that you can do with this darling children's book. For example, with a toddler you can talk about colors, the animals, the children, and Baldo in the story. You can even get them a red balloon to pretend they are walking Baldo around the neighborhood or perhaps taking him to the park. An activity for the three to five year old child might be to ask them about the moon and the sun and how they were not really polite or friendly to Baldo and how their words made Baldo feel.
Talk to your children about what it means to be a good friend and how they can be a good friend to another child.  Have your pre-school child draw their favorite pictures from the story. A first or second grade activity might involve using a world map to mark where Baldo went in the story using a red string or a small cut out picture of Baldo. You could even have your child write the story from the point of view of the little boy whom Baldo meets later in the story. As you can see, the possibilities are endless and the story is full of life lessons for us all to learn from and share with others.  
As a mom, I am often searching for good adventure books that are appropriate for my son who is almost four. I was glad when I read Baldo that the story is not too scary for little ones but stirs their imagination. My son recently got a world map that we put in his room. He went to see where India was as soon as we were done with the story since his grandfather had grown up there. He asked if I thought Baldo met "Jumpa" on his recent trip. He thought so. Baldo the Balloon is now one of his favorite books to read and talk about.  
Baldo's Awesome Adventures: A Balloon's Search For A Friend
is available via Amazon.com for $11.65.   Baldo is also on Facebook.  
Enter to win
  I am thrilled to announce that 5 Minutes for Mom is having a giveaway of copies of Baldo's Awesome Adventures so you can have a copy of your very own to share with your children, students, or grandchildren!
Use the Rafflecopter form to enter this giveaway. New to Rafflecopter? Watch this 45-second video on how to enter!
I was paid and received a copy of the book in exchange for my review. All opinions are my own.