This post may contain affiliate links. Read my disclosure policy here.
Growing up in England, I had only a passing experience with Barbie. I didn't have the Barbie dream house or even a Barbie doll. My sister had a knockoff Barbie doll, Barbie's less well-dressed sister, Cindy. With the birth of first one daughter, and then a second, having Barbies in the house was not only a possibility, it was a certainty.
Both of my daughters were utterly obsessed with Barbies from a very early age. Our home was pink, pink, and even more pink. The Barbies were a key part of the pink explosion within our house. As well as the requisite bins of Barbies and with their ever-expanding wardrobe of shoes and clothes, we had a selection of Barbies DVDs.
What I liked about the Barbie DVDs is that the stories were told from the perspective Barbie and her friends. My daughters and I enjoyed many an afternoon quiet time watching the adventures of Rapunzel and the Princess and the Pauper enfold on the screen. The stories were enjoyable for parent and child alike!
The latest installment in the Barbie movie series is Barbie™ in the Pink Shoes. Barbie goes back to her dancing roots in this ballet movie. Kristyn is a hard-working dancer who is living every little girl's dream of becoming a dancer and performing live on the big stage. I know that my little girls loved dancing in their pink tutus more than life itself. In our home, there was never a moment that did not call for wearing a pink tutu and dancing up a storm!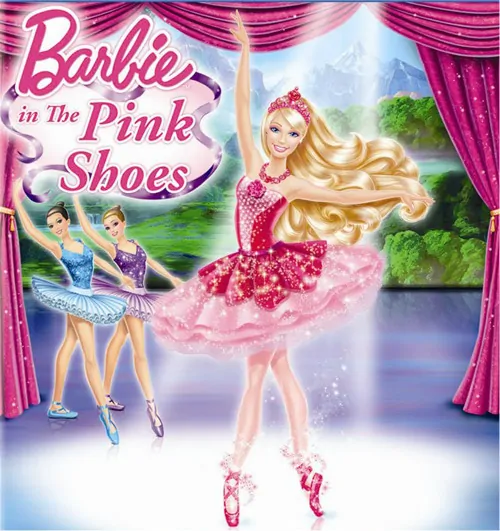 In Barbie™ in the Pink Shoes, Kristyn dreams of one day joining an established dance company. She longs to dance just like Tara, who is the dance troupe's perennial lead. Kristyn tries her best, but no matter how hard she tries, Tara always seems to add a little something extra to her performance. The troupe is practicing for a showcase for a major dance company, but later in the day Kristyn rips her shoes in rehearsal. Oh no, whatever will Kristyn do! Kristyn's best friend Hailey drags her to the costume department to get some new shoes.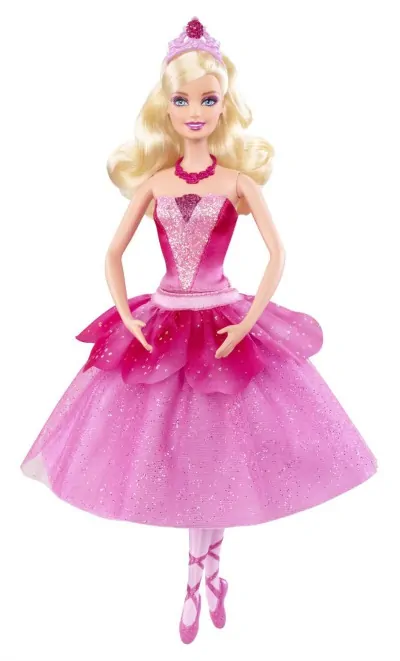 Once in the costume department, Kristyn discovers a magical pink pair of ballet shoes that take both her and Hailey into a magical ballet world. But, the evil Snow Queen rules this magical ballet world. How ever will Kristyn and Hailey get home? The only option for them is to dance through their favorite ballets to defeat the Snow Queen to get home in time for the big dance performance. Once back home, Kristyn performs the iconic dances of Giselle and Swan Lake but with her own flourish and wows the big ballet company. Kristyn learns that when you dance from your heart – your dreams can come true. And isn't this what we want our little girls (and boys) to learn about reaching their goals?
For the first time ever, Barbie™ in the Pink Shoes will be available in a Blu-ray™ Combo Pack, which includes the DVD and the Digital Copy, on February 26th, 2013. The Barbie™ in the Pink Shoes Blu-ray Combo Pack retails for $30.99.
To celebrate the release of this movie for the first time in a Blu-ray combo pack, Barbie™ in the Pink Shoes prize packs will be given out! The Barbie™ in the Pink Shoes Prize Pack is valued at over $50 and is given courtesy of Mattel and Universal Studios Home Entertainment.
Enter to win
One lucky 5 Minutes for Mom reader will win a Barbie™ in the Pink Shoes Prize Pack (valued at $50), which includes:
Barbie™ Blu-ray™ Combo Pack (valued at $30.99)
Barbie™ in the Pink Shoes Barbie® as Kristyn Farraday™ Doll (2-in-1) (valued $27.99) — While journeying through a delightful world, Kristyn transforms into the beautiful and graceful ballet characters Giselle and Odette. This Barbie doll captures her dramatic transformation with a ballet costume that changes from an elegant purple and blue dance outfit to the stunning pink costume she wears in her final performance of the movie. Girls simply take her hand and turn the doll to twist her torso. As she rotates, her skirt reverses for a magical transformation. Twist her the other way to change back to the first outfit. Both skirts look darling with her pink glitter-detailed bodice. Ballet arms and sparkling ballet shoes are graceful dance details, and a tiara and necklace help complete her fantastical look.
Use the Rafflecopter form to enter this giveaway. New to Rafflecopter? Watch this 45-second video on how to enter!
a Rafflecopter giveaway

I was compensated to write this review.  The views expressed in this review are my own.