This post may contain affiliate links. Read my disclosure policy here.
In Falling Home, Karen White introduces the town of Walton, GA and its tightly-knit community with Cassie Madison's return home to visit her ailing father and estranged sister Harriet.   After the Rain brings newcomer Suzanne Paris to Walton, a place she is drawn to for reasons she can't quite figure out.  Note that After the Rain is the sequel to Falling Home, and the events are firmly tied to where that book left off, so while I tried to avoid spoilers in the review, there are a few key details that cannot be left out.  If you plan to read Falling Home, consider yourself warned!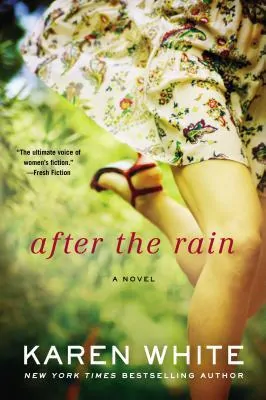 After the Rain finds the town of Walton little changed 3 years after Harriet's death.  The Warner children are still wild, and Joe is doing his best to keep his brood under control, but 6 kids is rough on anyone, let alone a widower still greatly missing his wife and is also now the town's mayor.  Upon stepping off the bus that was bound for Atlanta, Suzanne is drawn into Joe's orbit, staying at a house and working at a shop owned by members of Joe's family.  But Suzanne has a secret, she's running from her past, and though she's initially put off by the neighborliness (busybody is a bit strong of a word) of the Walton townspeople, she also feels like for once, she has come home.
The story is solidly Suzanne's, but we also get the points of view of Joe and his oldest daughter, Maddie, who was also a prominent character in Falling Home.  Joe is struggling with wanting to move on after his wife's death, also has to deal with the underhanded tactics of his opponent in the upcoming mayoral race.  Maddie is still pulling her old practical jokes around town, desperate for attention in a large family and dealing with her own mortality.  As a freelance photographer, Suzanne takes Maddie, who shows serious talent behind the lens, under her wing, further indoctrinating Suzanne into the Warner family.
While the mystery of who and what Suzanne is running from is not quite as interesting as it could be, the resolution is far from predictable and had me laughing at Maddie's innovation.  I'd love to see her at the center of her own novel. After the Rain is an enjoyable read by a talented writer.  I would recommend reading Falling Home first to fully embrace Walton and its people, however After the Rain can also stand on its own.
I'm happy to announce one of you can win a copy of After the Rain!  Just enter your info into the Rafflecopter below.