This post may contain affiliate links. Read my disclosure policy here.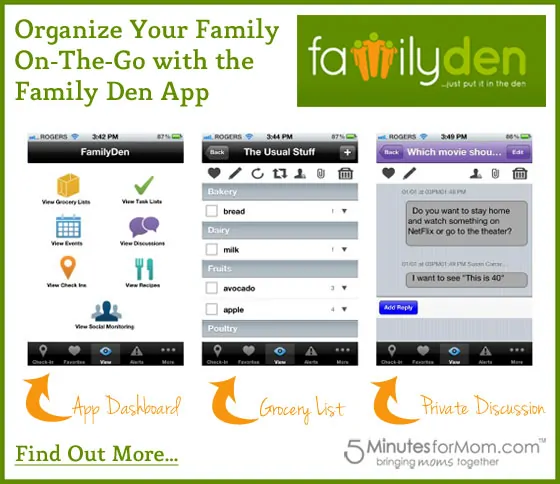 Getting more organized is one of those New Year Resolutions that many of us make every year.
While this year, for my official "New Year Resolutions" I took the "One Word" approach, I still secretly have my list of goals for the new year that include the typical… "Get in better shape" and "Get more organized".
But I'm not letting myself have an all-or-nothing attitude towards these two common resolutions. I'm taking small action steps towards both goals and patting myself on the back as I proceed.
So I'm thrilled that the clever developers of a new website and mobile app called Family Den asked me to take a look at their new Family Management Tool.
Family Management On-The-Go with Family Den
Using Family Den will help me get more organized and it will even help with my other goal of getting in better shape as I use the integrated recipe and grocery lists to stay on top of healthy meal planning.
I love that it is one central place where I can bring together all my calendars and task lists online and update on my mobile phone.
One of the coolest features — that I think you'll love as much as I do — is the ability to assign tasks to your other family members and update your grocery lists in real time.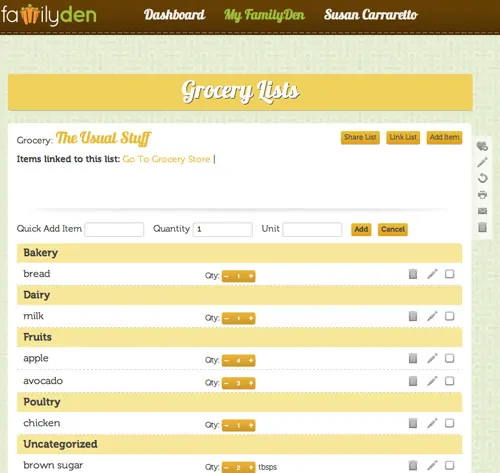 So you can be adding items to a shared grocery list while you're staring at your empty fridge and your husband is already driving to the store.
The bigger your family and more complicated your life, the more you'll love Family Den.
Life With Teenagers Is Getting Better
I can imagine how fabulous this app would be if you have teenagers… You can assign them tasks, manage their chores, have everybody work from a shared grocery list, see each other's schedules, even have private family discussions through the messaging feature.
(It's almost makes me wish my 5 and 7 year olds were already 15 and 17… no wait… maybe not.)
You can even have your kids "check-in" wherever they're at through GPS on their smart phones. And through the social network monitoring feature, you can keep an eye on your children's online presence. You can be alerted when they get new friends on Facebook or if they use a word that violates one of your preset monitored words.
Your Family Den dashboard will help you keep your family organized, well fed, on schedule and safe.
You Win!
Disclaimer: We were compensated to review the Family Den website. Our opinions and our resolutions are all our own.
Written by Susan Carraretto, co-founder of 5 Minutes for Mom
Talk with me: @5minutesformom and Facebook.com/5minutesformom
Pin with me at http://pinterest.com/5minutesformom/