This post may contain affiliate links. Read my disclosure policy here.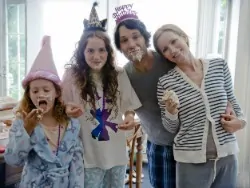 When the new movie This is 40 opens tomorrow, I predict many married couples will be filling the theater seats, and all I can say is this– prepare to laugh, cringe, and laugh some more. Writer/director Judd Apatow's goal of making a movie with which viewers could relate was most definitely achieved, in my opinion.
Yesterday, I shared some details from our group interview with Judd Apatow, after which I became an even bigger fan than I had already been. Apatow spoke of his intentionality in film-making, and I want to emphasize that while This is 40 has its share of the brand of crude humor that Apatow has become known for, it also has an incredible amount of heart.
Marriage isn't exactly easy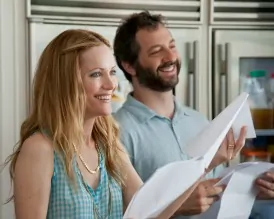 Following our interview with Apatow, we had the great pleasure of meeting with actors Leslie Mann and Paul Rudd, who portray the on-screen couple Debbie and Pete. Mann has the unique experience of bringing to life the story written by her own real-life husband, Judd Apatow himself. She spoke of the film's making in a similar tone as her husband, emphasizing their desire to create a movie that portrayed a realistic relationship.
The one thing that I think we both talked about and have always wanted to convey with this relationship in both this movie and in Knocked Up was a married couple that was dealing with things … in a way that you don't see in movies all that much, but maybe are realistic and heightened and funny. There is no winner, and there's no real loser, but you understand both points of view equally. You like and then dislike aspects of the personality within each of us.
As many bloggers in our group expressed a connection to scenes in the movie or aspects of Pete and Debbie's relationship, Mann lit up with a huge smile and responded with happiness that we "got it."
I'm happy that people can leave there felling like they're not the only ones going through some of those things, and they don't have to feel terrible about themselves after. You go and watch movies where couples are perfect couples, which I hate, and then I leave the movie thinking that something's terribly wrong with me. You can leave this movie feeling like you're okay.
Parenthood can take its toll, as well as provide rewards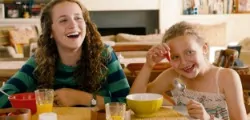 One theme ran through our conversation with Leslie Mann and Paul Rudd– the challenges parenthood can put on a marriage. We all love our children beyond measure, obviously, but it seems undeniable that maintaining a relationship is tough business while in the throes of parenting, especially with young children. Mann and Apatow are the parents of Maude (15) and Iris (10) Apatow, who also play Pete and Debbie's on-screen kids, while Rudd is the father to two children, an 8- and a 3-year-old. When it came to talking parenthood and marriage, we all had lots of common ground. Who among us hasn't wished we could get away with our spouse, even for just a short time? We all know how important it is to reconnect with our partner, though it's often a challenge to make happen.
Mann: Literally, it takes less than 24 hours to come back together. And we could both just be losing our minds and then go to a hotel nearby and … just hang out together. We're just grounded again. And it doesn't take much more than that.

Rudd: Honestly, both my wife and I are psyched if our kids are asleep before 9:00. And that means that we can actually just watch TV, and then one or both of us will fall asleep within an hour. And it's great.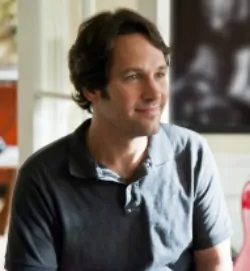 As both actors have passed their real-life 40th birthdays, talk veered toward the stages of their families at this age, and we may have even gone so far as to ask if either of them could see their families continue to expand in coming years. While they both talked about feeling past the baby stage– something that I could certainly understand!– Rudd's answer was too good not to share.
I think we're probably done. My wife would say, "No, we're done." We've talked about it. I always say, "Why? Why?" It's just another child for you to raise."

<pause, with adorable grin in place>

I don't know if the humor in that will come across in print, so just be careful when you all blog.
Believe me when I say that Rudd is a talented comic actor, and he is just as affable in person as he appears on screen!
This is real life
People will likely leave the theater tomorrow laughing over some of the over-the-top scenes in the movie, and if you've seen the more R-rated extended trailer, you've gotten a peak at Paul Rudd in a compromising position, with only a mirror covering his… sensitive areas. Yes, the laughs are there, as you would expect from anything Apatow is behind, but I was struck by the tenderness that is shown toward the idea of these life-long commitments that we make. The realism in their relationship made me happy, even when it was something negative that I could personally understand. Because, honestly, that's real life.
Mann: I feel like I have lunches or get-togethers with my girlfriends … and sometimes those meetings are really hard, and we're all crying, and we all hate our husbands, and we all want to run away, and we all dream about some better life. And then some days we get together, and we're all really happy with our husbands and love our kids and are happy with everything. It's literally like riding this wave. We're just going with it, and I don't know … where it's going to take me.
When my husband and I finally get a chance to see this movie together (remember about those challenges in finding time for yourselves?), I fully expect to laugh in understanding all over again, and when I reach out for his hand, it'll be my silent way of saying, "See? It's not just us!"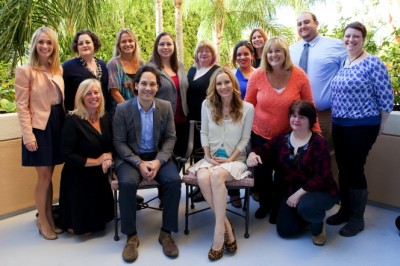 Our group of bloggers with Paul Rudd and Leslie Mann
photo courtesy of Melinda Kim Photography
Be sure to check out my post on Judd Apatow, writer/director extraordinaire, for his take on bringing real life to the big screen.
This is 40 opens Friday, December 21.
Visit the Official Site
Like THIS IS 40 on Facebook
Follow on Tumblr
Follow @ThisIs40 on Twitter #ThisIs40
Share three exclusive THIS IS 40 Someecards with that special friend or family member that is forever 38…
Disclosure: Universal Studios paid my expenses to attend the press junket for This is 40, but any opinions about the experience or the movie are completely my own.