This post may contain affiliate links. Read my disclosure policy here.
I was away for 8 days. It was my first trip without my girls.
I weaned Sophia a few weeks earlier in preparation. I explained to Julia that she was the big sister and if Sophia woke in the night wanting Mommy, that she ought to look after her.
Julia had proudly reassured me that she would tell Sophia, "Mommy will be home in 8 sleeps. It's only 8 sleeps. That's not long."
I was confident they'd be okay, but I never imagined they'd be THAT okay! They were FINE!!! I could not believe it.
And me?
Well, fortunately, I was so ridiculously busy that I kept my mind from straying into a separation-induced panic attack. (The last couple nights, I felt a few quivers of panic, but I mananged to distract myself.)
I am so thankful that my girls have become so confident and independent, but as a Mommy, it's hard not to feel a tinge of sadness. Since I work full-time on our online businesses, I have a fabulous woman come and look after my girls. She's a neighbor's mother — actually a young grandmother — and Julia and Sophia adore her.
Before Sophia was born, I was never apart from Julia for more than 2 hours. I only ever had a few babysitters — which Julia usually scared away with her wails for Mommy.
And sometimes I'm sad that it's not me with them all day every day. But on the flip side, I am so thankful that they are growing to be independent and that they are not held hostage to the separation anxiety that I battled as a child. (Even as I grew older and other kids didn't think twice about leaving for camp without their Moms, I fought back tears and nausea.)
So while I was away Julia and Sophia enjoyed their regular daytime routine with their nanny and had lots of extra special Daddy time at night.
When I came home on my birthday, July 30th, they were so excited to surprise me with a little party. They clung to me with kisses and hugs and I held tight as long as I could.
For the weekend I stayed offline and soaked up snuggle after snuggle and smile after smile.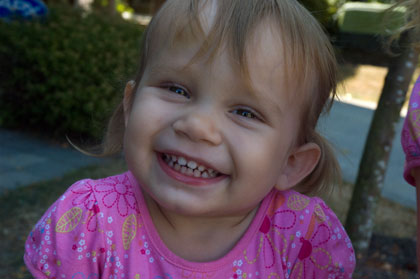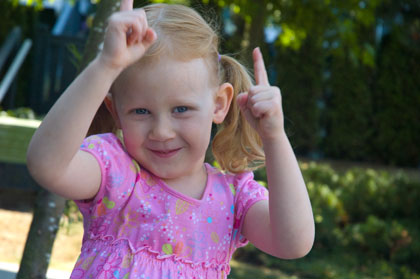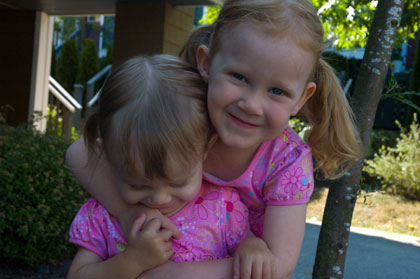 Please don't remind me that I have to leave again in two days…