This post may contain affiliate links. Read my disclosure policy here.
I would love to tell you that this week I finally beat all the games in The Legend Of Zelda… but with years and years of playing those games, I have yet to beat them. I tend to blame it on my need to get every secret, every extra, every last little thing.  I did not beat my favorite game…and I likely never will ( I would have no reason to play them anymore, right?).
This week my Tackle It Tuesday came in the form of a Halloween Costume. My son has inherited my love for all things Zelda, and true to his nature, he wanted to be Link (the main character in the game) for Halloween. He also wanted me to be Zelda, his brother to be a Deku Scrub and his dad to be a Re-dead.  But, I'm not THAT adventurous. I wasn't making four costumes by hand – though it would have been really cool.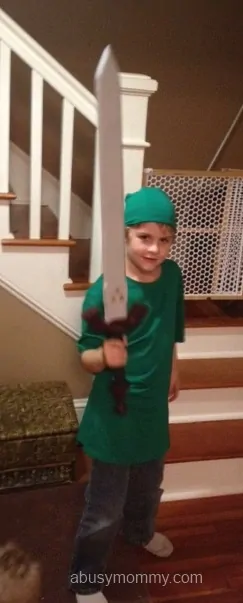 Ben's costume came as a combined effort from his dad and I.  His father, the handy man was able to turn a simple 2-by-4 into the Master Sword, and a piece of plywood into the Hylian Shield.  I have to give him credit, he did an amazing job…even my geektastic brother commented on Ben's costume and accessories.
I dug my sewing machine out of the basement, blew the dust off it and turned a woman's green-long sleeve top into a tunic and cap. Since Link's tunic is short sleeve, I just cut off the sleeves and used the extra fabric to make his floppy, elf like hat. A few hours of effort and I think it came out fantastic!