This post may contain affiliate links. Read my disclosure policy here.
The imagination of a child is absolutely amazing! I love hearing my 3 year old's ideas of how the stars got up in the sky and why a giraffe has such a long neck. She never ceases to amaze me!!!
So what do you think she said when I asked her how the flavors of Trix® got swirled together in the new Trix Swirls cereal?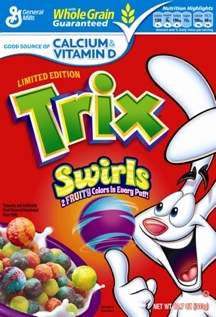 That's right, that Silly Rabbit has created a new Trix® cereal. This fun, new version of a favorite combines two mouthwatering fruity colors that will leave your children happy and spark their imaginations!
With Lemony Green, Berry Berry Blue, and Rasporangey Orange, Trix Swirls makes breakfast more fun! As a good source of calcium and vitamin D, Trix Swirls has the delicious taste of Trix® that kids love, along with 12 essential vitamins and a serving of whole grains.
More information about Trix Swirls can be found at: http://www.sillyrabbit.millsberry.com!
My daughter had some very interesting and very funny theories!
But, what would your child say?
We want to know! We want you to make a video of your child (or children/12 and under) answering the question:
"How did those fruity colors get swirled together?"
After you've made your video, simply upload it to YouTube* and enter our Trix Swirls Creative Kid Video Contest! The contest will begin in just a few short weeks but, before you start recording all of those clever-kid answers, Trix® wants to give you a box of Trix Swirls for you and your kids to enjoy!
Trix® will be sending 100 readers a free box of Trix Swirls to get them started on their video! Simply fill out the form below to receive your sample. (One entry per household please!)
Once you receive your free sample go ahead and start filming your kiddos and their answers! On Monday, July 27, we will ask you to submit your video entry and, after we narrow it down to 10 finalists, we will ask our readers to vote on their favorite video!
THE PRIZES
Oh the prizes!
Grand Prize: One winner (the finalist with the largest number of votes) will receive $1000 to use towards classes and/or education material for the child(ren). YES, I did just say $1000!!!
Secondary Prize: One winner will receive $300 to use towards classes and/or educational material for the child(ren)
** We want to hear from you! How do you think the Secondary Prize winner should be chosen? **
[poll id="6″]
These prizes are absolutely amazing!!! Thank you so much Trix® for sponsoring such a great contest!
To recap:
Step 1 "> Fill out the form above to receive your free sample of Trix Swirls!

Step 2 – Enjoy the yummy cereal and then record your kids answering the question, "How did those fruity colors get swirled together?"

Step 3 – On July 27 we will ask for you to submit your videos to officially enter the Trix Swirls Creative Kid Video Contest!

Step 4 – Wait for us to announce the finalists and VOTE, VOTE, VOTE!!!
We cannot wait to see your video and to hear what your kids come up with!!!
Please see our site's Terms and Conditions of Use for complete list of our contest and giveaway rules. This contest is open to US and Canadian shipping addresses.
*By submitting your video to YouTube and entering the Trix Swirls Creative Kid Video Contest, you are granting 5 Minutes for Mom, Trix®, and General Mills permission to link and/or embed your video in other locations. Finalists and Winners must be prepared to provide their video file (.mov, .avi or .wmv) to the brand if they are selected.