This post may contain affiliate links. Read my disclosure policy here.
This past February, Susan and I had two very different vacation experiences.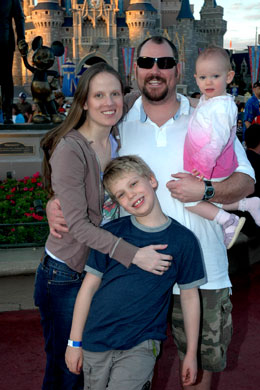 I had to make a business trip to Orlando and I decided to fly my family down with me. While we were there, Disney provided us with four day park hoppers and four nights accommodation at Disney's Beach Club Resort. It was an incredible time for all of us — my kids, my husband and I completely fell in love with Disney World.
It was the perfect vacation destination for each of us — which had completely surprised me! I was only ever planning to visit Disney to appease my children. I didn't think it would be a destination of choice for me. But I was so wrong! I loved it just as much as my kids did!
But at the same time I was enjoying the family friendly, well oiled machine that is Disney, Susan was vacationing in Hawaii with her husband and kids.
Her vacation, which cost her thousands by the time she totaled it all up, was their "big family vacation" that they wouldn't be able to afford again for years. But after all that anticipation and money spent, Susan and her family came away disappointed. The girls got bored and fussy at the beach and Susan and her hubby scrambled to find ways to have them all enjoy their trip.
When Susan heard about my experience at Disney, she was so envious — and wished she had known earlier. Instead of planning her Hawaiian vacation, she would have chosen to spend their hard earned money at Disney World!
Not only was I now a huge Walt Disney World fan, but Susan was converted as well — just from reading my posts!
Honestly, after my time at Disney World, I understand the Disney Vacation Club members who return to Disney year after year. It really is a magical, wonderful place to relax and have fun.
So, since Susan and I are so thrilled with Disney, we have packed up our kids and are heading down to Orlando to check out the Disney Cruise Line's Disney Channel Summer at Sea Cruises and to visit Walt Disney World for a few days.
During it all, we will be shooting videos highlighting what we love about Disney vacations. We will take you with us on the cruise ship with our kids and you can see if a Disney Cruise is right for your family. When we finish our four day cruise, we will brave the July heat in Walt Disney World. (If we Canadians can do it — then anyone can!)
Disney is not paying us for our opinions or to favorably write about Disney World. They are covering the costs of the trip for our review purposes. The fact that we love Disney World — well that is just a bonus for them!
While we are on the ship, we will have very limited access to internet and phones. But no worries, our fantastic assistant, Erica, will be holding down the fort here at 5 Minutes for Mom.
By the way, have you ever been on a cruise?!? This will be our first time, do you have any tips for us?