This post may contain affiliate links. Read my disclosure policy here.
Well, it that time again. Time to close some giveaways and award some fabulous prizes. This week we are closing the Dyson DC25 All Floors and the Animal Planet Emergency Vets for Nintendo DS Lite giveaways. Here are the winners and a brief reminder of what each has won:
Two of Dyson's key features are the Root Cyclone™ technology and the Ball™ technology. The Root Cyclone™ technology does not rely on bags or filters so your Dyson doesn't lose suction….ever.

And the Ball™ technology makes maneuvering around furniture, walls, and kids a breeze as it steers smoothly with a simple turn of the wrist.

Weighing only 16 pounds, the Dyson DC25 All Floors features include:

Single-action wand with instant 16ft reach for stair and high-reach cleaning.
Air expelled from a Dyson has up to 150 times less bacteria and mold than the air we breathe.
Washable lifetime HEPA filter designed to trap microscopic allergens such as pollen and bacteria. No bags, belts or filters to buy.
One-touch hygienic and quick-to-empty bin – just press the button at the top of the cyclone and the dust empties from the bottom.
Five-year warranty for parts and labor guaranteed by Dyson.

Comment # 647 Jana (sidetrack'd) will receive a Dyson DC25 All Floors!!!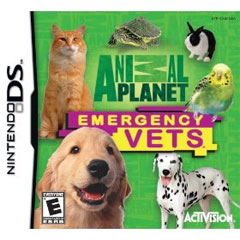 About Animal Planet Emergency Vets for Nintendo DS:
Key features:
Fifteen vet mini-games with five levels of difficulty for each game:
-Memory Games: Check-up exams-what instrument is used for which body part?
-Puzzle Games: Fix bones by piecing them together like a puzzle
-Matching Games: Match the correct animal with the correct medication
-Dexterity and Action Games: Dragging fleas, bath time, and more!
Thirty different animal species to care for and interact with – dogs, cats, horses, birds, rabbits, ferrets and many more
Talent from the TV series provides helpful guidance and instruction to the player
Facts and "Did You Know?" questions directly from Animal Planet
The game is rated "E" for everyone and retails for $29.99. (But Amazon has it for $19.79 and Discovery Store.com has it for $19.99, as does Toys R Us.com)
Comment # 79 Angie will receive a copy of "Emergency Vets!"
Congratulations to our winners! You should have received an email about claiming your prize.
If you haven't received an email, please send your full name, shipping address, and telephone number to contests5m4m (AT) gmail (DOT) com by Wednesday, July 15 in order to claim your prize. Any prizes unclaimed will be considered forfeited and new winners will be selected.