This post may contain affiliate links. Read my disclosure policy here.
I'm guilty of it. You are probably too.
The dreaded photos.
As a mom, you probably aren't quick to jump in front of the cameras to get your photo taken with your kids. Messy hair, no makeup, baggy clothing, a few extra pounds, and if you're like me, adult acne with a lovely breakout every month like a teenaged girl.
When I read this post called The Mom Stays in the Picture by Allison Tate on Huffington Post, it hit a nerve.
It struck a chord with so many other women.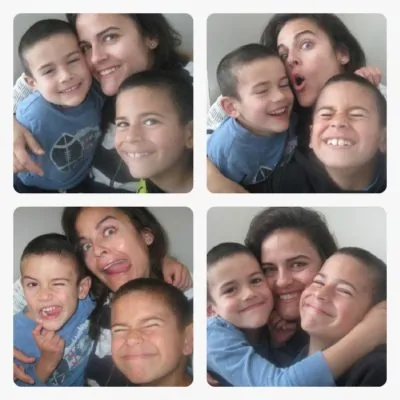 You have thousands of photos of the kids, maybe your partner with the kids. But how many of you with the kids?
I knew I didn't have many. After all, I'm the family photographer… if it weren't for me, we wouldn't have ANY photos. No offense to the husband but he really can't seem to take a good picture – the subject is miles and miles away. Have you heard of the zoom lens?!
After reading Allison's post, I decided to go check all the photos I have taken so far this year.  Is it sad that I could only find two? Seriously I only could find two with one son, and two with the other. So I called the boys and said, to them – come sit with me, we're going to take some photos together. Tomorrow, I'm giving the hubs a mini-lesson is how to take a proper photograph – and make sure that he always takes at least one photo of me with the kids wherever we take our camera.
What touched me so deeply about the post, and I'm sure resonated with so many moms, was this particular quote:
"I'm everywhere in their young lives, and yet I have very few pictures of me with them. Someday I won't be here — and I don't know if that someday is tomorrow or thirty or forty or fifty years from now — but I want them to have pictures of me. I want them to see the way I looked at them, see how much I loved them.
I am not perfect to look at and I am not perfect to love, but I am perfectly their mother."
Make a point to get in the camera's view. It doesn't matter if you're having a bad hair day, or not all done up with make-up and a perfect outfit. Your kids love you for YOU – not for the things you wear or how good you look.
Make the extra effort to be in the photo – you'll be thankful you did.