This post may contain affiliate links. Read my disclosure policy here.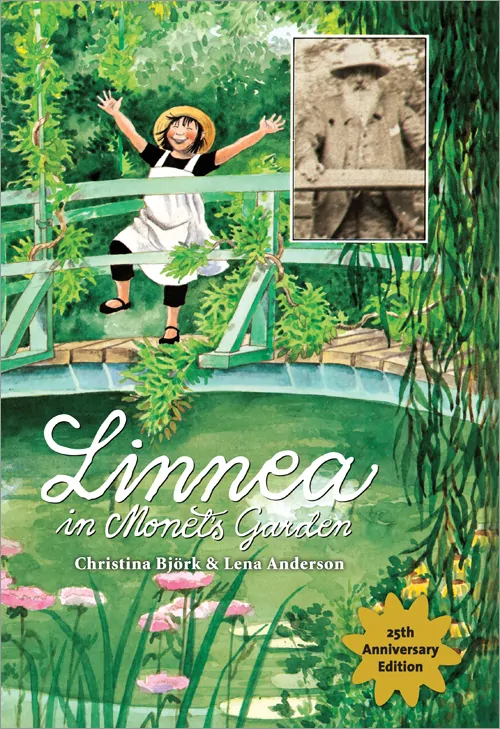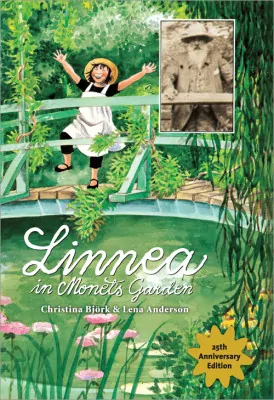 I remember the day my young daughter pulled a book off the packed shelf in her room and was immediately drawn in by the verdant cover image. As she looked through it for a few minutes, she exclaimed, "Wait! That looks like the picture you have!" My four year old had correctly associated the pictures she saw in this picture book with a poster of three Monet bridge paintings that I have in a frame in our hallway. It was then that I began to fully appreciate the power of Linnea in Monet's Garden, by Christina Björk and Lena Anderson.
Now, in honor of the book's 25th anniversary, Linnea in Monet's Garden is being re-released in the U.S., in a bit of a larger picture book format, but with the same lovely story, adorable illustrations, and wealth of photographs and information about Claude Monet's life and work. In the story, Linnea is a young girl who loves flowers, and she shares this interest with her upstairs neighbor, Mr. Bloom. It's at Mr. Bloom's that Linnea is first introduced to the work of Claude Monet, and she enjoys looking at the book about him on her visits to Mr. Bloom, first because of the beautiful paintings of flowers. As she reads more of the book, she begins to learn about Monet's life, his wife Alice, their collective eight children, and the big pink house where they all lived together. Linnea becomes fascinated with the Japanese bridge over the lily pond in Monet's backyard, and she mentions to Mr. Bloom that she likes to pretend she's standing upon that very bridge when she plays.
Not long after Mr. Bloom tells Linnea that Monet's pink house, Japanese bridge, and lily pond have been turned into a museum that people can visit, Linnea finds herself on the trip of a lifetime to Paris! She and Mr. Bloom travel together, seeing amazing sights like the Notre-Dame Cathedral and The Marmottan museum, before heading out to Giverny to visit Monet's pink house in person. There, they have the spectacular experience of admiring the water lillies and wisteria from the Japanese bridge themselves.
After we looked at both the garden and the house, the best part was still to come: the lily pond. We crossed the garden and went through a tunnel under the main road.

"Oh, look, Mr. Bloom!" I cried. "There's the Japanese bridge!"

And when at last we were standing on the bridge, it was so thrilling that there were tears in my eyes. (And in Mr. Bloom's. I'm sure I saw a few.)

"What was it I said?" said Mr. Bloom. "It was possible!"
During their travels, Linnea learns so much more about Claude Monet's life and Impressionism, and as the narrator of the book, she joyfully shares her knowledge with a child's enthusiasm and excitement. Her trip and experiences are presented so realistically that it's sometimes hard to remember that Linnea is a fictional character!
The presentation of this picture book is somewhat nontraditional, with illustrations, text, photographs, and images of Monet's works sharing space on the pages. The result is an intimate, scrapbook-like reading experience. My daughter, now six years old, still greatly enjoys taking this book out to peruse, rather than read straight-through, and I understand the appeal, too. I can get lost looking at Monet's paintings, as well! Happy 25th anniversary to Linnea in Monet's Garden, a delightful book about a budding art-enthusiast that can surely get young readers interested in Monet's art, too.
We're happy to offer one copy of this book to a lucky reader! Please follow the instructions in the Rafflecopter below to enter. (U.S. and Canada residents only, please.)
In honor of Linnea in Monet's Garden's 25th Anniversary, Sourcebooks is offering its own Birthday Giveaway, too. If you leave a comment below, you will also have the opportunity to win a grand prize that will be announced on October 25th on Sourcebooks' Celebrate Linnea's Birthday! site.
Just use the Rafflecopter form below to enter this giveaway. New to Rafflecopter? Watch this 45-second video on how to enter!
The winner of Bilingual is Better is Leah.