This post may contain affiliate links. Read my disclosure policy here.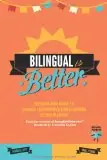 Roxana Soto and Ana Flores don't have to convince me that children gain untold advantages by being raised to speak more than one language–I am so convinced that "bilingual is better" that I raised my kids overseas, hoping for polyglots. The two authors of the successful parenting blog SpanglishBaby.com have produced a book that presents all the reasons for raising a bilingual child–from scientific studies of enhanced brain development to personal stories of children growing up with a wider involvement with the world around them, ties to families in other countries, and broader job opportunities as adults.
In general, Americans of my generation have a hard time learning a second language, because we typically don't even start until high school. I remember explaining this to my Mauritanian friends, where I lived and taught English for 6 years. "Why are Americans so stupid at learning other languages?" one had asked me as I stumbled around in Arabic. I cringed, of course, but I explained. Look around you, I told her. All the signs you see are in Arabic or French or both. You grow up hearing 3 or 4 languages spoken around you, so even if you only speak Arabic and French, you are familiar with the sounds of Pulaar and Sonike. You hear English on TV. Your world is polyglot, I told her, whereas mine was monolingual in every way.
Soto and Flores both grew up in two worlds. Soto was born in Peru and moved to Miami as a teenager. Flores was born in Texas to parents from El Salvador, and she grew up in 5 countries on 4 continents (thereby beating out my kids, who have only lived in 4 countries on 3 continents). Both of them are raising their children in the US, and both of them committed to raising children equally comfortable in English and Spanish, able to move at ease between languages and worlds. They wanted their children to be proud of their heritage, and to be able to talk to their grandparents and cousins in either country. Best friends since college, they put their heads together and launched Spanglish Baby to give other parents resources in their own quest to raise bilingual children. Now Bilingual Is Better
goes farther and deeper, as both moms open up to share the good and the bad, the easy and the difficult, while showing us again and again why it's worth it to make the effort.
Soto and Flores recognize that their audience includes couples who are both monolingual, and can't raise bilingual children as easily but still recognize the importance of it. They include strategies and resources to introduce a second language and bring children (and their parents) to a level of comfort in a second language.
Chapters include:
Raising a Spanglish Baby (including Most Common Methods and Help for Non-Native Speakers)
Bilingual Education
Between Two Worlds: Identity vs. Assimilation
Raising Bicultural Children in the United States
Bilingual Is Better: Two Latina Moms on How the Bilingual Parenting Revolution is Changing the Face of America
is a fantastic book, combining resources, charts, personal stories, and much more. I highly recommend it. In fact, it's inspired me to work harder to make sure my 3 teens don't lose their French, something I admit we've been lazy about.