This post may contain affiliate links. Read my disclosure policy here.
It was blue. Checkered, actually. Had a thick canvas shoulder strap. And there was an enormous Snoopy on the front.
I received it as a gift at the baby shower for my first child. There was no mistaking that it was a diaper bag.
By the time my second child was born, my diaper bag was a wreck. After months of overstuffing the zip just wouldn't close. The complete lack of pockets meant that I had to dig through diapers, wipes, spare clothes, snacks, and assorted teethers to find the lone pacifier.
The strap had been trapped in the car door one too many times and was hanging on by a thread. And let's not even talk about the spills and stains. Not a pretty sight.
So, I needed to find a new diaper bag, but I didn't want a "diaper bag" if you know what I mean. I was on the lookout for something practical, but stylish. I wanted a bag that would hold all the baby gear, but also fit my wallet, keys, and phone.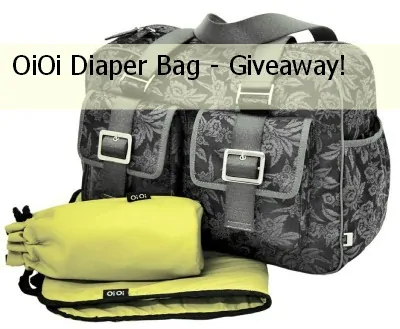 I needed a bag that I could use for trips to the park, but also sling over my shoulder for a dinner out with my husband. I'm a get-up-and-go person and would prefer not to constantly switch my wallet and keys from the diaper bag to a purse. Was there a diaper bag out there that would suit my needs?
OiOi diaper bags may be the answer for you. The Oioi bags are stylish, yet practical. From Messenger bags, to Carryalls, to Hobo Bags, there is a bag to suit you.
The Oioi Diaper Bag I was sent was in the Oioi Carryall line. The soft yellow leather was buttery to the touch. I literally found myself stroking the leather. The tag line — "Oioi Sophisticated Baby Bags" — is well deserved.
What I liked about the bag is the construction. I've purchased diaper bags and even purses that would only retain their shape if the bag was stuffed full. The Oioi Carryall I was sent "stood" up on its own.
I was curious whether the bag would sag, but as I removed each wad of tissue paper the bag retained its shape. As I moved my wallet, keys, smartphone from my old bag to the new bag, the bag flexed as each item was added. There was no sagging or bulging.
The Carryall has two handles or an optional matching shoulder strap. The bag has oodles of pockets:
two roomy elastic pockets on either side of the bag, perfect for water bottles, wipe container, or other oversize items.
zippered pocket on the front of the bag, perfect for checkbook, passport, board books, or other flat items.
below the wide zippered pocket are two matching side-by-side zippered pockets. Each pocket would fit a smartphone, car keys, small wallet, or a teething toy or two. There's also a bonus zippered pocket sewn in that would hold a pacifier or three.
The Carryall bag features two zippered compartments that are color coordinated with the bag's fabric. The inside of the bag is nylon lined for easy cleanup of spills. When I opened the first section, I saw a roomy area with one zippered pocket and several mesh pockets.
What truly shocked me was the second of the two main compartments. The second section of the Oioi Carryall is divided in to three sections, which contatin a draw string nylon container for a baby botle or water bottle, a comfy changing mat with a velcro self-tie, and a baby wipe case. I don't know about you but I have never seen a diaper that is so roomy and useful.
The Oioi Carryall measures 16″ wide, 11″ high, and 7″ deep. The Oioi Carryall is $140, but for that amount you are getting a bag that has far more storage space than your average diaper bag, and it is more stylish to boot! The bag is distributed through Brand Down Under, a distributor of Australia's leading baby and maternity brands.
Enter to win!
OiOi Diaper Bags want to give away one Oioi diaperbag — a lizard carry all — including bottle holder and change mat value (a $160 value). Just use the Rafflecopter form below to enter this giveaway. New to Rafflecopter? Watch this 45-second video on how to enter!
a Rafflecopter giveaway
I received an Oioi diaper bag to facilitate my review. I was compensated to write this post. The views expressed in this post are my own. I follow the tenets of Blog With Integrity.