This post may contain affiliate links. Read my disclosure policy here.
Every since my children were little, they have looked forward to fall. There is something about falling leaves, long walks, and skipping rocks that just speak to a child — regardless of age.
My kids are now 14 and almost 18, and they still love those fall days where we spend enjoying the outdoors. When the weather cools, we pack up our picnic basket, fishing poles, and hiking boots and set out to find the perfect spot.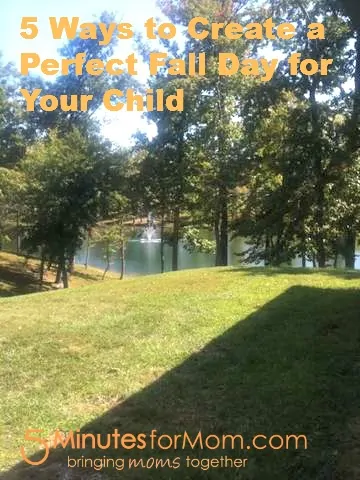 1.  Don't plan out the day — just go with the flow: One of my worst habits ever is over planning things — even fun days out. I try to break away from that bad habit and just go with the flow. Whatever the kids want to do on our fun fall day out, we do it. We have been known to walk all the way to the park, or hop in the car with fishing poles for a secret fishing trip, or just surprise daddy with a picnic lunch. One thing I am learning is this — just live in the moment. Go with the flow and don't over plan.
2.  Invite friends along: My kids love their friends. Since everyone is on fall break this week from school, we have spent an enormous amount of time just hanging out together watching movies, visiting the local high school football games, and laughing together. Friends are an important part of your child's laugh, so find a way to incorporate them into the fun.
3.  Find a leaf pile and have fun jumping in: If your kids are like mine, when there is a leaf pile around, they are going to jump right in. You know what my little secret is to making this one of the funnest moments of their life? I jump right in with them, and we laugh hysterically together falling down while burying each other.
4.  Ask them what it is they want to do: Don't just assume you know exactly what they want to do. For my daughter, one of her favorite things to do is visit the lakes when the water is low and look for geodes. Anytime I ask her what she wants to do, that is top priority on her list. So be sure and ask them what they would like to do, and then find a way to do it.
5.  Pack the best picnic lunch ever: One of my new favorite recipes that I have been making for our hikes and fall picnics are Sun Chips Walking Tacos. You basically grab a bag of Garden Salsa Sun Chips and put in your taco meat concoction and you have a walking taco. It is one of my kids favorite ways to eat a taco now.
Did you know?
With at least 18 grams of whole grains per serving and less salt than you might think, SUNCHIPS® multigrain snacks give you the option to snack better. For example, 1 oz. of SunChips® snacks has less sodium than 1 oz. of microwaveable popcorn.  They are also made with  no MSG or artificial flavors or preservatives. Sunchips also make a delicious addition to game day festivities, dinner parties, lunch bag snacks and more. They fit perfectly with any occasion. They are also available in six unique and unexpected flavors, like Garden Salsa, Harvest Cheddar and 6 Grain Medley Parmesan & Herb. You can like  SunChips on Facebook and also follow @SunChips on Twitter to keep up with all the latest and greatest news on these delicious and healthy snack options.
Enter to win a Sun Chips Picnic Basket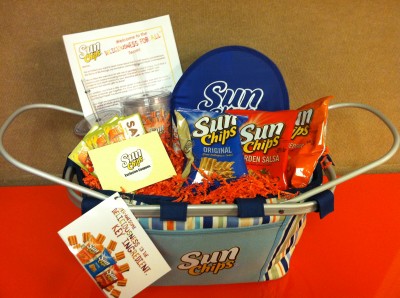 One lovely reader is going to win this awesome Picnic basket full of goodies from Sun Chips. Inside you will find a frisbee, snack bags of chips, high value coupons, recipes, and the basket itself.   To enter this giveaway, use the Rafflecopter form below. New to Rafflecopter? Watch this 45-second video on how to enter!
We received a pack and compensation for writing this post. All opinions listed are my own.