This post may contain affiliate links. Read my disclosure policy here.
Tail Towns Friends Figurines by Ganz are collectibles that unlock virtual rewards to the Tail Towns Friends Facebook game. These are well designed and delicate so don't mistake them for toys.
Each one is an adorable country animal that is dressed for specific jobs, such as Fashion Designer mouse. Right now you can search online to find the first set of 12 or use the store locator to purchase at local stores.
The Tail Town Friends Figurines are hand painted and cost about $15 each. Inside the box, you'll find your secret code to use for the game.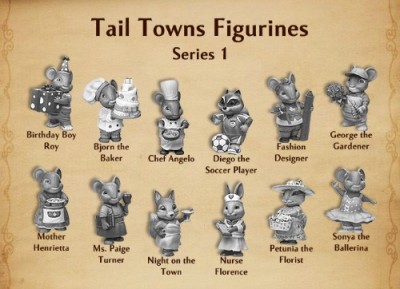 Register that online code on the Tail Towns Friends Facebook game to learn about the character and get it's story line and "Secret Diary Goals" so you'll get all the juicy details. The more figurines you register, the more unique rewards you gain. Currently you can buy virtual figurines with Facebook credits too.
Many followers of Ganz items have been waiting a long time for the Tail Towns Friends figurines to hit stores as they were announced last year. If you have friends or family who like to play online games, buy a few of these figurines as gifts now.
They are finally for sale and are hot! Who knows, this may entice you to start playing too!
Also try the Tail Towns Friends Facebook game.
Disclosure: This is a sponsored post. All opinions expressed belong to the author.