This post may contain affiliate links. Read my disclosure policy here.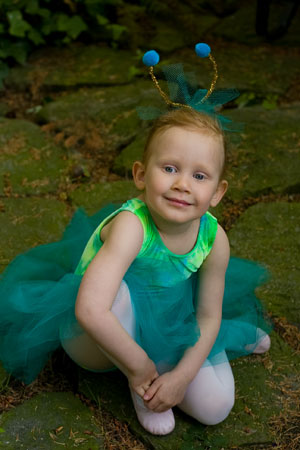 Julia danced in her very first ballet recital this weekend. She was the cutest waterbug you could imagine. (No, I am not biased at all. LOL)
It was a surprisingly huge deal… The ballet school performed at a rather significantly sized theater and the show lasted 2 hours. (And there was a 3 hour dress rehearsal the day before. The little waterbugs only were on the stage for one dance and then again for the final applause. But for the rest of the time they had fun coloring and watching movies back stage.)
Julia LOVED it! The only trouble now is that she wants to dance in a ballet every day.
Now it's your turn… Please click over to add your Wordless Wednesday link and to visit more WW posts. (Due to the Mr. Linky slowly down the loading of our site, we have to move it off the home page. Sorry for the extra click!)
Written by Susan.
Remember to sign up for our RSS Feed.